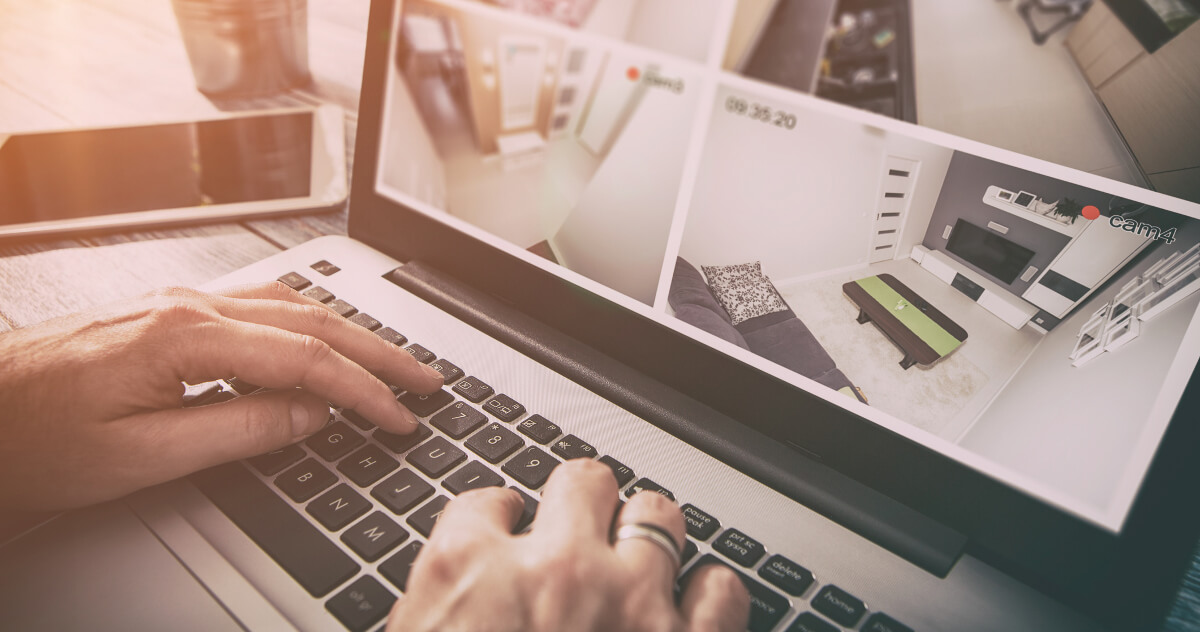 Niche companies don't always grab the headlines unless they are part of the technology sector, like Netflix or Google. But these types of stock plays often hold value because they are smaller and target a market segment with less competition.
When a niche company hits new highs, it sends a loud message to investors that it may be time to buy.
For one niche security play, a new 52-week high may only be the precursor to a long-term growth story.
A Best-In-Class Security Company That's Aiming Higher
ADT Inc. (ADT) is a $6.4 billion security and protection services company that operates primarily in the residential and commercial marketplace.
The company missed third-quarter earnings with a net loss of $0.25 per share. This is a tad higher than the $0.21 per share analysts had expected. However, the company improved on a year-over-year basis from a net loss of $0.31 in the same quarter. Revenues were the largest upside surprise – up 13% year-over-year.
The company recently agreed to sell its ADT Security Services Canada segment to TELUS for $700 million. The move should help free up capital for other investments and acquisitions while divesting a segment that has a relatively high operations expense.
Imperial Capital reiterated an "outperform" recommendation on the stock in early November with a raised price target revision from $10 per share to $11 per share. This gives investors a clue that the stock may contain more value than analysts had previously believed.
The Fundamental Side
The company isn't net positive for earnings just yet, but they do expect to be net positive in the near future.
The stock comes with a forward P/E ratio of 8, compared to the industry average forward P/E of 15, thus making it attractive to value investors. It also carries a price-to-free-cash-flow ratio of 3.93, indicating that the company has plenty of excess operating cash flow. The stock also comes with some downside protection by way of a 1.60% dividend yield.
The Technically Side
The stock recently hit a new 52-week high signaling a build-up of bullish momentum in the stock. The chart reveals a cross-over complex, including a "golden cross" with both the 20-day and 50-day SMA moving over the 100-day SMA. Investors might take pause at the relatively high RSI of 77, but it could merely be another indication of the bullish momentum the stock is picking up.
The Bottom Line
Based on ADT's full-year EPS estimates, this stock should be fairly valued at around $11 per share – representing a gain of more than 22% from its current price point. With economic predictions for 2020 improving, this company could prove to be a big winner delivering outsized gains to investors.
The above analysis of ADT was provided by Daniel Cross, professional trader and financial writer.
---
What Does MarketClub Say
MarketClub agrees that ADT is in a strong uptrend and has the technical support to continue its move.
With a +90 Chart Analysis Score, ADT has short, intermediate, and long-term bullish strength.
This momentum shift was identified in early fall, as the Trade Triangles begin flipping and pointing towards an upward move.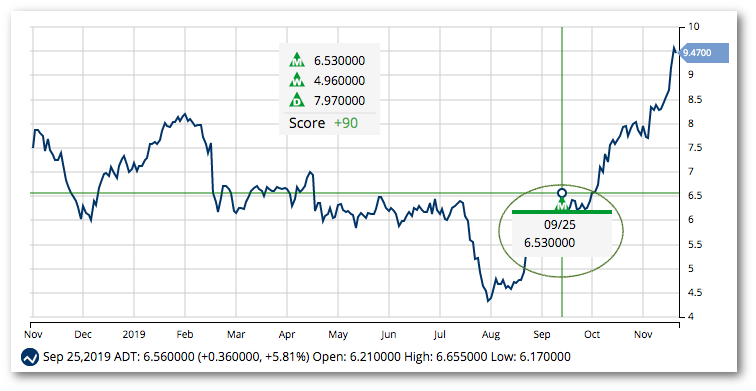 MarketClub members following the long-term strategy are holding a long position initially established on September 25, 2019, at $6.53.
ADT has since jumped 45%, and our members are still riding the swing.
MarketClub members will hold this position unless a new exit signal is issued or if momentum begins to slow.
Want the next signal for ADT? Join MarketClub now and get daily analysis for this security company and thousands of others!
Join MarketClub – Begin Your Trial Now