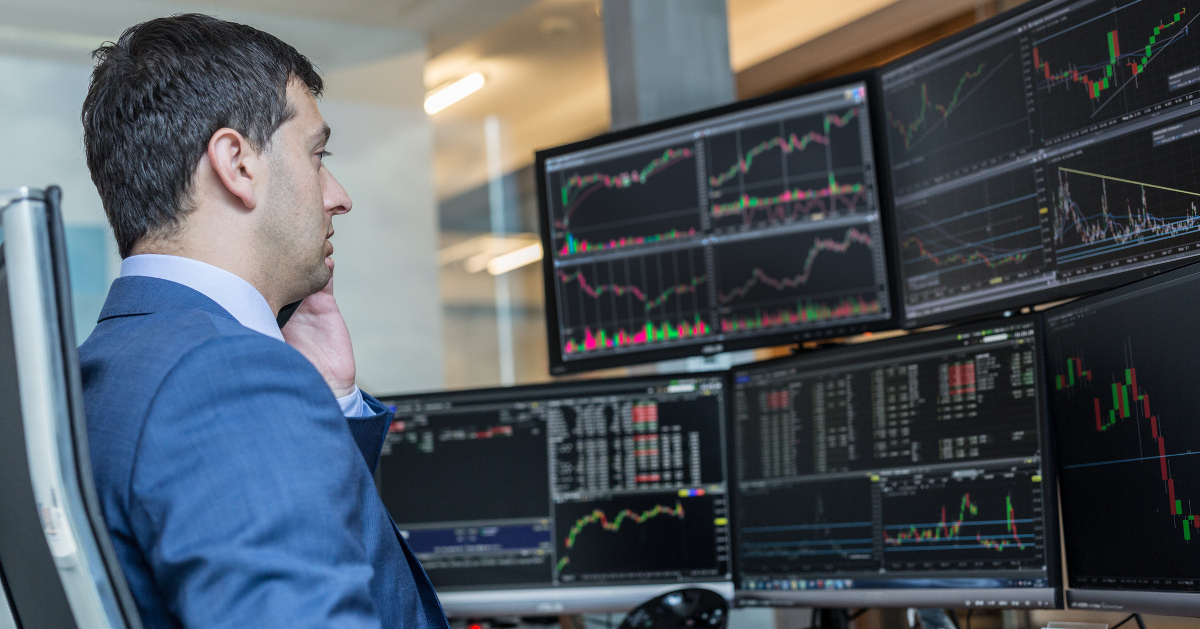 After months of consistent gains, the U.S. stock market finally cooled off in September.
The Dow Jones Industrial Index fell from the September 2nd high of 35,475 to 33,843, closing 4.5% lower for the month. The tech-heavy NASDAQ followed suit, dropping 6.1% from the high made on September 7th.
What will the markets look like in October with supply chain, inflation, and delta resurgence concerns still on investors' minds? The outlook seems to be mixed with some analysts projecting the market could heat up once again.
Thankfully, MarketClub will monitor the market for you, looking for new chart patterns and growing momentum for 350K stocks, futures, ETF, forex, and mutual fund markets.
We've used MarketClub's powerful scanning tools to find five stocks with new Trade Triangle signals and strong bullish trends.
5 Hot Stocks for October 2021
Keep in mind that the trend can shift quickly for these stocks. MarketClub members receive alerts and updates for their favorite stocks, futures, forex, and ETFs as we spot new patterns or signs of weakness.
Join MarketClub now to get up-to-the-moment analysis on these stocks and trend-finding scans throughout the day.
---
Automatic Data Processing, Inc. (ADP)
Automated Data Processing is a company that provides human capital management solutions for customers across the globe. Services include payroll, benefits administration, HR management, compliance, insurance, and retirement services.
The company has a long record of beating earnings estimates and growing revenues. However, the company has failed to impress analysts over the last year, with a series of downgrades this summer.
MarketClub has held a long-term bullish outlook for ADP since October of 2020, when the stock hit $152.66. The stock has since moved 33%. With a Chart Analysis Score of +100, the bullish trend is still intact for this stock.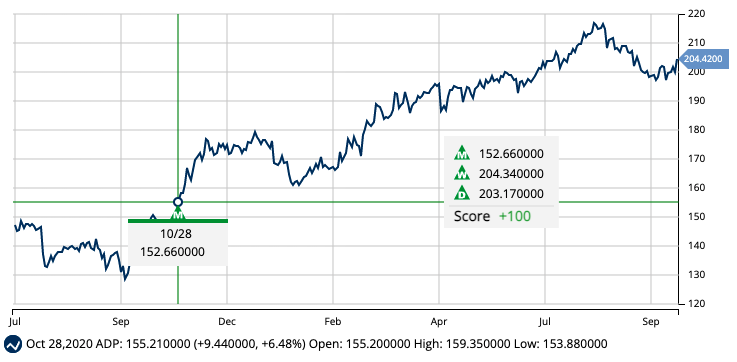 Chart Analysis Score
+100
Last Monthly Trade Triangle
10/28/20 @ $152.66
---
Robert Half International Inc. (RHI)
As a staffing and risk consulting company, Robert Half employs more than 13K people worldwide. The company provides temporary placement for a wide range of services, including accounting, legal, marketing, and finance. Through the pandemic, the company has focused on placements for remote and contract work.
The stock traded sideways for most of 2019 before dropping along with the rest of the market in February and March of 2020. However, RHI has steadily climbed since.
MarketClub members received a monthly Trade Triangle in November of 2020. at $58.98. The stock has moved 76% since that signal.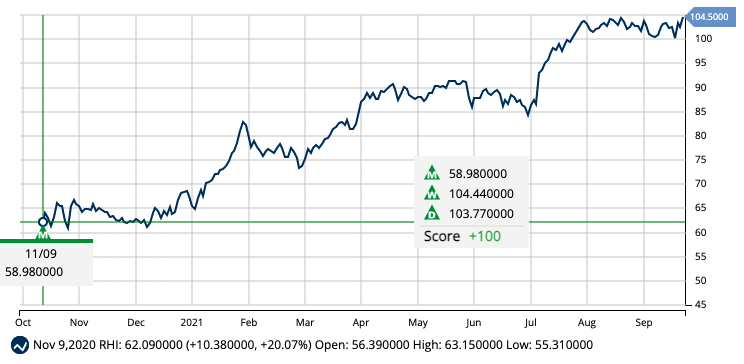 Chart Analysis Score
+100
Last Monthly Trade Triangle
11/9/20 @ $58.98
---
American Campus Communities, Inc. (ACC)
American Campus Communities manages and develops student housing communities in the U.S. This is a real estate investment trust (REIT) with a portfolio of 166 properties with over 111K residents. ACC received a number of upgrades in the past year and noted a high demand for back-to-school housing.
After a sharp fall along with the rest of the market in March of 2020, ACC has been on a quick rebound. A signal in October pointed to a bullish move for the stock, which is currently trading 34% higher. A strong Chart Analysis Score indicates continued bullish momentum and a potential move higher.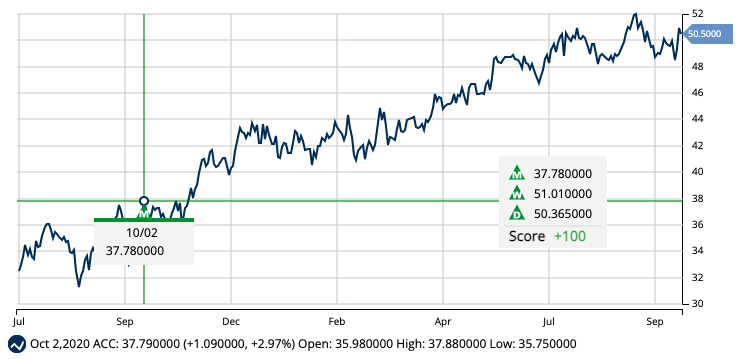 Chart Analysis Score
+100
Last Monthly Trade Triangle
10/2/20 @ $37.78
---
Assured Guaranty Ltd. (AGO)
Assured Guaranty offers insurance products and asset management services to clients worldwide.
After a period of sideways trading, AGO began to climb in late 2016. The stock surpassed $50/share before crashing along with the rest of the market in March of 2020. However, MarketClub detected bullish signs in early October of 2020 before the stock ran more than 80% and moved over $50 once again.
The strong Chart Analysis Score and green Trade Triangles point to a move higher for AGO.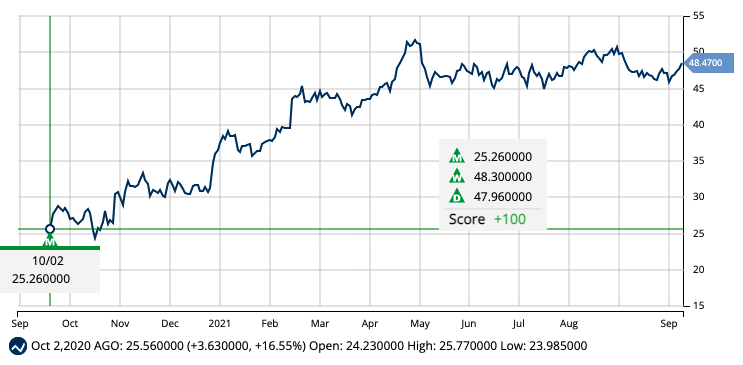 Chart Analysis Score
+100
Last Monthly Trade Triangle
10/2/20 @ $25.26
---
Credit Acceptance Corporation (CACC)
Credit Acceptance Corporation provides financing options and services for automobile dealers in the U.S. The company gives money advancements to dealers for the right to service their customers' loans.
The stock has been in an upward trajectory since debuting on the street in 2013. After weakness in early March of 2020, members received a green Trade Triangle at $364.34. The stock is up 68% since the signal and the Chart Analysis Score points to a move higher.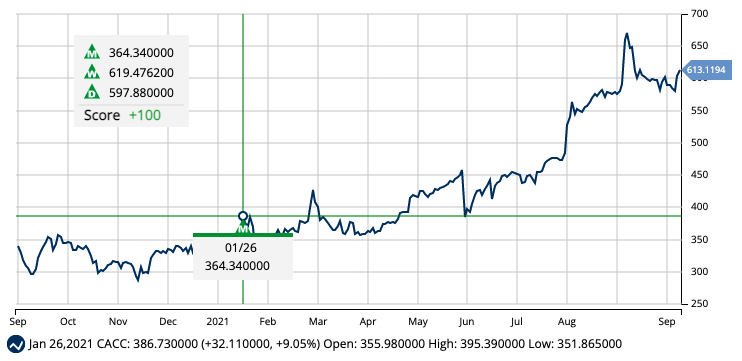 Chart Analysis Score
+100
Last Monthly Trade Triangle
1/26/21 @ $364.34
---
These are not the only stocks to earn a coveted +90 or +100 Chart Analysis Score since the first trading day of October.
See the other strong-trending names showing up on our free Top Stocks Scan today.