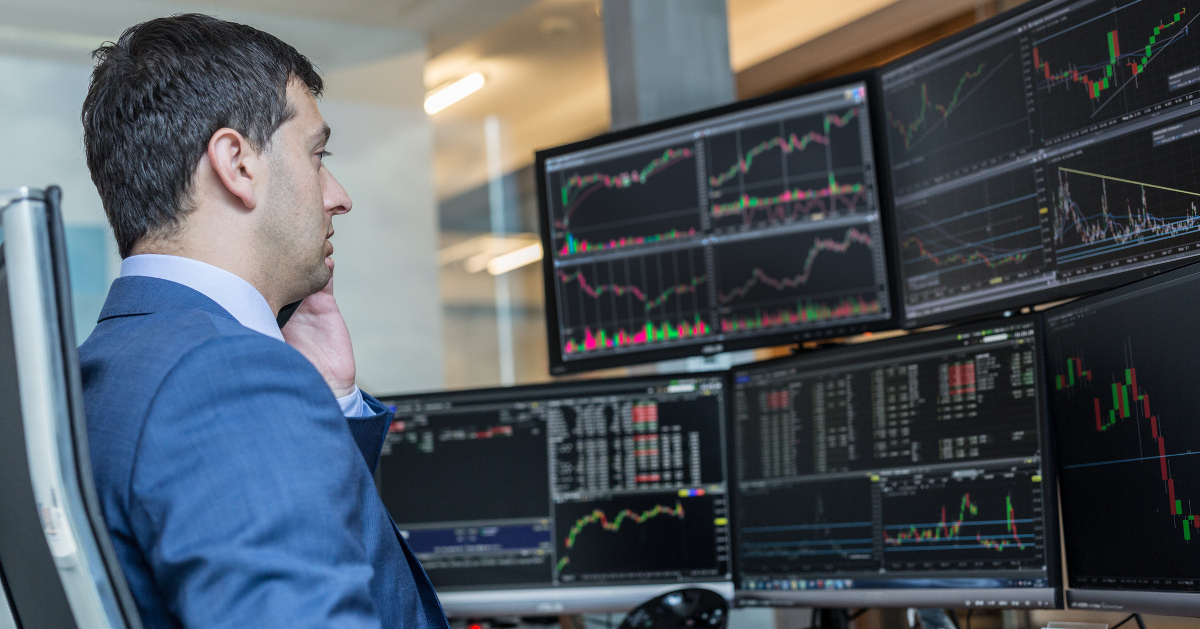 What's next? That was the theme on Wall Street in 2020. Despite the challenging year, the major market indexes saw record-breaking highs over and over.
The Dow Jones Industrial Average snuck to 30,637 points on the last trading day of the year. It closed the year at 30,606, up more than 6%. The tech-heavy Nasdaq Composite made more than a 40% run for the year.
With many stocks, particularly those in the technology and biotech sector, trading at all-time highs, traders may be waiting for the bubble to burst. However, there are always new trading opportunities IF you know where to look.
MarketClub evaluates the technicals and market trends for over 350K markets to spot breakout patterns and identify signs of weakness.
Several lesser-known names are topping our list as the strongest-trending stocks moving into January 2021. With strong technical support, these stocks could see a move higher in the weeks and months ahead.
Hot Stocks for January 2021
Keep in mind that the trend can shift quickly for these stocks. MarketClub members receive alerts and updates for their favorite stocks, futures, forex, and ETFs as we spot new patterns or signs of weakness.
Join us now to get up-to-the-moment analysis on these stocks and trending-finding scans throughout the day.
Costco Wholesale Corp (COST)
Costco is a membership warehouse that operates globally and employs more than 150K people. The company offers both branded and private-label products and operates food courts, pharmacies, and gas stations. The company had a Q4 2020 earnings beat of $2.30/shares, exceeding estimates by 12%.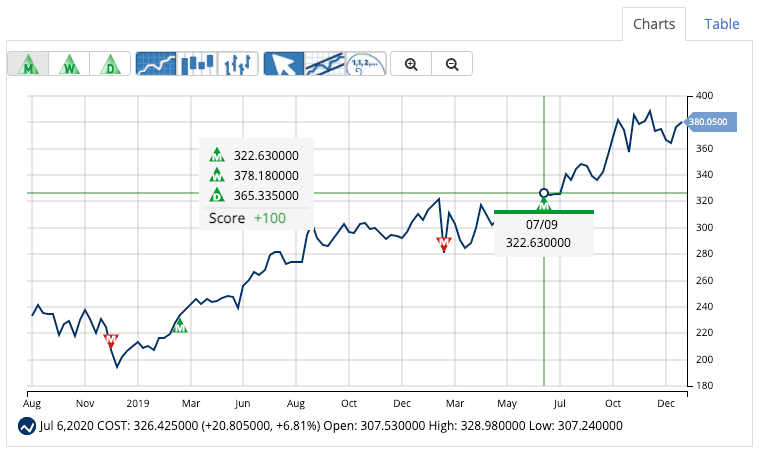 Chart Analysis Score
+100
Last Monthly Trade Triangle
7/9/20 @ $322.63
Trillium Therapeutics, Inc. (TRIL)
This biotechnology company has a market cap of 1.42B and just beat earnings after two previous misses. Trillium is headquartered in Mississauga, Canada, and develops therapies for cancer treatments.
The monthly Trade Triangle spotted a long-term trend change for TRIL on December 12, 2020, at $0.41/share before the stock's price shot up to over $20/share. While the price has pulled back to the $14/share level, a new weekly Trade Triangle confirmed the bullish outlook for Trillium.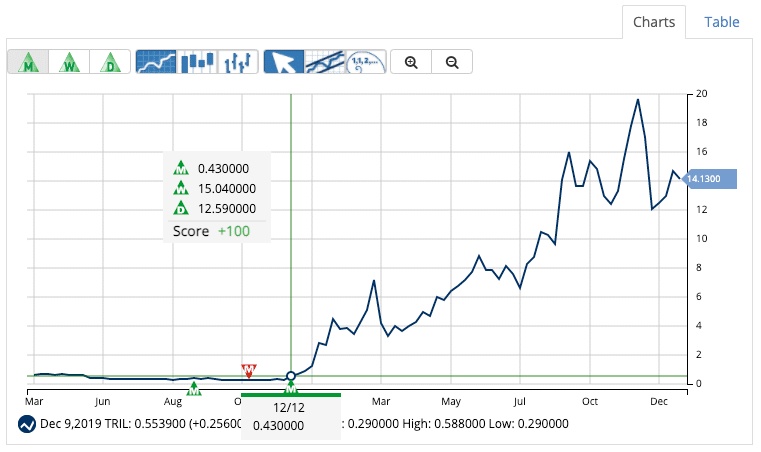 Chart Analysis Score
+100
Last Monthly Trade Triangle
12/12/20 @ $0.43
Last Weekly Trade Triangle
1/4/21 @ $15.04
Bausch Health Companies Inc. (BHC)
Bausch Health is a Canadian company that develops, manufactures, and markets several pharmaceutical and medical devices and over-the-counter products. The company beat Q3 2020 earnings estimates by $0.28/share and is scheduled to announce Q4 2020 earnings on February 17, 2021.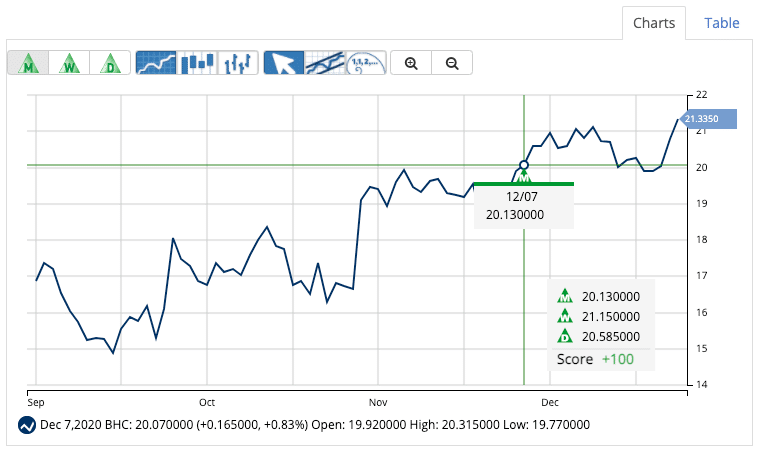 Chart Analysis Score
+100
Last Monthly Trade Triangle
12/7/20 @ $20.13
Last Weekly Trade Triangle
1/4/21 @ $21.15
GoHealth, Inc. (GOCO)
Headquartered in Chicago, Illinois, this insurance broker offers technology to match health insurance plans with consumers based on their unique needs. GoHealth employs more than 1,800 people and reported 538M in revenue for 2019.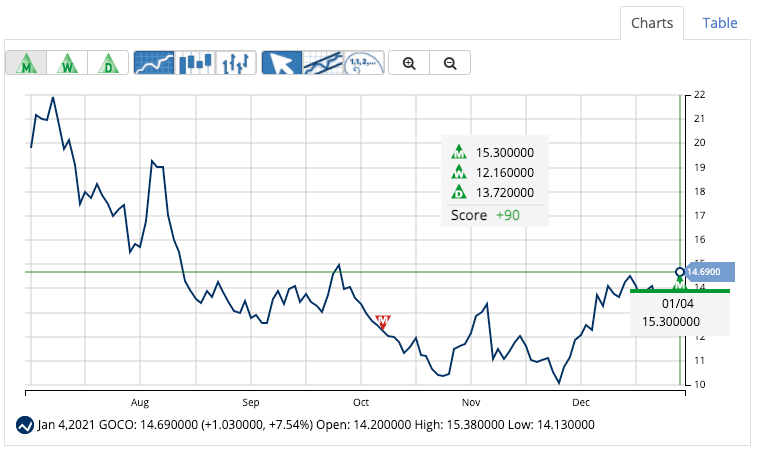 Last Monthly Trade Triangle
1/4/21 @ $15.13
Last Weekly Trade Triangle
12/7/20 @ $12.16
Marvell Technology Group Ltd. (MRVL)
Marvell designs, develops, and sells integrated circuits, storage solutions, and adapters, among other products in the United States and worldwide. The company has met or beat earnings estimates for four consecutive reported quarters and should schedule its next announcement around the beginning of March.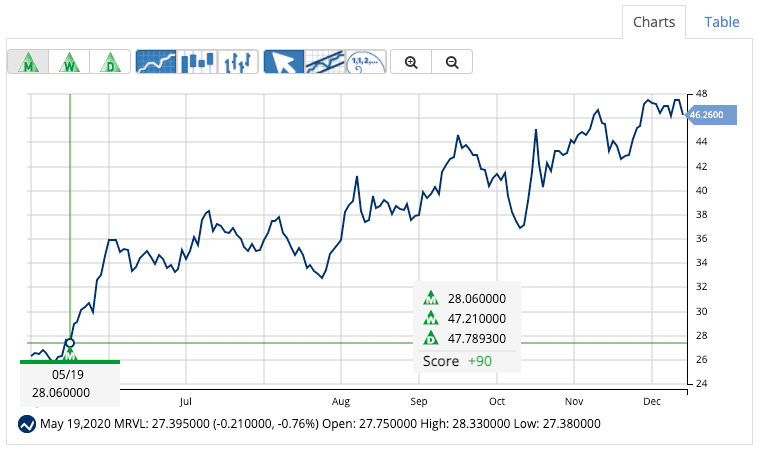 Last Monthly Trade Triangle
5/19/20: @ $28.06
Last Weekly Trade Triangle
12/17/20: @ $47.21
---
These are not the only stocks to earn a coveted +90 or +100 Chart Analysis Score since the first trading day of the year.
See the other strong-trending names showing up on our free Top Stocks Scan today.