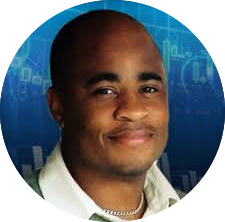 Travis Wilkerson (aka Trader Travis) is the co-founder of the MarketClub Options program and the 2019 United States Investing Champion (Enhanced Growth Division).
Travis grew up poor in rural Virginia in a home with no running water or bathroom. After making a promise to himself to break out of poverty, Travis sought the guidance of millionaire mentors who taught him the ins and outs of investing.
After great practice which included both successes and struggles, Travis was ready to leave corporate America at only 34.
Travis' mentors made him promise that he would abide by their rules of wealth building. These rules included helping others up once he was in a position to do so.
Travis has worked with thousands of trading students, teaching them the same strategies he used to reach financial freedom.
To Travis, investing strategies should be simple and available to all. He believes in helping people by giving them a hand up, not a handout.
Why Does Travis Teach?
"If you're such a great trader, why do you teach?"
This is one of the most frequently asked questions that Travis receives. In this short video, Trade Travis will explain the personal and financial reasons why he teaches.
Loading the player…
What do Travis' Students Say About Him?
Just search Travis Wilkerson or Trader Travis and you'll see how Travis has changed his students' lives.
From newbie options students to those pursuing full-time trading, Travis' students praise his easy-to-understand style and his genuine approach.
Read More from Travis' Students
Become A Student
It only takes a few clicks to join Travis' trading tribe. Join him and thousands of students using the MarketClub Options Blueprint.
Not only will you learn a simple trading strategy, but you'll also learn how to develop a trading plan, protect your money through sound management techniques, and approach investing with the proper mindset.