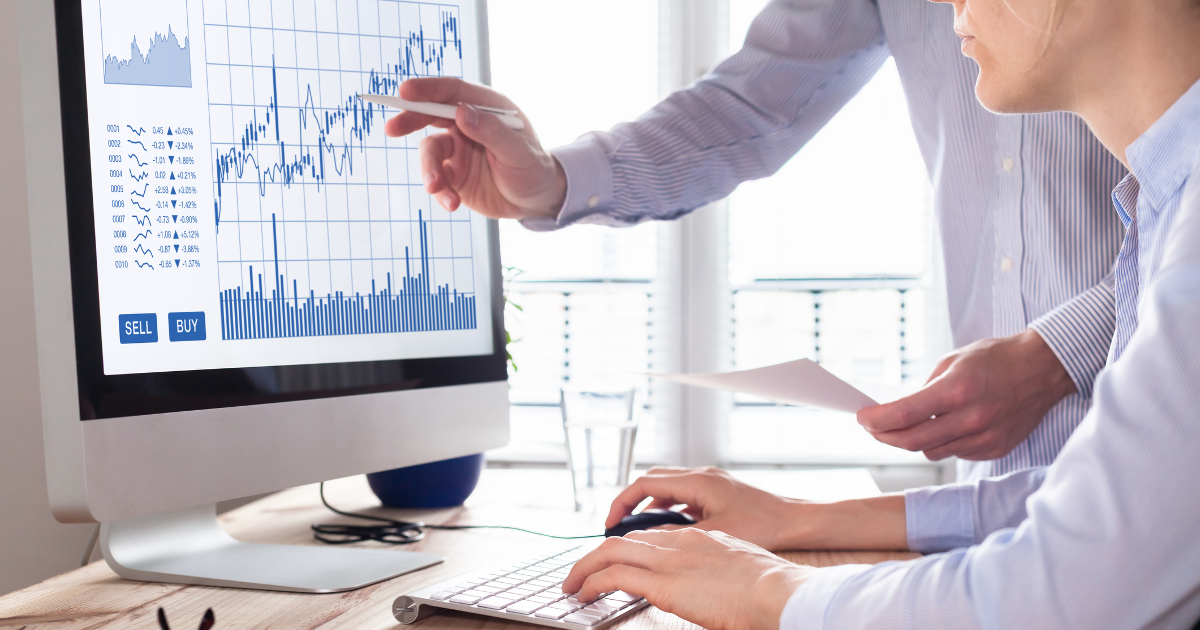 Niche companies can be great bargains for investors. Having a specialized market share or product ensures repeat business. It also allows the company to grow without a lot of competition to contend with. In a high-demand industry like real estate, that kind of singular focus could be a catalyst for bigger things.
For one niche e-commerce company, the growth story is just beginning. Savvy investors can benefit from hopping on board now.
An Up-And-Coming Household Name
Wayfair (W) is a $14.7 billion catalog and mail order household products specialty retailer. The e-commerce company sells furniture and other decor items from over 10,000 suppliers with warehouses in the US, Canada, Germany, Ireland, and the United Kingdom.
The company reported an earnings beat of -$1.12 per share for the fourth quarter compared to the analysts estimated loss of -$1.28 per share. Revenue growth continues to be the stock's biggest driver, up 40% since the stock debuted in 2014. All eyes are on Wayfair's quarterly earnings report scheduled for May 2nd.
If you watch HGTV, you may already be familiar with the Wayfair name. With access to a $600 billion market for household renovations and decorations, Wayfair is standing out as a best-in-breed player. With no competition in sight, Wayfair has a clear path to dominate the market.
The stock is up nearly 80% year-to-date. That kind of action doesn't happen without Wall Street catching wind of it. Gordon Haskett upgraded this stock in March from "hold" to "accumulate."
Breaking down the Fundamentals
The stock is a pure growth play with no net positive earnings right now on which to base standard financial metrics like P/E or PEG. The high beta ratio of 2.0 means that the stock is a volatile one. This means large swings in the stock price relative to overall market performance.
Revenues may currently be negative, but the revenue growth rate of 40% is something that cannot be ignored. With online sales booming at 15% annually, Wayfair's stock is fundamentally solid.
Digging into the Technicals of the Wayfair Stock Analysis
Wayfair's stock chart is exactly the kind of thing you would want to see just off of the patterns alone. The stock price jumped higher right after the shorter 20-day SMA crossed over the longer 90-day SMA back in mid-February. Since then, the stock price has continuing to build positive momentum.
The Bottom Line
The above analysis provided by Daniel Cross, professional trader and financial writer.
What Does MarketClub Say?
Based on a full Wayfair stock analysis, MarketClub agrees that Wayfair (W) is in a strong uptrend fueled by insiders and price momentum.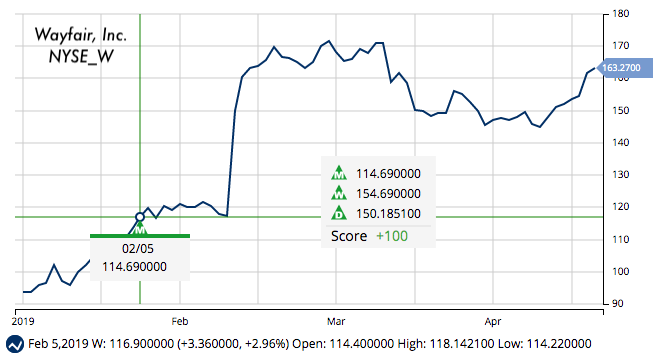 Members received a green long-term entry signal on 2/5/19 at $114.69. Since then, W has moved up the chart. As of the close on 5/1/19, W is trading at $163.53 up $48.84 (42.5%) since our signal.

While this upward trend remains strong, MarketClub members are waiting for a new Trade Triangle signal to exit out of this position.
Not a member? Join MarketClub now to get signals and alerts for Wayfair, Inc. (W) as well as 300K more stocks, futures, ETFs, forex, or mutual funds markets.