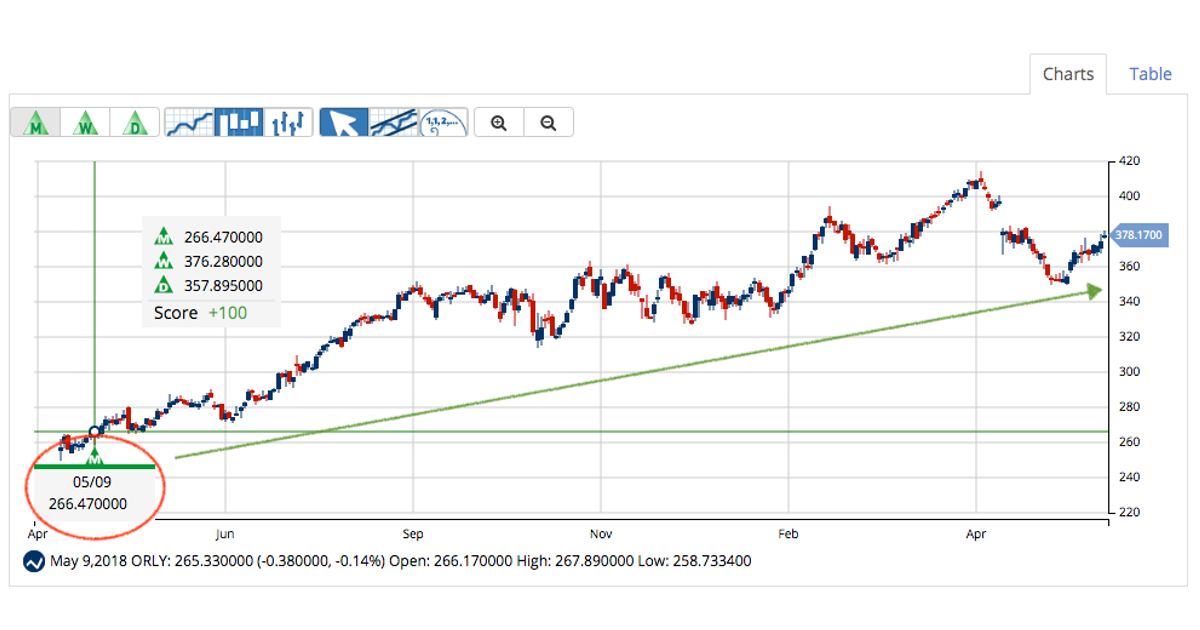 Most investors fall into one of two categories: those that start at the macroeconomic level and work their way down and those that start at the microeconomic level and work their way up.
It might seem like top to bottom analysis makes the most sense. After all, one needs to know how the broader economy is doing before investing. But by taking this approach, you could miss out on singular opportunities within high-performing companies.
One automotive company is making moves that have yet to be seen by Wall Street. This stealthy mover is allowing investors to buy shares while the stock is still on sale. Get The Next Entry Signal for ORLY.
A Household Brand and Value Buy
O'Reilly Automotive (ORLY) is a $29 billion auto parts retailer with more than 5,200 stores in 47 U.S. states. They are the largest brick-and-mortar automotive supply chain in the U.S.
The company has rapid expansion plans. In 2019 alone, they expect to open more than 200 new store locations.
O'Reilly Automotive's Q1 earnings were in line with analysts' expectations at $4.05 per share. Management also announced a $1 billion share repurchase authorization – something that can be used to limit downside movements and boost bullish momentum.
More and more consumers are looking to DIY vehicle repairs as opposed to purchasing new vehicles. This trend should translate into larger earnings for O'Reilly.
Fundamental Analysis of ORLY
The stock trades cheaply at just 22 times earnings compared to the industry average of 66 times earnings. The long-term EPS growth rate estimate of 19% gives it a PEG ratio of just over 1. This PEG ratio is a strong sign that the stock may be currently undervalued.
Checking on the Technicals
At first glance, investors may not know what to make of O'Reilly's stock chart. The 90-day SMA shows a trend heading higher. However, the 20-day SMA has been following along like a wave – occasionally dipping below the longer-term before resuming a bullish movement. Right now, the shorter day SMA is trading below the longer day SMA but appears to be climbing once again and building up momentum.
The Bottom Line
Based on O'Reilly's full-year EPS estimates, this stock should be fairly valued at around $410 per share – a gain of around 10% from its current price point.
For investors looking for a value buy in this market, O'Reilly Automotive seems like a solid choice.
The above analysis for OLRY was provided by Daniel Cross, professional trader and financial writer.
---
MarketClub's Analysis of ORLY
MarketClub agrees that O'Reilly Automotive (ORLY) is in a good position to see a positive, long-term stock movement.
With a +100 Chart Analysis Scores and green Trade Triangles across the board, this stock has the technical backing to see a strong push higher.

ORLY is coming off its all-time high made on April 16, 2019, at $414.63. While the price has dropped back down to the mid to high 300s, this has not changed the long-term trend.
Our long-term members have been in a long position for ORLY since May 9, 2018, at $266. As of yesterday's open, they were seeing unrealized gains of more than 41%.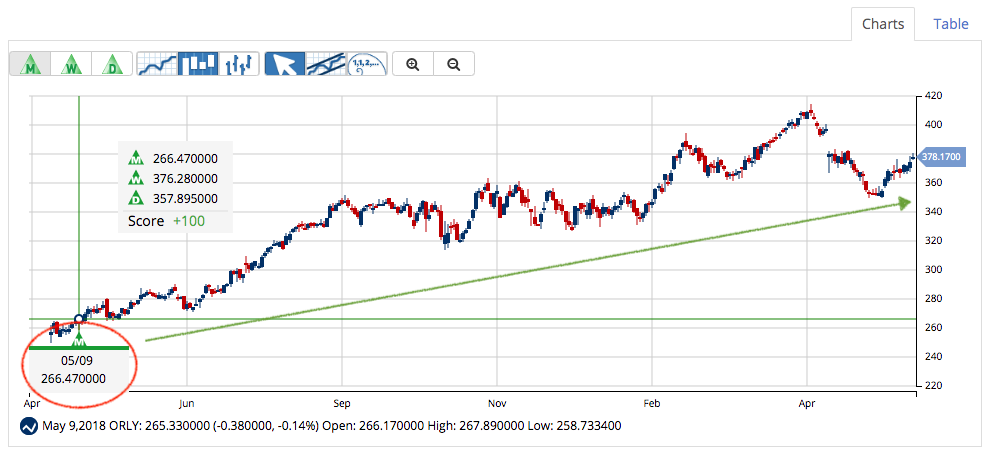 A new weekly Trade Triangle issued on June 3, 2019, could act as a new entry signal for members looking to jump on the long-term bullish trend.
Our members are the first to know when trends shift for any of the 350K stocks that we cover. With our alerts and signals, reversals for O'Reilly Automotive will never come as a surprise.
Not a member? Join MarketClub now to get signals and alerts for ORLY as well as 350K more stocks, futures, ETFs, forex, or mutual funds markets.