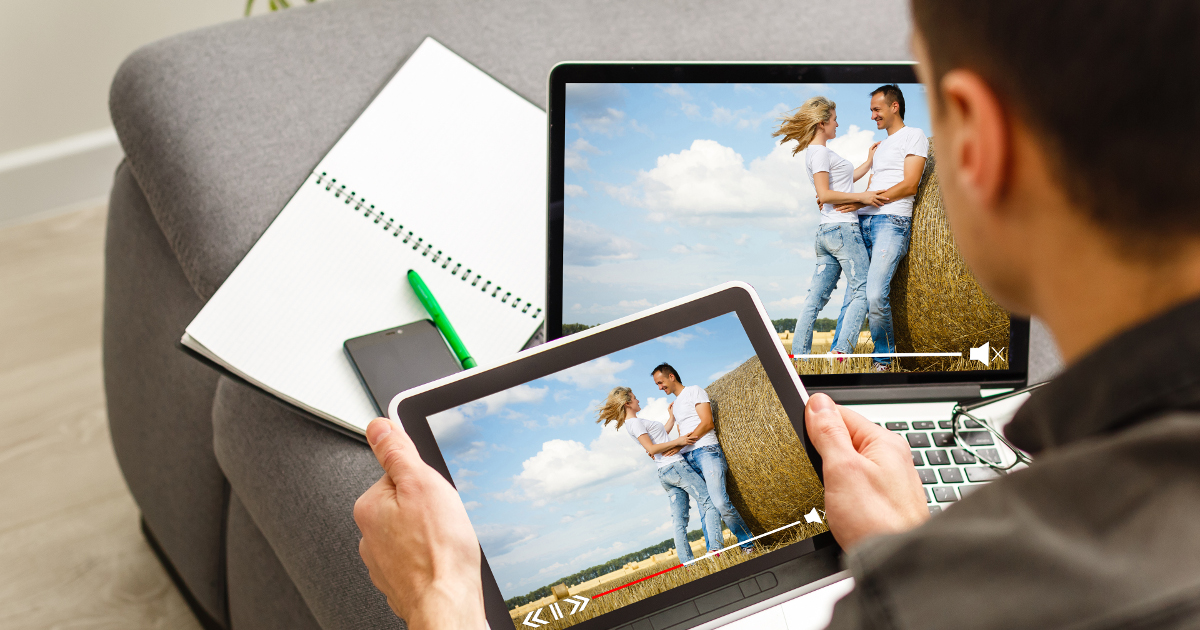 Like fashion, stocks tend to go through cycles of popularity. What was once one of the hottest brands on Wall Street faded to the background as investors sought newer and more exciting plays. But with a few new moves, one company is making a comeback. This stock could once again become one of the hottest trends on Wall Street.
Investors shouldn't dismiss this overlooked tech stock. Reinvigorated, this company looks to put up big numbers (and big profits) before the end of the year.
A Household Name and Best in Breed Tech Play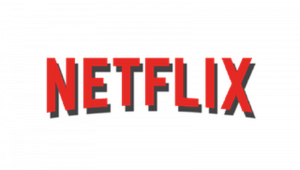 Netflix, Inc. (NFLX) is a $155 billion video and media streaming tech giant known for its on-demand selection of movies, television shows, documentaries, original programming, and more. The company's service is available worldwide in almost every country with the noted exception of China and several other countries.
The company reported a huge upside surprise for the first quarter with EPS of $0.76 per share. This overshot the $0.57 per share that analysts had expected. Following the beat, management raised guidance and expects 22% growth by the end of the year. The outlook for new subscribers was similarly boosted significantly with the company suggesting domestic growth of 8.2% and international growth of 36.5%.
Earlier this month, the stock was upgraded by Loop Capital from a "hold" recommendation to a "buy." However, Piper Jaffray reiterated its "overweight" recommendation with a price target of $440 per share.
The former FANG stock has slipped out of the limelight over the past years or so, but could be ready to re-emerge as a powerhouse tech play for investors. Get the entry and exit signals for NFLX.
The Fundamental Analysis of NFLX
The stock trades like any typical high-growth play. NFLX comes with a multiple of 80 times earnings. A triple-digit P/E may send investors running. However, a look at its estimated EPS growth rate of more than 55% means that this stock is nowhere near overvaluation.
The Technical Analysis of NFLX
Netflix's stock chart looks a lot like a roller coaster ride, with a series of sharp crests and troughs. But looking back, the stock appears to be trading in oversold territory within a tight trading range. Combined with the fact that the stock is moving over the 200-day SMA, this is a signal to investors that a new bullish trend is beginning to emerge.
The Bottom Line
Based on Netflix's full-year EPS estimates, this stock should be fairly valued at around $425 per share. This is a gain of more than 21% from its current price point. For growth-oriented investors, Netflix is back on the radar and shouldn't be overlooked.
The above analysis for NFLX was provided by Daniel Cross, professional trader and financial writer.
---
What Does MarketClub Say?
At the current moment, MarketClub's analysis isn't in agreement with Mr. Cross's findings.
With a Chart Analysis Score of -55, NFLX remains in a tight trading range between $340 and $380.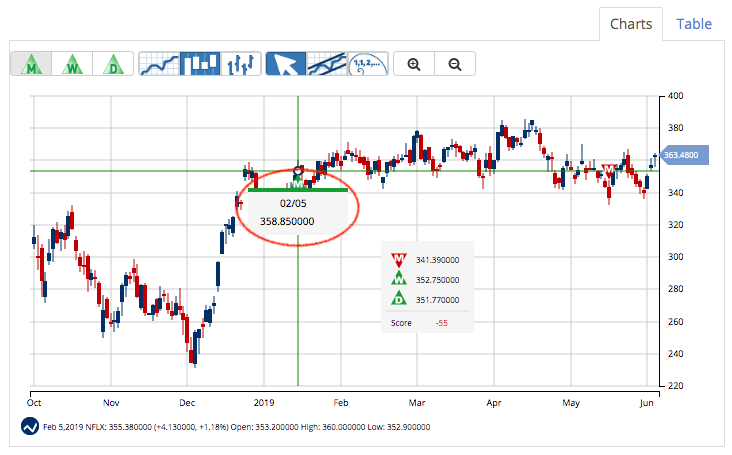 The stock will have to make a strong and consistent movement in one direction or another to shift our rating closer to a strong uptrend (+100) or strong downtrend (-100).
Our Trade Triangle signals are also mixed. Our long-term and intermediate-term signals are pointing down, while our short-term signal is pointing up.
Therefore, members would be sitting on the sidelines for NFLX waiting for the chart score to strengthen in one direction or another.
Sitting on the sidelines does not mean that members have to sit in front of their computers watching the score – our alert system will watch NFLX (or any watchlist or portfolio holding) for you!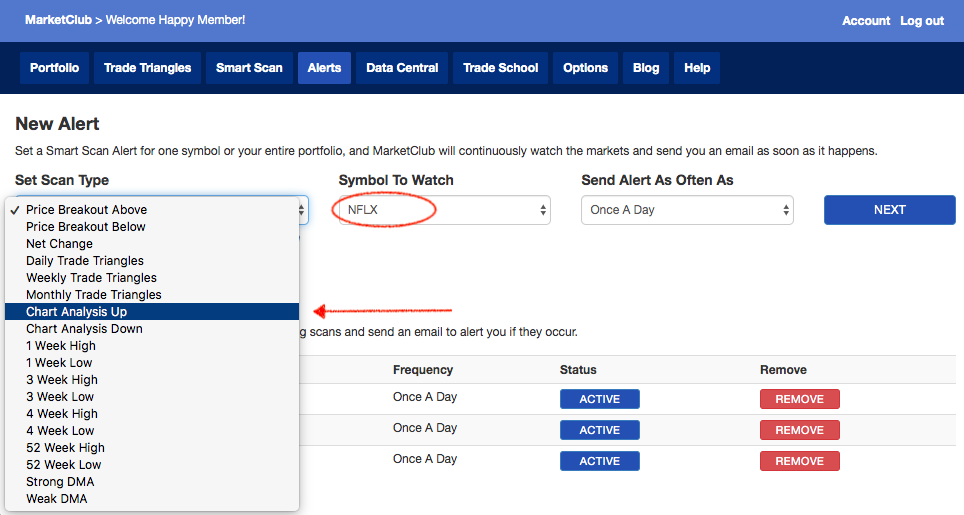 Even though MarketClub is not bullish on Netflix, Inc. (NFLX), there are strong signals and scores for thousands of other stocks, ETFs, futures, forex, and mutual fund markets right now.
Our simple scans will quickly share the strongest trending markets and new trading opportunities.
Join MarketClub right now, set an alert for NFLX, and start scanning for markets ready to break out right now.