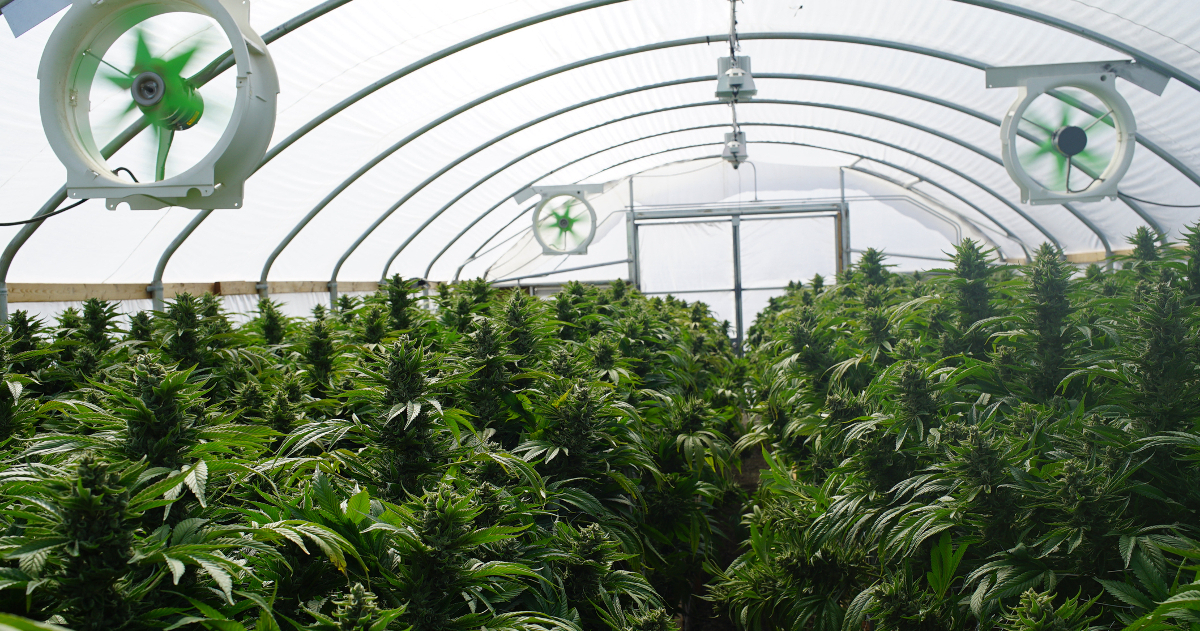 The cannabis sector has struggled to make solid upward movement over the last quarter. From banking issues to chatter on the Hill about stricter regulations, green stocks have met resistance.
However, MarketClub has been tracking 3 cannabis stocks that are kissing new 52-week highs and have the technical strength to continue their upward runs.
These stocks have smokin' momentum as they reach new highs.
---
Innovative Industrial Properties (NYSE:IIPR)
Innovative Industrial Properties is a real estate investment trust (REIT) for the medical cannabis industry.
Founded in 2016, this company has put together a healthy portfolio of income-producing real estate assets (particularly grow space) in 10 U.S. states.
This REIT's share price has rocketed up the chart and is hitting new all-time highs. IIPR is up 234.42% in the last 52 weeks alone.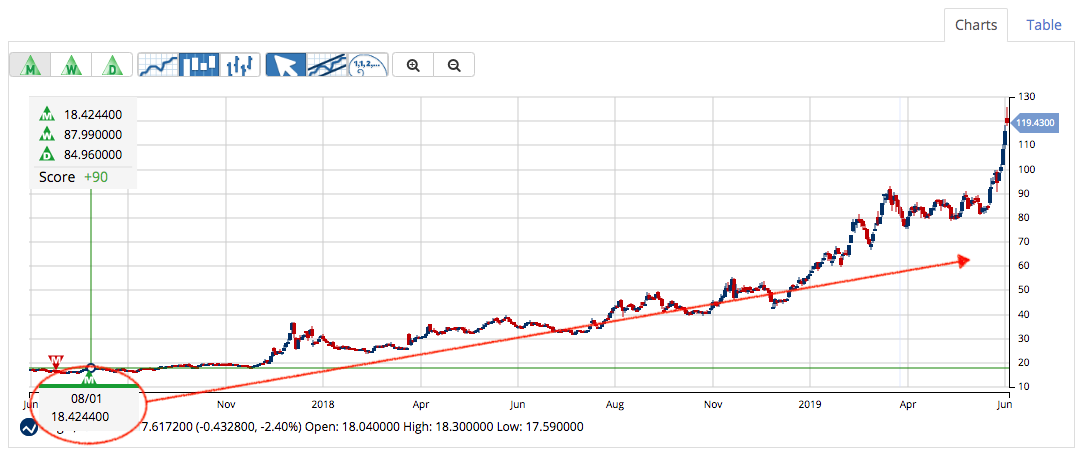 MarketClub first spotted IIPR's long-term trend and signaled members to enter a long position on August 1, 2017, at $18.42. As of the close on June 18, 2019, our members would be sitting on an impressive 548% unrealized gain.
Newer members who weren't able to jump on this move in the summer of '17 were given numerous confirmation signals over the last 2 years as IIPR moved up the chart. Even the last confirming signal (weekly Trade Triangle) that was issued on May 16, 2019, at $87.99, would have helped members grab the latest 35.7% move.

MarketClub is currently showing a Chart Analysis Score of +90 suggesting that the short-term, intermediate-term, and long-term trends are all pointing towards a move higher.
---
The Scotts Miracle-Gro Company (NYSE:SMG)
Scotts Miracle-Gro isn't the first stock that comes to mind when investors think about the cannabis industry. However, Scotts's Hawthorne Gardening subsidiary has pushed them into the cannabis game. In 2018, 13% of revenue rolled in from Hawthorne alone.
Scotts has continued to move further into the cannabis industry with its acquisition of Sunlight Supply, a provider of hydroponics solutions.
SMG has reached 52-week highs and is close to breaking the $100/share price once again.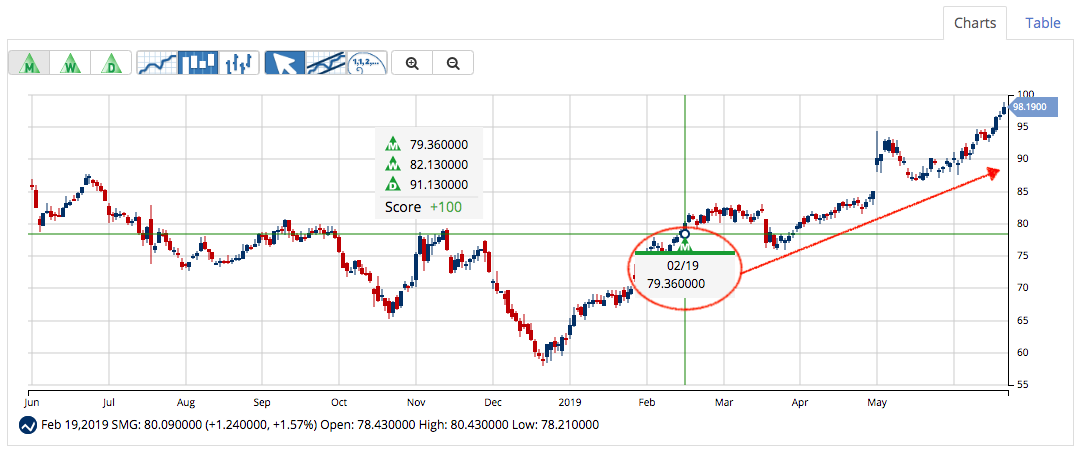 MarketClub's technology picked up on SMG's long-term trend shift on February 19, 2019, when a new monthly Trade Triangle was issued at $79.36. Since then, the stock has been on fire. As of the close on June 18, 2019, members are looking at an unrealized gain of 23.7%.

MarketClub is still detecting a strong uptrend with a +100 Chart Analysis Score and a new confirming upward signal issued on April 15, 2019.
---
Medicine Man Technologies, Inc. (OTC:MDCL)
Medicine Man Technologies, Inc. provides cultivation consulting service and turn-key solutions. From licensing and application support to facility design, MDCL helps support and build other cannabis companies.
MDCL is growing rapidly. In June of 2019, the company announced its third merger and acquisition deal of the month.
The stock price is moving as rapidly as MDCL's expansion plan. While mostly trading sideways between the $1 and $2 range until the beginning of 2019, the stock has sprung up to the $4 level.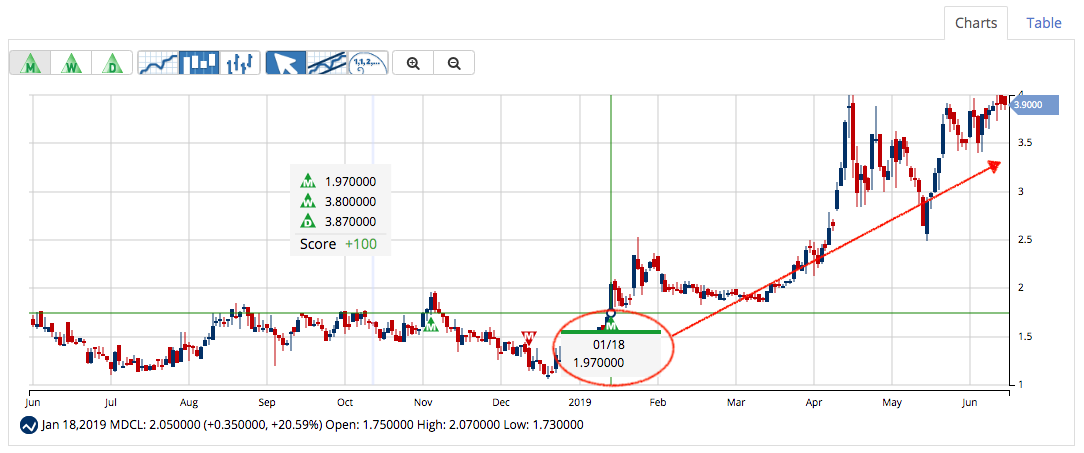 MarketClub identified the most recent upward trend on January 18, 2019, at $1.97/share. As of the close on June 18, 2019, members are looking at a 97.9% unrealized gain.

A new upward trend was just reconfirmed on May 28, 2019, at $3.80/share. A +100 Chart Analysis Score suggestions that the positive move isn't over quite yet.
---
While the cannabis industry will surely hit more bumps in the road, MarketClub's technology will continue to analyze chart patterns for members – handing over both new opportunities and warnings of weakness.
Get the signals for IIPR, SMG, MDCL, or any of 350K other stocks, ETFs, futures, forex, or mutual funds when you join MarketClub.