Niche market sectors are a great place to find high-growth companies that don't always follow the broader stock market movements.
Some of the best opportunities are found in unique markets where competition is more exclusive. It makes finding the best-in-breed business easier for investors – and that means bigger profits down the road.
One niche restaurant has revamped its image and its brand with a soaring stock price that doesn't look like it's fading anytime soon. In the Mexican fast-food space, there's a clear winner that could net investors more than 20% over the next 12 months.
A Best-In-Breed Neighborhood Favorite
Chipotle Mexican Grill, Inc. (CMG) is a $22 billion niche restaurant chain with over 2,000 locations across the US, the UK, Canada, Germany, and France. Its recognizable brand in the Mexican fast-food industry has helped it achieve rapid growth.
Get the next entry or exit signal for Chipotle (CMG)
The company reported an earnings beat for the 2nd quarter at $3.99 per share compared to the analysts' estimates of $3.76 per share. Revenues rose 13% year-over-year to $1.4 billion while comps came in at a staggering 10% – strongly supported by the company's digital sales segment.
Management expressed positive expectations for the company going forward. The high-margin online segment will be a large part of what's driving profits while same-store comp numbers should also continue to climb.
Goldman Sachs recently initiated coverage on the stock giving it a "buy" recommendation and a price target of $1,000 per share. For investors, it's a signal to get in now before the bullish momentum carries it higher.
Fundamental Analysis of CMG
The stock trades at nearly 70 times earnings placing it solidly in growth stock territory. But with profits growing at around 94% annually, the stock should easily be able to grow into its high valuation and make its $1,000 price target seem far more reasonable.
The company carries no long-term debt obligations. The total liabilities are roughly equivalent to total current assets, giving the company plenty of room for acquisitions and taking advantage of investment opportunities as well.
Technical Analysis of CMG
Chipotle's chart doesn't give investors much to go on other than a steady trend higher. Buying volume has been equally steady, with no large swings in either direction.
On a larger scale, the stock has strongly rebounded from the double-bottom pattern back in late 2018. With the stock testing a new 52-week high, the bullish momentum appears to be a long-term occurrence for Chipotle.
What do MarketClub's Trade Triangles say about CMG? See the signals here.
The Bottom Line for Chipotle Mexican Grill, Inc.
Based on Chiptole's full-year EPS estimates, this stock could be fairly valued at $1,000 per share.
This valuation is a gain of more than 23% from its current trading range.
This high-growth niche stock play is perfect for aggressive investors who have been looking for a standout performer despite the rough earnings season.
The above analysis of CMG was provided by Daniel Cross, professional trader and financial writer.
---
What Does MarketClub Say About CMG?
MarketClub's agrees that Chipotle Mexican Grill, Inc. is in a strong uptrend driven by insiders and momentum.

With a Chart Analysis Score of +90, CMG has bullish signals across the board and remains in the confines of a long-term uptrend.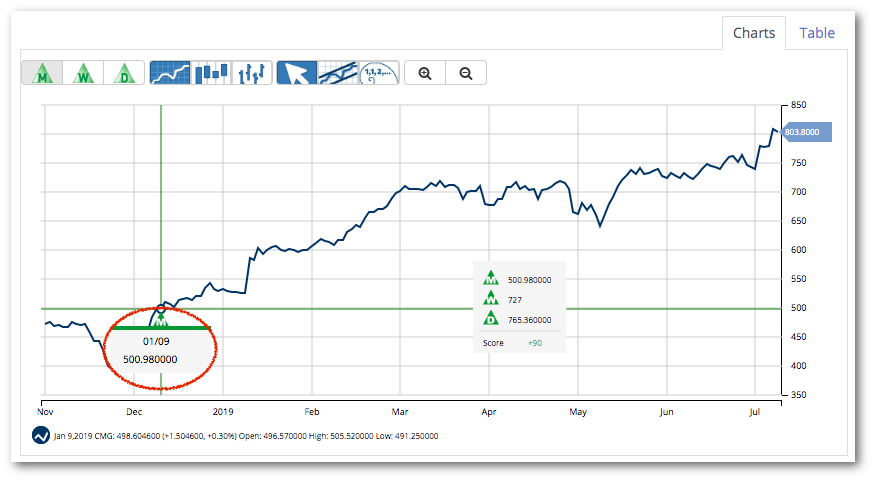 MarketClub members following our long-term Trade Triangle would still be in a long position originally signaled on 1/9/19 at $500.98. CMG has since soared more than 60%!
Our technology will monitor CMG and alert members of weakness or a trend reversal.
Join MarketClub now to set an alert for CMG and see the next trade signal.