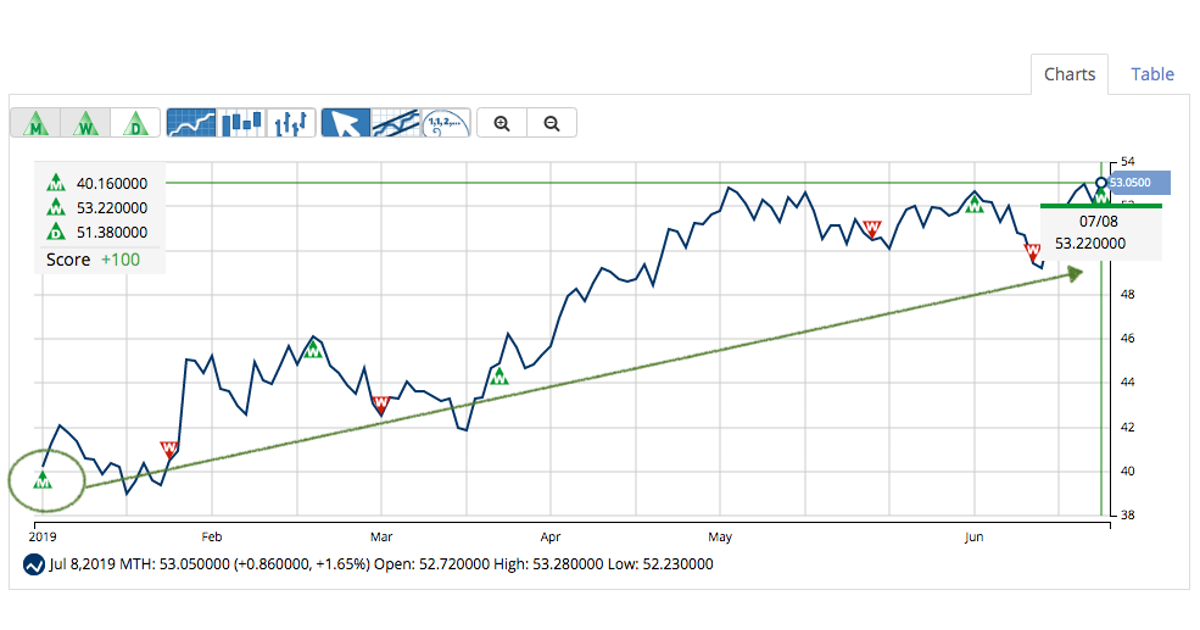 How many times have you looked at a stock or ETF chart and thought, "Man, I sure missed that move!" It's frustrating to sit idly by watching the price tick higher and higher.
Thankfully, MarketClub's Trade Triangles can reconfirm entry points during a long-term move to get you back in for the ride.
The monthly Trade Triangle (long-term trend) points in the direction of the most stable trend. Used alone, the monthly signals can help catch the biggest portion of a major price shift.
However, the weekly Trade Triangles (in the corresponding direction) reconfirm areas of strength. Used as an entry point into an already established trend or as a reentry point after a stop or profit-taking move, members can look to the weekly Trade Triangles as markers of opportunity.
When To Enter or Reenter
Let's look to Meritage Homes Corporation (MTH) as an example.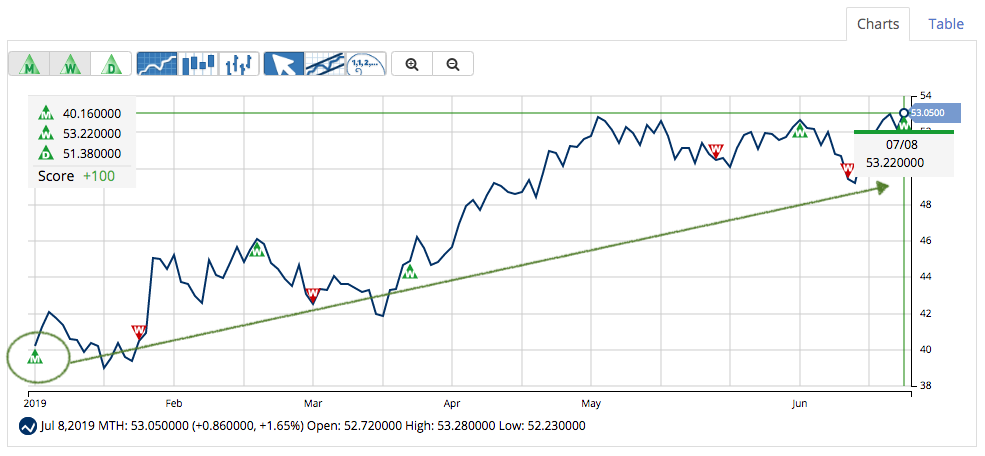 Meritage Homes Corporation designs and builds single-family homes in the United States. The company operates through two segments: home building and financial services. MTH acquires and develops land; and constructs, markets, and sells homes for first-time and first move-up buyers.
MarketClub members were alerted of a new long-term trend shift on 1/1/19 at $40.16. If they entered a long position on this Trade Triangle and stayed in the position, they would be looking at an unrealized gain of $12.89/share (32%).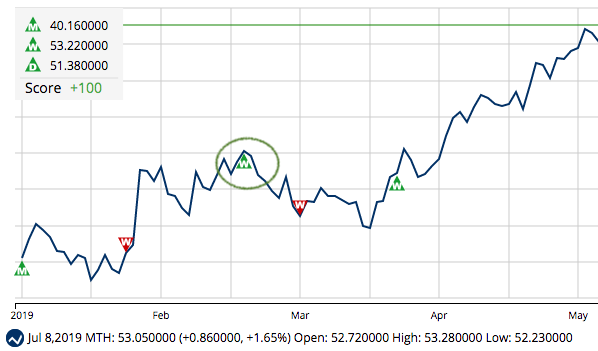 However, let's just say that they didn't see this signal or they weren't in a position to jump on this opportunity. MTH bobbled around the $39 – $41 level before taking off in late January.
A weekly Trade Triangle issued on 2/22/19 at $46.00 reconfirmed a shorter-term bullish trend. Members could have reentered MTH on 2/22/19 on the weekly Trade Triangle.
Members who used this as an entry point and remained in the position would be sitting on an unrealized gain of $7.05/share (15.3%) as of today's price action.
If a member was not ready to enter in February, or if they were stopped out of their previous long position for MTH, they could have reentered on the next weekly Trade Triangle on 3/26/19 at $44.83.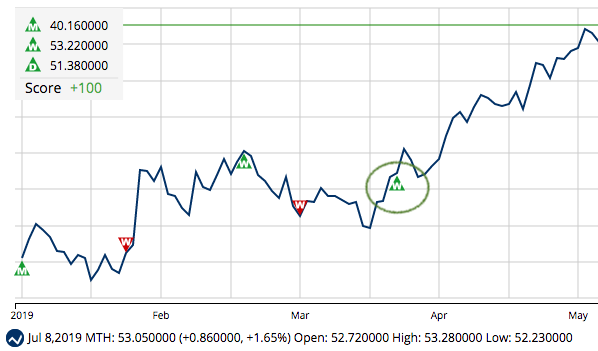 Members who followed this signal as an entry point would be eyeing up an unrealized gain of $8.22/share (18.3%).
The weekly Trade Triangles are looking for intermediate-term areas of strength. When these weekly trends align with the long-term trend, they can be excellent reentry points.
Just today, 7/8/19, a green weekly Trade Triangle was issued at $53.22. Based on the monthly Trade Triangle and the strong Chart Analysis Score of +100, members could reenter a long-position for MTH.
A number of weekly Trade Triangles were issued today that could act as entries into already established trends.
| | | | | |
| --- | --- | --- | --- | --- |
| Stock | Symbol | % Gain/Loss Since Last Monthly TT | Price of New Weekly TT | Price on Open 7/8/19 |
| Meritage Homes Corp | MTH | 32.1% | $53.22 | $52.72 |
| MDC Holdings, Inc. | MDC | 9.16% | $34.00 | $33.92 |
| Sol-Gel Technologies Ltd | SLGL | 47.0% | $9.50 | $9.35 |
| Sanderson Farm, Inc. | SAFM | 20.7% | $143.86 | $142.56 |
| Allegiant Travel | ALGT | 6.62% | $145.93 | $142.85 |
| Tootsie Roll Industries | TR | 20.6% | $38.45 | $38.10 |
| CBOE Global Markets, Inc. | CBOE | 10.51% | $111.00 | $110.03 |
If you're a MarketClub member, simply click the Trade Triangle tab and adjust your search filters to see the most recent signals. Select:
Equity
Volume Greater Than 100K
Weekly Trade Triangles
Search Since Yesterday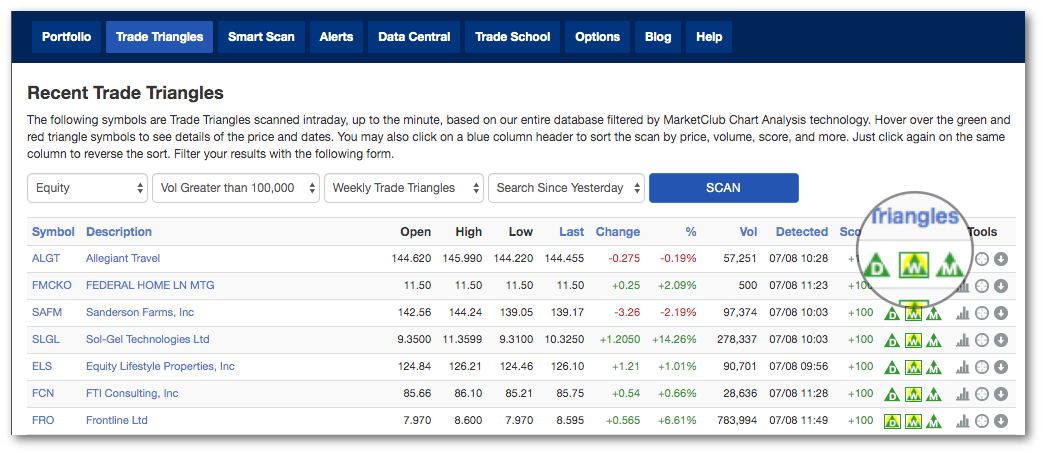 Click on "SCAN" to create an up-to-the-minute list.
A yellow box around the weekly green Trade Triangle and a monthly green Trade Triangle would signify a new reentry opportunity.
Our Trade Triangle technology is working hard so that you don't have to sit on the sidelines with "coulda-woulda-shouldas" and instead offer new entry suggestions based on solid technical analysis.
Not a MarketClub member? It only takes a moment to start your 30-day trial.
Once you receive your username and password, you can start searching for new long-term moves OR find confirming entry signals getting you into already-established moves.
Begin Your 30-Day MarketClub Trial Now
If you have a question, don't hesitate to contact the MarketClub support team.