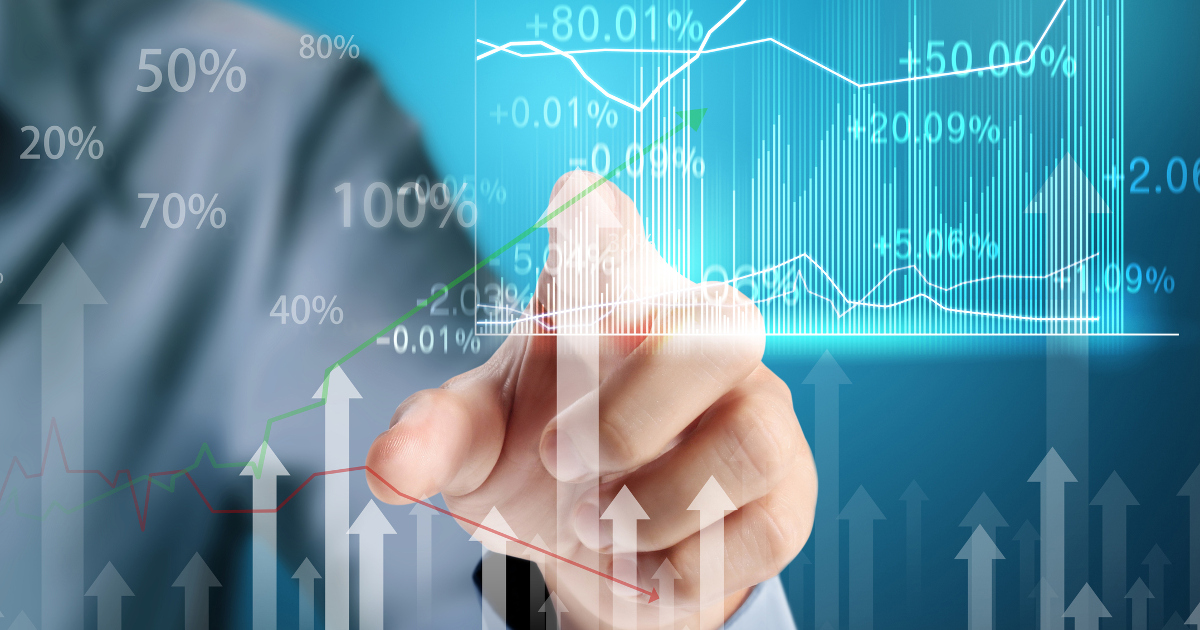 Investors hone their profit-seeking senses to zero in on stocks that no one has heard of yet. Investing in the next big thing (before anyone else) can result in some of the largest possible gains. But sometimes the greatest opportunity is overlooked because it's too obvious.
When everyone skips over the plain-sight option, it creates a rare opportunity for savvy investors.
For this neighborhood staple, growth and profits are happening regardless of whether or not investors pay attention. Let me warn you, this all-in-one growth and value play won't stay hidden much longer.
A Household Name and Retail Giant That's Powering up Fast
Target Corporation (TGT) is a $46 billion retail conglomerate and discount variety store currently listed as the eighth largest in the US. The company operates 1,851 stores across the country and is well known for being Wal-Mart's largest competitor.
The popular retailer posted a first-quarter earnings beat of $1.53 per share exceeding the $1.43 per share that analysts had expected. The company hasn't been on most investor's radar lately due to a few missteps in the past couple of years. However, the company has reinvented itself and its image as evidenced by the jump in EPS expectations to more than 10% and comparable same-store sales growth of 4.8% for the first quarter.
Another catalyst for Target is the back-to-school shopping season coming up. Despite the monumental rise of online shopping, school supplies continue to be popular for brick-and-mortar retailers. Target's appeal to younger shoppers should help foster more growth this season as well. Get the entry and exit signals for Target Corporation (TGT).
The last stock upgrade took place in May with both JP Morgan and Morgan Stanley raising the recommendations from "neutral" to "overweight." More upgrades are likely to come giving investors a window for jumping into this rising star before it's too late.
Fundamental Analysis for TGT
The stock trades like a value play with a relatively low multiple of 15 times earnings compared to the industry average of 43 times earnings. The long-term EPS growth rate of 11% gives it a PEG ratio of less than 2, giving investors a hint that the stock may still be undervalued. The stock also comes with a hefty 3% dividend yield offering investors a boost to profits as well as downside protection.
Technical Analysis for TGT
The chart may be one of the biggest surprises to investors and a catalyst for driving the stock higher. Usually a large-cap, dividend-paying stock doesn't show the same bullish momentum signals as the smaller speculative ones.
The shorter 20-day SMA crossed over the longer 90-day SMA in mid-May while the stock price has followed along with a large spike in buying activity. With the gap growing larger, it's shouting to investors that this momentum is still building up and could propel the stock much higher before cooling off.
The Bottom Line
Based on Target's full-year EPS estimates, this stock should be fairly valued at around $100 per share – a gain of more than 12% from its current trading range. Investors shouldn't overlook this growth play disguised as a value stock.
The above analysis of TGT was provided by Daniel Cross, professional trader and financial writer.
---
MarketClub's Analysis for TGT
MarketClub's scanning and Trade Triangle technology agree that Target (TGT) is in a strong uptrend.
With a Chart Analysis Score of +90 and green Trade Triangles for all time frames, our members would be in a long position for TGT.

Following the long-term strategy, MarketClub members would have entered TGT on 3/1/19 at $73.71. They would be looking at a $12.74/share (14.7%.) move as of today's price action.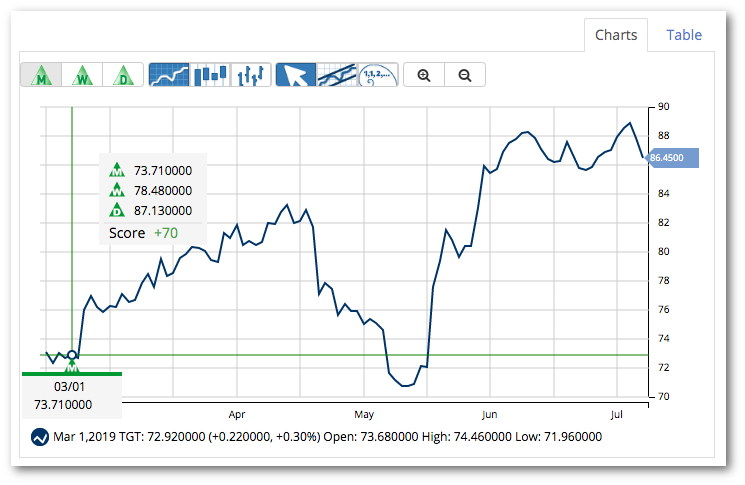 If a member missed this signal, they could have entered TGT when the green weekly Trade Triangle was issued on 5/22/19 at $78.48. These members would be sitting on a $7.97/share (9.2%) move.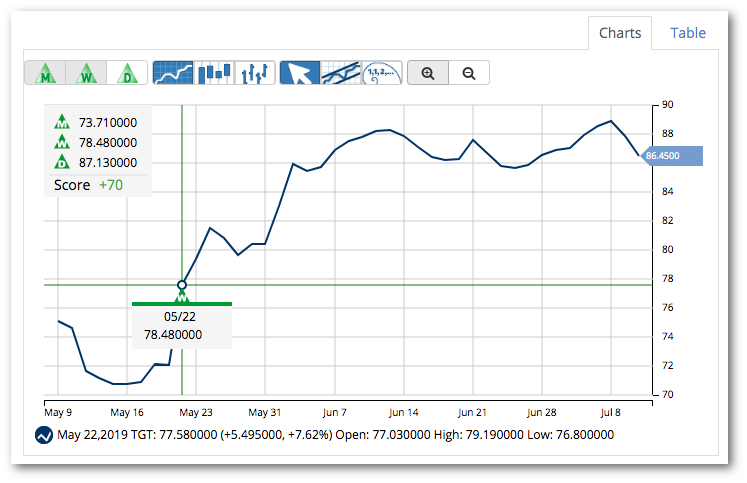 While MarketClub believes that TGT is still in a solid uptrend, things change quickly. Join MarketClub and the alerts will watch the chart for you and will sound the alarm when it's time to exit TGT or when there is a new opportunity to reenter this trade.
Join MarketClub right now to see the signals for TGT and over 300K more stocks, ETFs, futures, precious metals, and mutual funds markets.