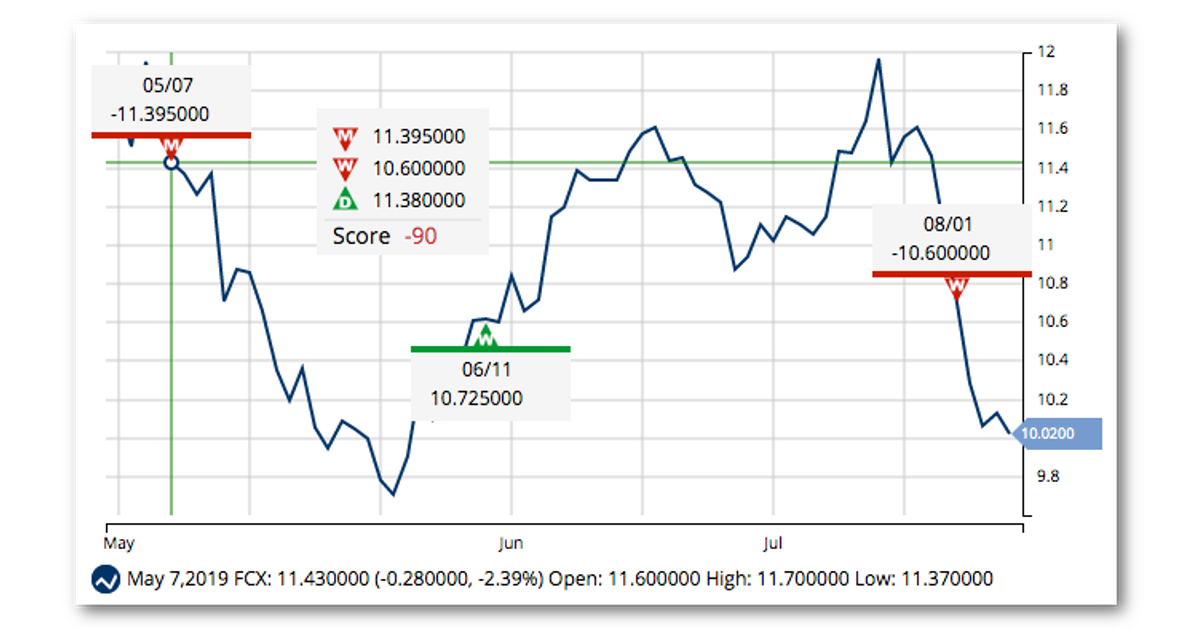 Value investors need to have a different mindset than other types of investors. Sometimes that means they go against their instincts. They look for stocks that are near 52-week lows instead of stocks with bullish momentum and positive analyst reviews.
Being slightly out of step with what's currently popular can often be the fast track to finding discounted stocks before they move higher.
For one mining company, a deeply discounted stock price doesn't reflect its long-term potential to give investors an opportunity for profits.
A Best in Breed Mining Giant and Value Superstar
Freeport-McMoRan (FCX) is a $15.5 billion copper mining conglomerate based out of Phoenix, Arizona. It's listed as the largest producer of molybdenum, and the second-largest producer of copper in the world. While copper is the company's primary operational focus, molybdenum, gold, and petroleum make up various segments as well.
Get the next signal for Freeport-McMoRan (FCX)
The company reported negative earnings for the 2nd quarter. Earnings still came in higher than analysts expected at -$0.04 per share compared to -$0.06 per share. The most significant takeaway for the 2nd quarter was the copper price realization of $2.78 per pound compared to the company's net cash cost of $1.85 per pound.
One of the biggest catalysts working for Freeport, besides the low stock price, is the state of commodities right now. Commodity prices have been kept near lows for too long given increasing liquidity concerns in global markets as well as the indications of expansionary monetary policies taking place.
The stock has seen several analyst upgrades in the past month with two upgrades from "underperform" to "market perform" and one change from "hold" to "buy." The price targets range between $12 and $13.50 per share – both of which are higher than where the stock is currently trading.
Fundamental Analysis of Freeport-McMoRan
The stock trades roughly in line with the industry average of 22 times earnings. But like all mining companies, it's the cost of production that determines the stock's intrinsic value. With both copper and gold prices trading well above Freeport's cash cost basis and the likelihood of commodity prices rising, the stock appears deeply undervalued.
The stock also comes with a 1.95% dividend yield giving investors a little downside protection from any sharp drops in commodity prices.
Technical Analysis of Freeport-McMoRan
From a chartist's perspective, Freeport doesn't offer many hints as to whether to buy or simply hold it.
The shorter and longer SMA's have crossed over a couple of times this year as the stock rose and fell but are now trending close together. However, a double pattern appears to be developing in the stock – a sign that a bullish reversal may soon occur.
The Bottom Line
Based on Freeport's full-year EPS estimates and current cash costs, this stock should be fairly valued at around $13 per share – a gain of more than 26% from its current price point.
For value investors looking for a long-term holding, Freeport could offer unprecedented gains in the next 24 to 48 months.
The above analysis of CMG was provided by Daniel Cross, professional trader and financial writer.
---
What Does MarketClub Say About FCX?
As Mr. Cross noted above, Freeport-McMoRan, Inc. is showing great weakness. The tumble began in spring of 2019, hitting a 2-year low on May 31, 2019.
FCX is currently showing a -90 Chart Analysis Score. This rating indicates that the stock is still in a strong downtrend with bearish momentum.
Long-Term Traders
MarketClub members following our long-term strategy would have been in a short position since 5/7/19 @ $11.39 OR would be sitting on the sidelines since this signal.
This signal would have helped members grab an 11.7% gain OR avoid an 11.7% loss.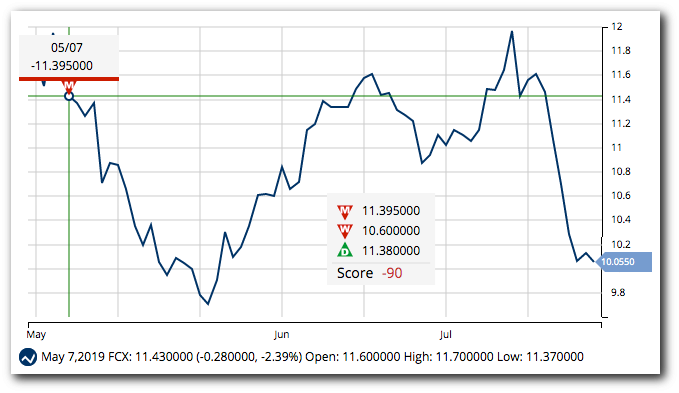 Intermediate-Term Traders
MarketClub members following our intermediate-term strategy would also be holding a short position.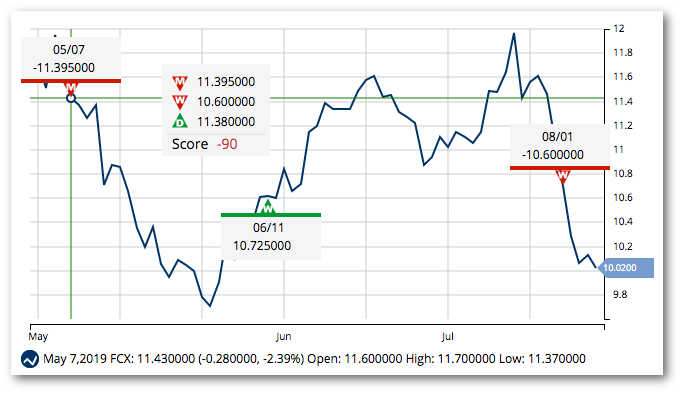 Members would have entered a short position on 5/7/19 at $11.39. They would have exited the position on 6/11/19 at $10.72 with a 5.8% gain. Members would have re-entered a short-position on 8/1/19 at $10.60 and would be holding this position as of today's signal action.
When FCX Reverses
Members looking to go long FCX would be waiting for a green monthly Trade Triangle to indicate a change in the general trend as Mr. Cross anticipates.
Thankfully, members don't need to sit in front of their computers to know when it's time to make a move – our alert tool will notify you when a new signal is issued.
Why MarketClub
Most traders and investors do not have the knowledge it takes to thoroughly vet trades that are flashing signs of potential. They also do not have the time needed to run a daily, full technical analysis on each portfolio holding on their own.
MarketClub takes care of these things for members.
Not only will our scanning tools highlight the stocks, ETFs, futures, or mutual funds with the greatest potential based on their trend momentum, but the Trade Triangles will monitor your portfolio holdings and carefully time entries and exits based on technical trigger points.
Join MarketClub right now to see the signals and our top market lists.
PLUS, set your alert for Freeport-MacMoRan (FCX) so you won't miss the reversal and the potential 26% correction that Mr. Cross believes is on the horizon!