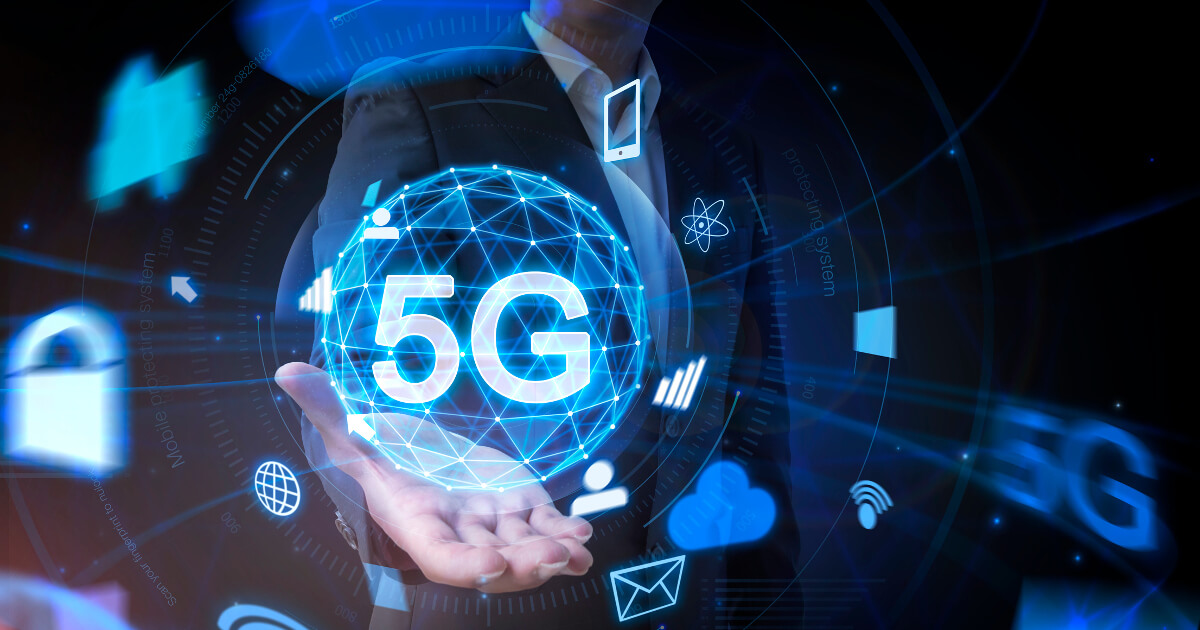 5G is coming…
This massive upgrade in cellular network technology is being implemented by the most powerful communications companies in the world and will become the new standard for cellular network technology.
Not only does this upgrade promise a significantly faster wireless infrastructure and lower latency (round-trip time between an information request and information return), but it will also give life to a wave of technological advances unable to thrive under the limitations of 4G.

While the most well-known communications companies are already working to build networks and create 5G compatible technology, semiconductors, transportation, healthcare, and manufacturers are also likely to benefit from the 5G movement.
Today's Strongest Trending 5G Stocks
Broadcom, Inc. (AVGO)
Broadcom Inc. designs, develops, and supplies a range of semiconductor devices with a focus on complex digital and mixed signal complementary metal oxide semiconductor-based devices and analog III-V based products worldwide.
In February of 2019, Broadcom announced a portfolio of six products designed to enable the deployment of end-to-end 5G networks.
AVGO current holds a MarketClub Smart Scan Score of +90.
This score indicates that this stock has bullish short-term, intermediate-term, and long-term momentum.
A new monthly Trade Triangle issued on November 4, 2019, indicates that AVGO is strongly trending to the upside and has the technical backing to push higher.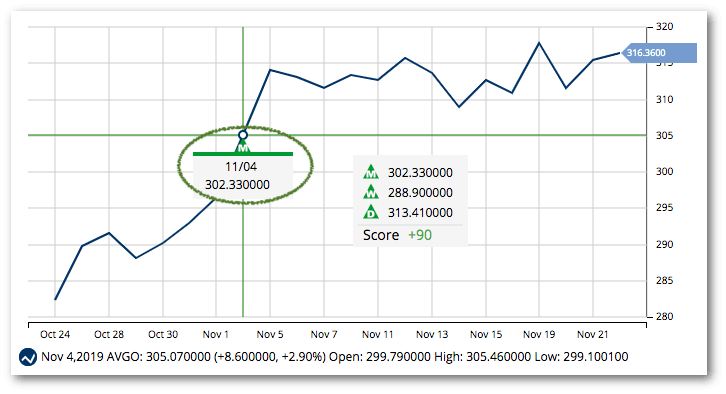 MarketClub members using the long-term strategy would be holding a long position, up $13.71/share (4.5%) since the last signal.
---
Verizon Communications, Inc. (VZ)
Verizon Communications Inc., through its subsidiaries, offers communications, information, and entertainment products and services to consumers, businesses, and governmental agencies worldwide.
Verizon CEO Hans Vestburg said, "In the future, everything is going to be transformed by 5G." By the end of 2019, Verizon projects that their 5G Ultra Wideband technology will be available in 30 U.S. cities. Vestburg told CNBC that he believes that 50% of the population would have access to 5G in 2020.
MarketClub believes that the technical trend is strong for Verizon with a Chart Analysis Score of +100.
While the last monthly Trade Triangle was issued on March 22, 2019, the intermediate and short-term trends are also pointing in a bullish direction.
MarketClub members would be holding a long position for VZ and would be looking for trend weakness or a new Trade Triangle to suggest a change in momentum.
---
Skyworks Solutions, Inc. (SWKS)
Skyworks Solutions, Inc., together with its subsidiaries, designs, develops, manufactures, and markets proprietary semiconductor products, including intellectual property worldwide.
Like Broadcom, Skyworks Solutions also launched a number of new solutions in 2019 optimized for the shift into 5G.
While MarketClub has identified short-term weakness for SWKS, the more important intermediate and long-term trends remain strong.
Skyworks is currently showing a +85 Chart Analysis Score.
Long-term MarketClub members have been in a long position since a signal was issued on October 21, 2019, at $88.77.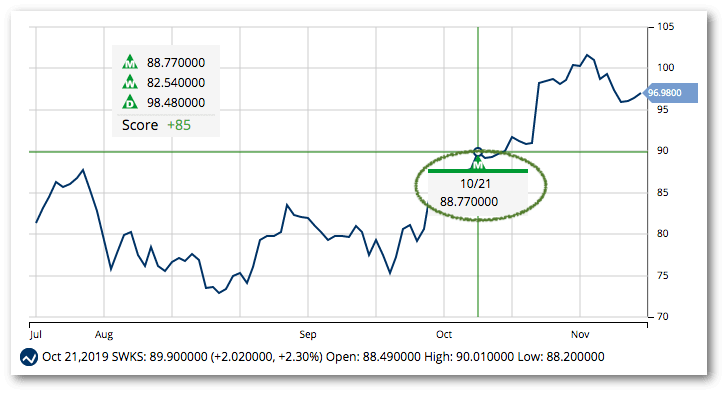 Based on today's market action, members would be sitting on an $8.21/share (9.2%) gain.
---
ZTE Corp. (ZTCOF)
ZTE Corporation provides telecommunications and information technology (IT) services worldwide.
This Chinese company is making big moves in the 5G transition and is in global cooperation with over 60 companies in the 5G field. According to RCR Wireless News, "ZTE is also paving the way to get ready for future 5G launches in key Latin American markets such as Brazil, Argentina, Colombia, Peru and Mexico."
ZTE Corp, traded on the U.S. OTC markets, is showing a Smart Scan Score of +80.
This strong score indicates that ZTE has the technical momentum to continue its bullish move.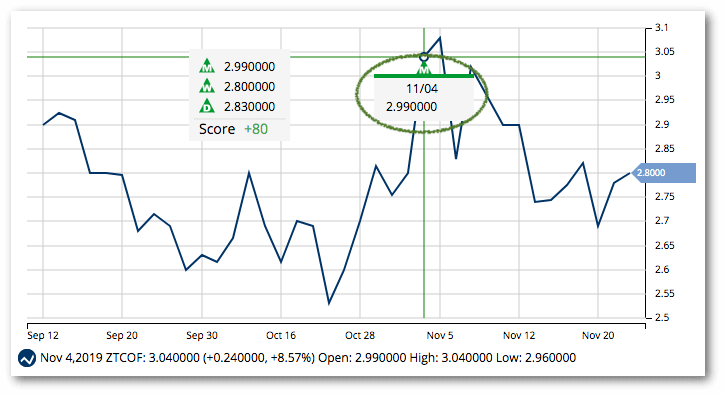 ZTE's stock price has fallen since MarketClub members received the last monthly Trade Triangle signal. However, a reversal has not been detected and ZTE still remains in the confines of an uptrend.
---
Apple, Inc. (AAPL)
Apple Inc. designs, manufactures, and markets smartphones, personal computers, tablets, wearables, and accessories worldwide. It also sells various related services.
Apple is planning to roll out three models of 5G iPhones, according to CNBC. This would be the companies first big step in 5G technology. 5G network coverage is still limited. Apple may hit the 5G cell phone market at a time when more of its users will be able to actually access the new technology.
Apple hit an all-time high on November 19, 2019, at $267.43. Since then, Apple has experienced a small pullback. However, AAPL is still showing a Smart Scan Score of +85.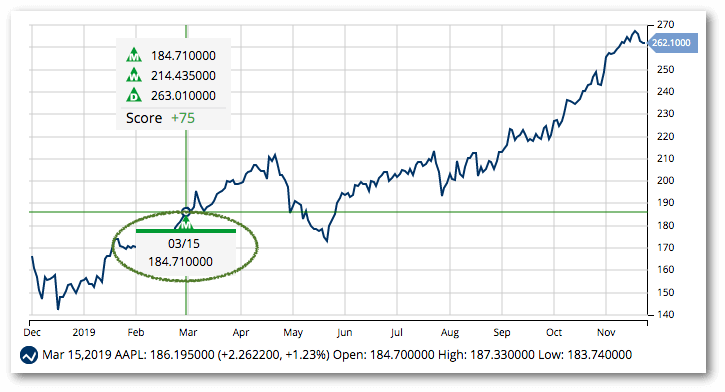 This score suggests that there is more upside potential for this technology powerhouse.
Long-term MarketClub members have been holding a long position. A monthly signal suggested an entry on September 9, 2019, at $214.43. The stock has since moved up $47.59/share (22.1%).
---
Join MarketClub Now to get signals and daily analysis on these 5G stocks, plus 350K more stocks, futures, forex, ETF, and mutual fund markets.