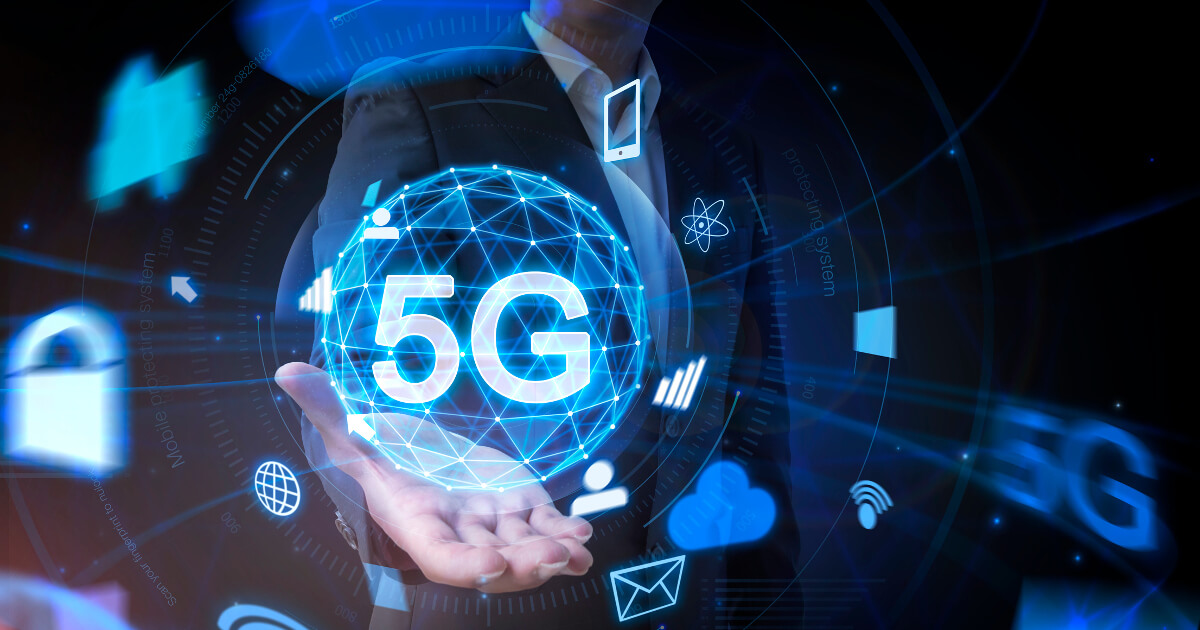 Updated on January 14, 2020
5G is coming…
This massive upgrade in cellular network technology is being implemented by the most powerful communications companies in the world and will become the new standard for cellular network technology.
Not only does this upgrade promise a significantly faster wireless infrastructure and lower latency (round-trip time between an information request and information return), but it will also give life to a wave of technological advances unable to thrive under the limitations of 4G.
Today's Top Tech Stocks – View The List
Don't miss the chance to invest in the next billion-dollar technology company! See today's best tech stocks from 5g, semiconductor, robotics, biotech, virtual reality (VR), artificial intelligence (AI) and silicon valley companies in one place!
While the most well-known communications companies are already working to build networks and create 5G compatible technology, semiconductors, transportation, healthcare, and manufacturers are also likely to benefit from the 5G movement.
Today's Strongest Trending 5G Stocks
Marvell Technology Group Ltd. (MRVL)
Marvell Technology Group is a semiconductor company that provides solutions for the enterprise, cloud, automotive, industrial and consumer markets.
In a February 2019 earnings call, President and CEO Matthew Murphy said, "As we detailed in our recent 5G announcements, we are poised to become a leading semiconductor supplier for 5G infrastructure, and when you add in our recent design win momentum in the data center, automotive and enterprise and edge markets, we are well positioned to drive compelling long-term growth."
MRVL currently holds a MarketClub Chart Analysis Score of +100.
This score indicates that this stock has bullish short-term, intermediate-term, and long-term momentum.
MRVL's shares made a strong move up the chart in early 2019. Shares then leveled off and bounced between $23 and $27 per share.
A new monthly Trade Triangle issued on November 4, 2019, indicates that MVRL is strongly trending to the upside and has the technical backing to push higher.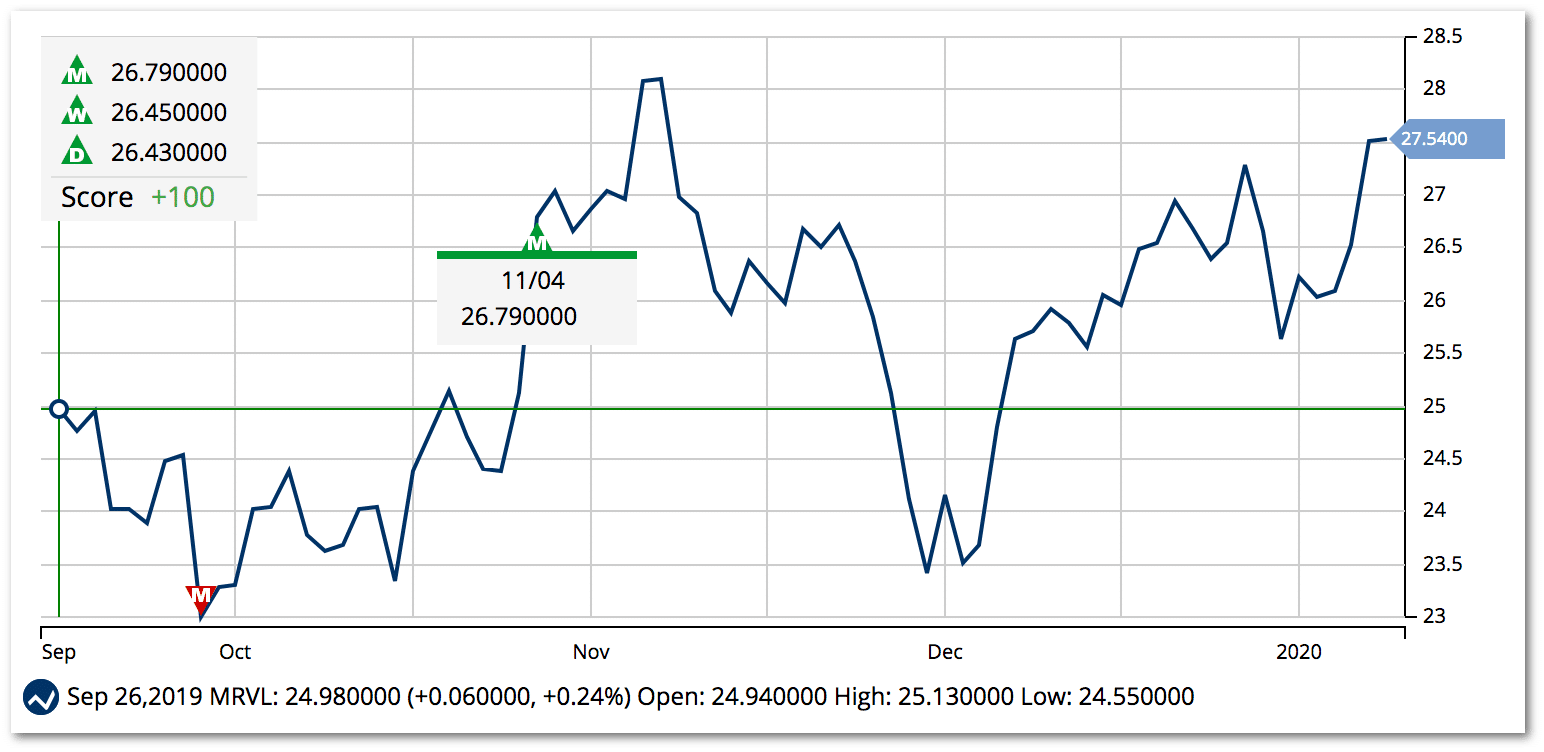 MarketClub members using the long-term strategy would be holding a long position, up a little less than $1/share since the last signal.
---
CommScope Holding Co, Inc. (COMM)
CommScope Holding Company offers infrastructure solutions for communications networks. From optical fiber and cable products to network racks and cabinets, COMM has an impressive portfolio of products.
COMM has assured current and new customers that their company will help make 5G migration both smoother and easier through their custom solutions.
While the stock has fallen from massive highs made between 2017 and 2018, shares have since dropped below $20, a level not seen since 2014.
MarketClub believes that the technical trend is strong for CommScope with a Chart Analysis Score of +100.
While the last monthly Trade Triangle was issued on November 7, 2019, the intermediate and short-term trends are also pointing in a bullish direction.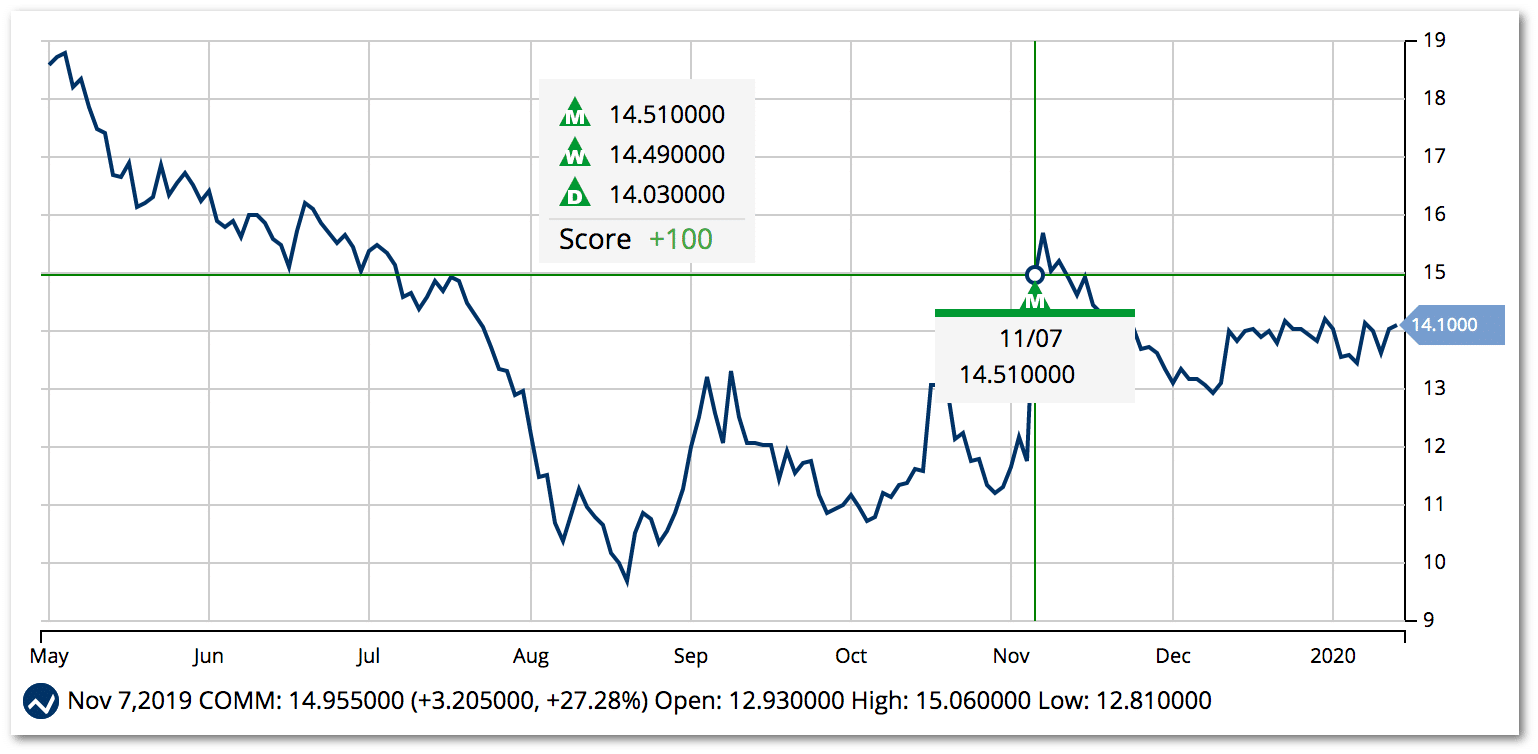 MarketClub members would be holding a long position for COMM and would be looking for trend weakness or a new Trade Triangle to suggest a change in momentum.
---
Qualcomm, Inc. (QCOM)
Qualcomm designs, develops, manufactures and markets communication products. Their technology and data solutions have been utilized in a number of industries such as automotive, digital healthcare, and artificial intelligence (AI).
Throughout 2019, Qualcomm continuously announced advancements in their 5G technology and the roadmap to expand 5G offerings.
QCOM is currently showing a +100 Chart Analysis Score.
MarketClub members caught a massive share price move when a Trade Triangle was issued on April 2, 2019, at $58.39.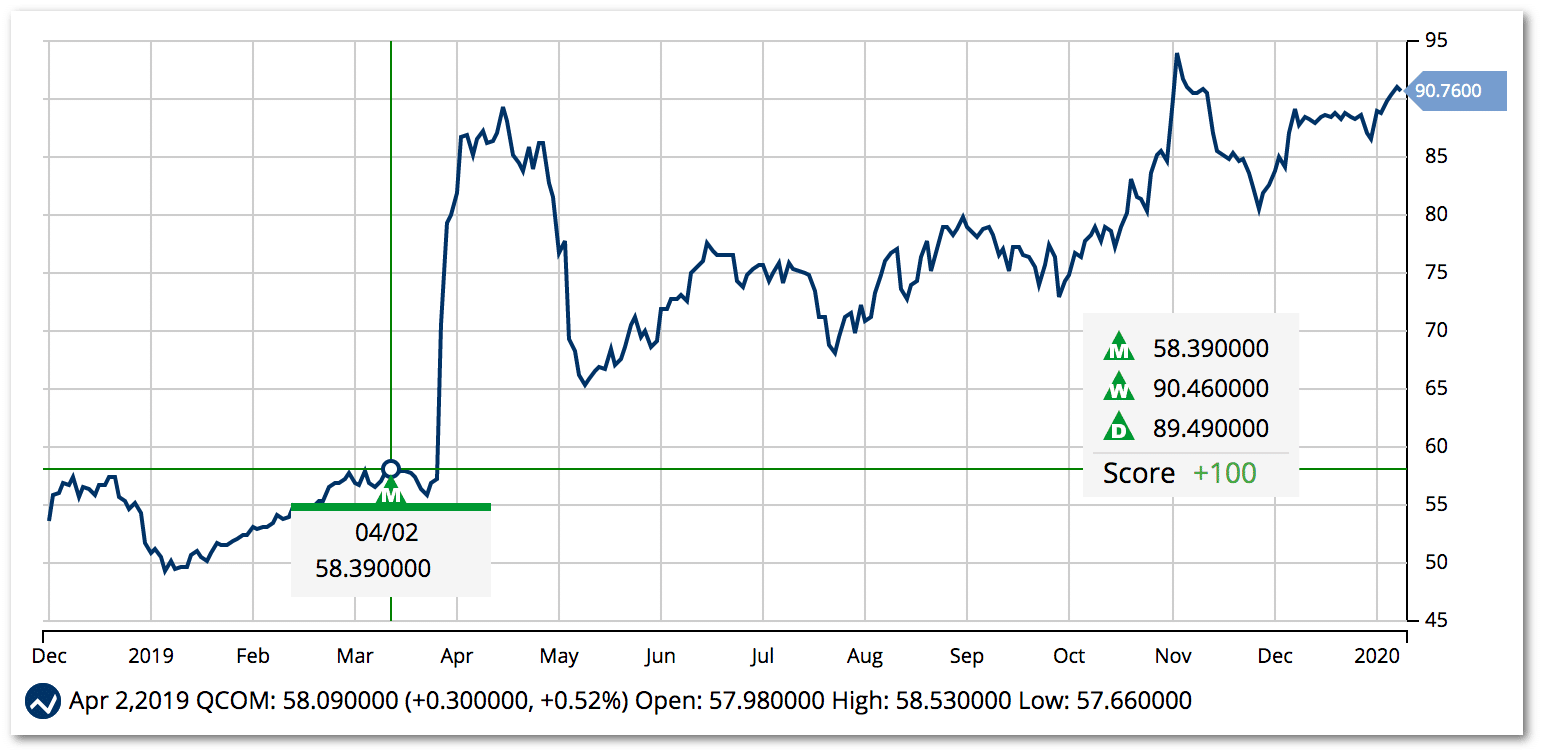 As of today's market action, members are riding a $32.37/share gain (+55.4%).
Members would continue to hold this position until the Chart Analysis Score changed or a red Trade Triangle signaled an exit.
---
ZTE Corp. (ZTCOF)
ZTE Corporation provides telecommunications and information technology (IT) services worldwide.
This Chinese company is making big moves in the 5G transition and is in global cooperation with over 60 companies in the 5G field. According to RCR Wireless News, "ZTE is also paving the way to get ready for future 5G launches in key Latin American markets such as Brazil, Argentina, Colombia, Peru and Mexico."
ZTE Corp, traded on the U.S. OTC markets, is showing a Chart Analysis Score of +90.
This strong score indicates that ZTE has the technical momentum to continue its bullish move.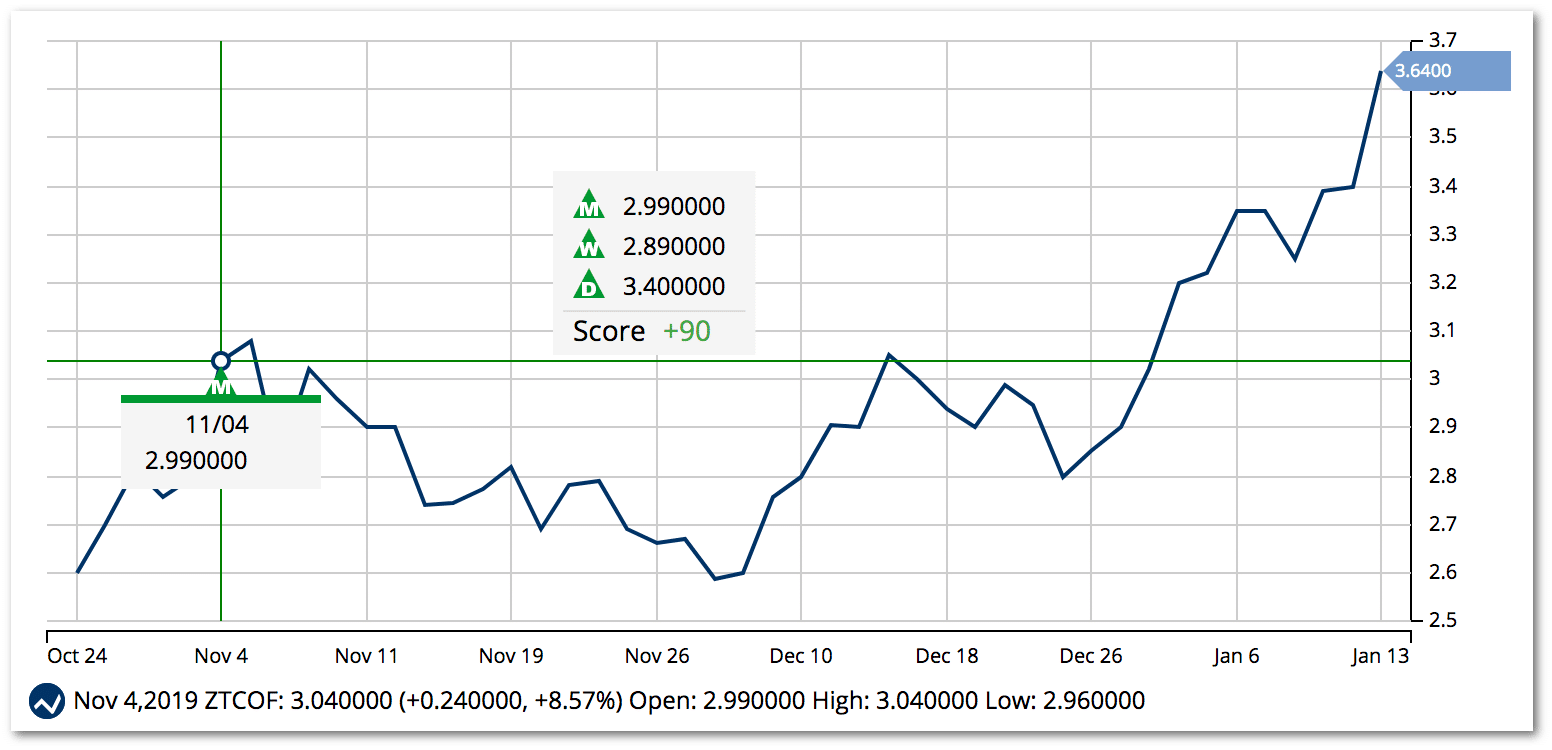 After a choppy last quarter in 2019, ZTCOF is rocketing up with strong momentum. The stock has jumped over the 1-year high.
MarketClub members received a monthly Trade Triangle on November 4, 2019, at $2.99. As of today's market action, members are looking at a $0.65/share gain (+21.7%)
---
Apple, Inc. (AAPL)
Apple Inc. designs, manufactures, and markets smartphones, personal computers, tablets, wearables, and accessories worldwide. It also sells various related services.
Apple is planning to roll out three models of 5G iPhones, according to CNBC. This would be the company's first big step in 5G technology. 5G network coverage is still limited. Apple may hit the 5G cell phone market at a time when more of its users will be able to actually access the new technology.
Apple reached an all-time high on January 13, 2020, at $317.06. Apple has pulled back a tad since hitting this high. However, AAPL is still showing a Chart Analysis Score of +90.
This score suggests that there is more upside potential for this technology powerhouse.
Long-term MarketClub members have been holding a long position. A monthly signal suggested an entry on March 15, 2019, at $184.71. The stock has since moved up $129.42/share (+70.0%).
---
Join MarketClub Now to get signals and daily analysis on these 5G stocks, plus 350K more stocks, futures, forex, ETF, and mutual fund markets.