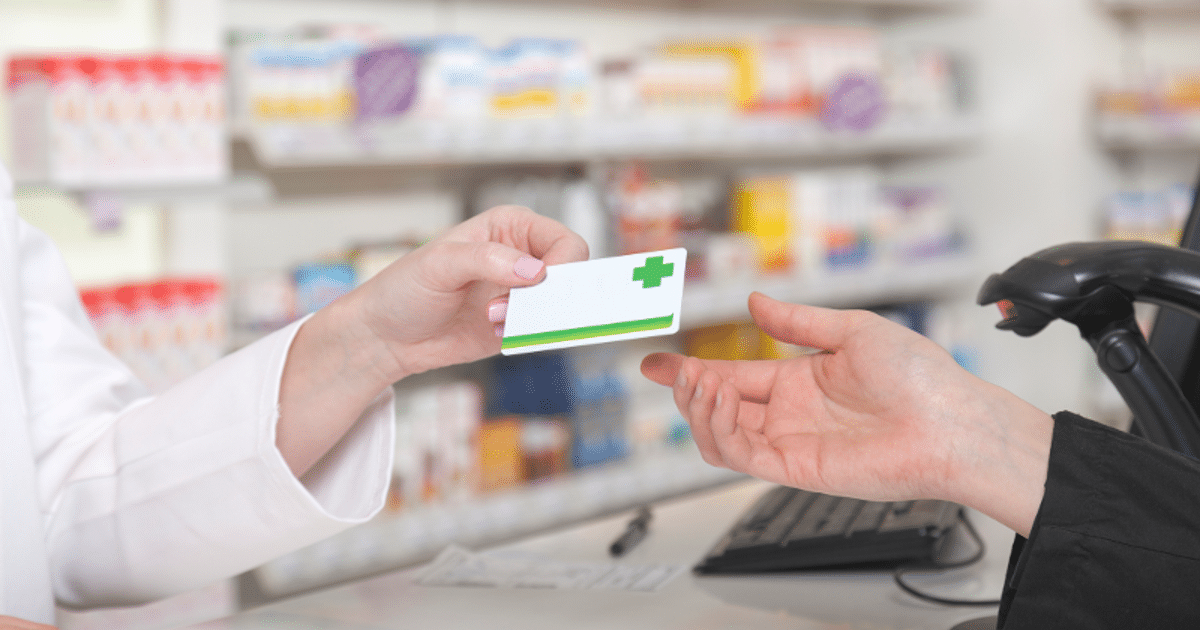 No amount of economic expertise can prepare a portfolio against the most insidious of happenings – the black swan. The coronavirus wasn't something that could be predicted or anticipated. Its economic impact is still playing out, and no one knows what the total damage will be in the end.
As consumers embrace social distancing and stock up on healthcare products like hand sanitizer and other essentials, one drug store company should be set for outsized gains, giving investors something positive amidst the crisis.
A Best-In-Breed Healthcare Retailer
Rite Aid Corporation (RAD) is a $1 billion drug store and healthcare retail company with operations throughout the United States. It is the largest drug store chain on the East Coast and the third-largest in the US behind CVS and Walgreens.
The company reported an astounding earnings beat for the third quarter at $0.54 per share compared to the analysts' consensus estimate of $0.09 per share. Revenues beat expectations as well at $5.46 billion, compared to $5.45 billion in the prior year's quarter.
As employers and schools make the transition to online media in order to prevent the spread of the coronavirus, Rite Aid should be well-positioned to cater to consumer healthcare and virus prevention needs.
The stock was upgraded in late February by Guggenheim from a "sell" recommendation to "neutral." However, as the coronavirus story plays out, this stock could see a string of upgrades in the next month or two.
The Fundamental Side
The stock currently shows a net loss for income, making traditional P/E analysis unusable. However, other metrics that can be analyzed reveal that Rite Aid may be a bargain buy right now.
Is Rite Aid (RAD) a buy, sell or hold? See MarketClub's Rating
The stock has a price-to-book value of $19.06 per share – significantly higher than its current trading price and a strong sign that the stock may be undervalued.
The Technical Side
Rite Aid's stock chart shows a peak in late December and subsequent drop but appeared to be slowly trending higher over the past few months.
The candlesticks show a heavy bullish push over the past couple of days and could continue as the weeks play out with the coronavirus. Despite the stocks large jump higher on Monday, the RSI is only at 47, meaning that there's still a lot of upside potential in this stock before it's considered to be in overbought territory.
The Bottom Line
For investors looking for a safe bet during a volatile economic time, Rite Aid should offer plenty of protection.
The above analysis of RAD was provided to MarketClub by Daniel Cross, a professional trader and financial writer.
---
What Does MarketClub Say?
The analysis is mixed for RAD at the moment. With a Chart Analysis Score of +75, this stock's intermediate movement has not aligned with the long-term trend.
Members following the long-term Trade Triangle are still holding a long position initiated on November 1, 2019, at $9.96. After the 62% move from there, members are holding tight and following their money management plan.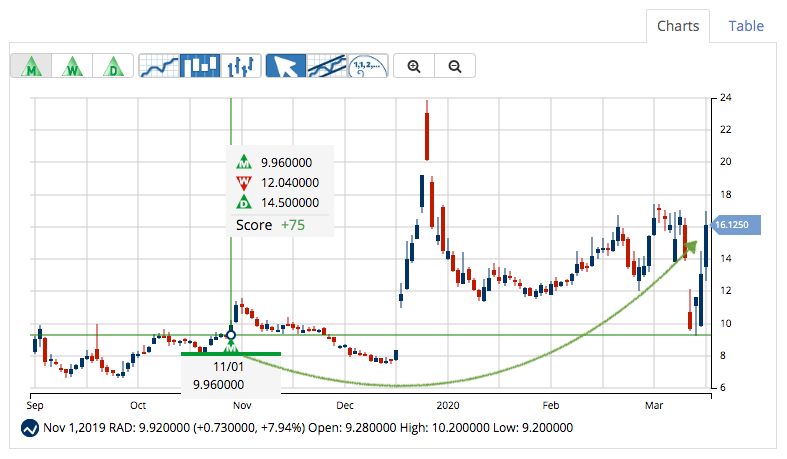 MarketClub members not in the original position or those looking to trade shorter-term will look for the trend score to strengthen before reentering a position in RAD.
By adding RAD to a portfolio watchlist and setting an alert, our technology will carefully monitor price movement and changes in trend for you.
Join MarketClub now to get a daily analysis, trade alerts, and scoring tools for RAD and 350K other markets.