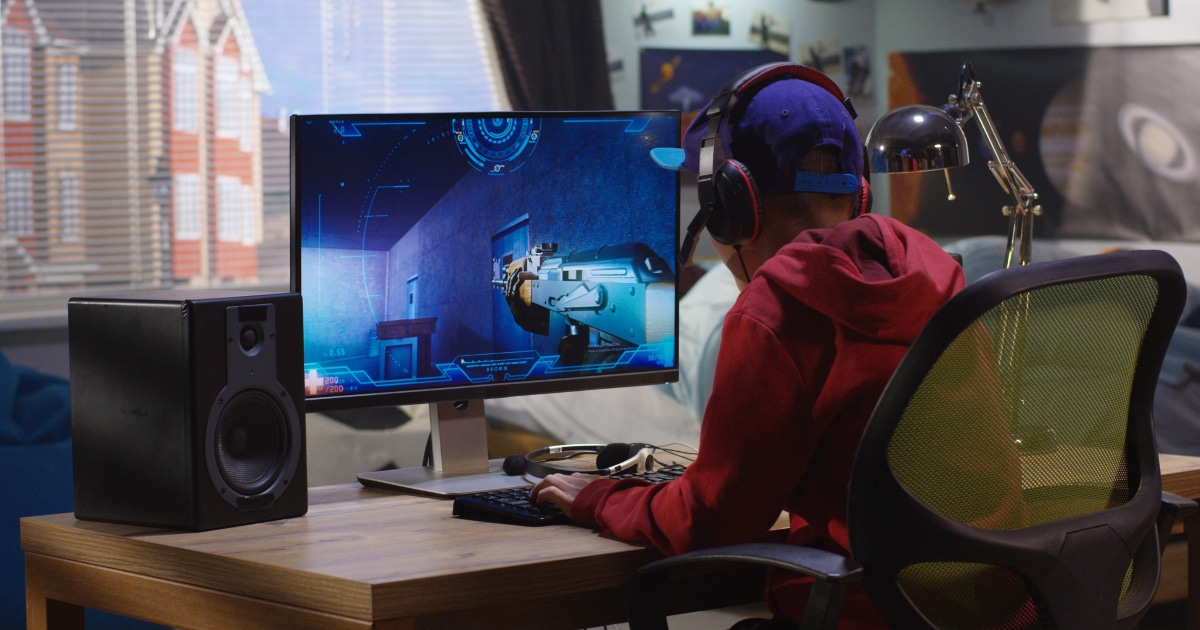 More and more states around the U.S. are imposing shelter-in-place or stay-at-home executive orders, making it illegal for residents to leave their homes for non-essential purposes. With a record number of people stuck in the house, the online gaming industry has a captive audience like never before.
Through online and mobile gaming, players can spend money on interactive entertainment from the comfort of their homes. Between new game downloads, in-game purchases,  and advertising revenue, the lockdown may lead to a revenue bump for major gaming companies.
Below are two stocks from leading companies in the gaming industry with plans to capitalize on the stay-at-home audience.
Mobile Specialist – Zynga, Inc (ZNGA)
If you're one of the 272 million Americans with a mobile phone, you may have already played a Zynga game. Some of the most popular Zynga game titles are Farmville, Words with Friends, Game of Thrones Casino Slots, and many others. These games are offered on Facebook (FB) as well as on both iOS and Android devices.
On top of operating and developing games and collecting in-game revenue, Zynga monetizes players through their advertising network.
Since launching in 2007, more than one billion people worldwide have downloaded and played a Zynga game. This massive consumer base and the entertainment limitations of the quarantine could push advertising, in-game revenue, and the stock price higher.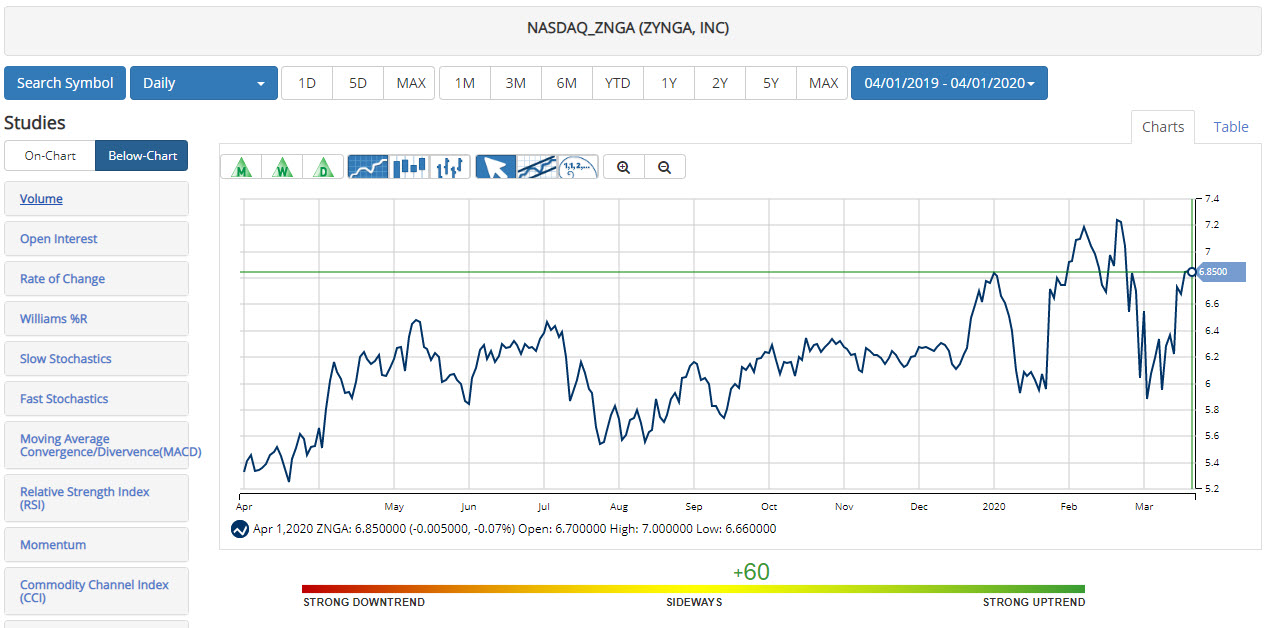 Based on MarketClub's analysis, ZNGA is currently in a sideways trend with a red monthly Trade Triangle in play. ZNGA is showing a Chart Analysis Score of +60.
With a green weekly Trade Triangle, a move lower seems unlikely. A strong earnings report could be just what ZNGA needs to head higher and trigger a new green monthly Trade Triangle.
Zynga's next earnings report is expected between April 29, 2020, and May 04, 2020. A quarantine bump in ad revenue and in-game purchases could point to a move higher.
Cross-Platform Specialist – Activision Blizzard, Inc (ATVI)
Activision Blizzard is a California-based interactive entertainment company that develops and distributes digital games. Best known for its cornerstone game Call of Duty, Activision Blizzard's games can be played on a number of platforms, including Playstation 4 and Xbox One game consoles, PCs, and mobile devices.
Unlike Zynga, Activision Blizzard's games are pay-to-play. Players can also purchase add-ons to add game features. The company just launched an upgrade to Call of Duty. Amid this coronavirus quarantine, ATVI is looking for a quick bump in revenue from at-home players.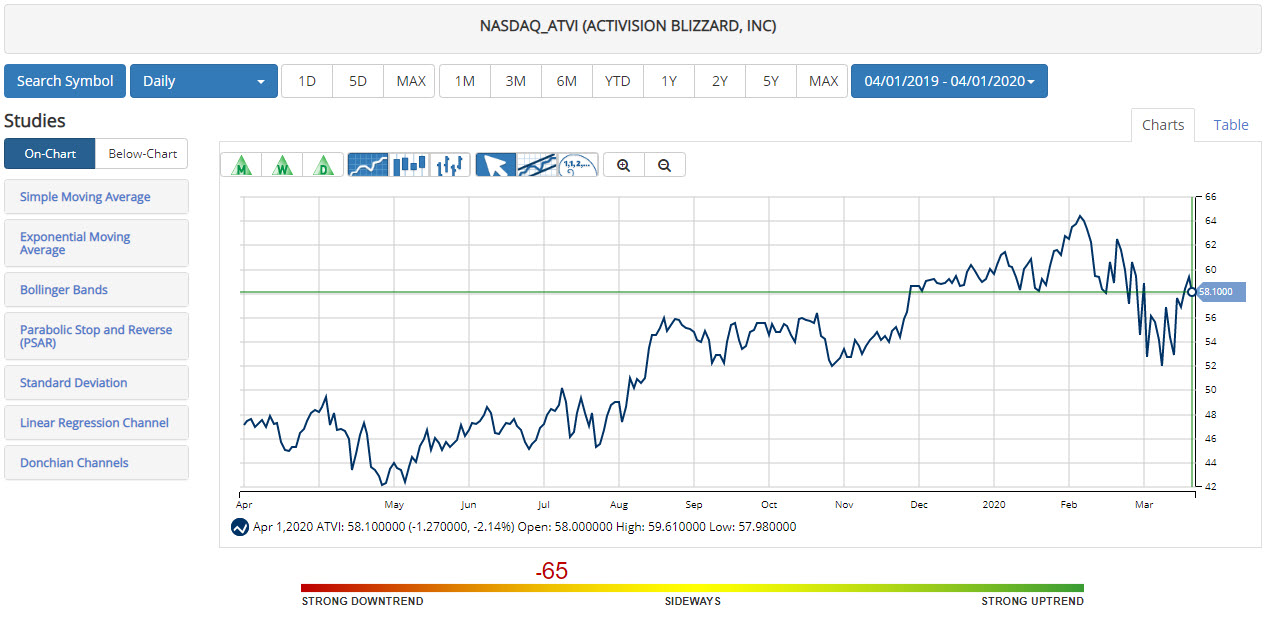 Based on MarketClub's analysis, ATVI is currently in a weak downtrend with a red monthly and weekly Trade Triangle and a Chart Analysis Score of -65. ATVI has little more work to do, but this weakening trend could lead to upward momentum heading into earnings.
Expect Activision Blizzard's next earnings report between April 30, 2020, and May 04, 2020. A bump in downloads and a well-timed upgrade campaign could lead to a move higher for both revenue and the company's stock price.
---
With Americans likely to spend another month or more locked down in their homes, Activation Blizzard and Zynga have a unique opportunity to provide entertainment for customers from the comfort of their couches.
MarketClub will monitor changes in trend for ZNGA and ATVI to alert members of new buying opportunities or signs of weakness.
Get the next month of signals for ZNGA and ATVI when you start your 30-day trial to MarketClub.