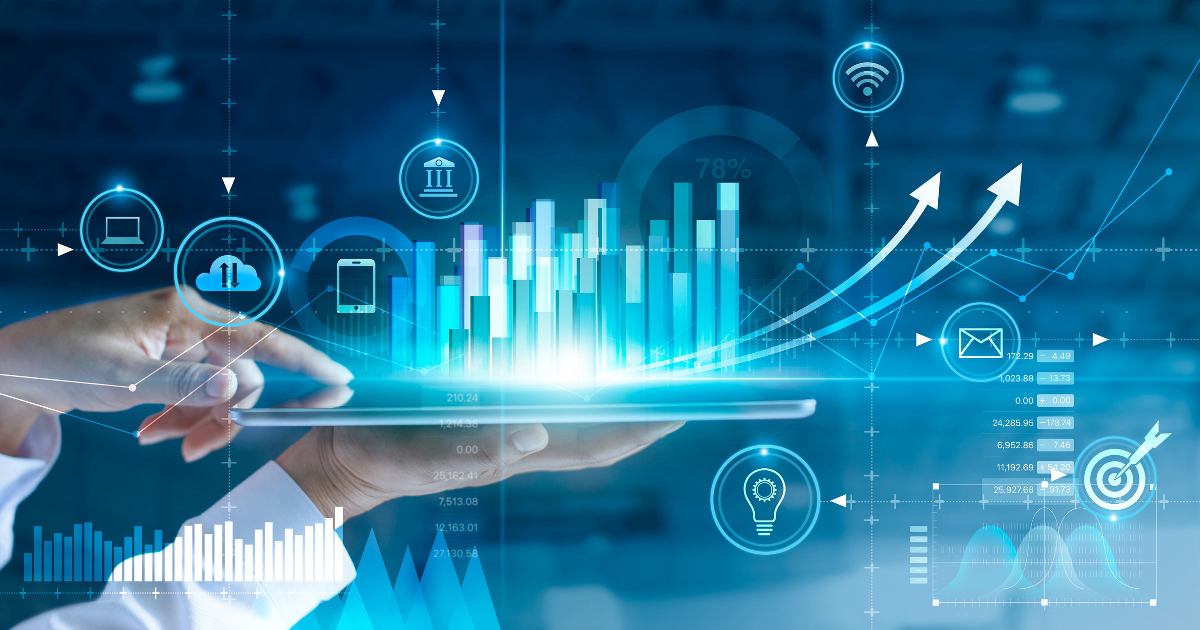 It's hard to find any sectors really thriving in current economic conditions. Unfortunately, most sectors (and most stocks) have experienced massive drops since falling off highs made in the middle of February 2020.
But yes, you can still find some stellar stock standouts. In the last month, Gilead Sciences, Inc. (GIKD) rode up 9.47%, Hormel Foods Corporation (HRL) pushed up 12.45%, Chewy, Inc. (CHWY) jumped 28.3%, and Owens & Minor, Inc. (OMI) popped 22.8%. All of these stocks have been riding at the top of MarketClub's Top Stocks list since being flagged as potential movers.
The technology sector has managed to hold losses to a minimum and some companies are proving the true market need for their tech products and online solutions. While the sector is holding its own, the long-term outlook for some of the top names in tech remains unclear. However, the short-term trend is strong for these tech stocks.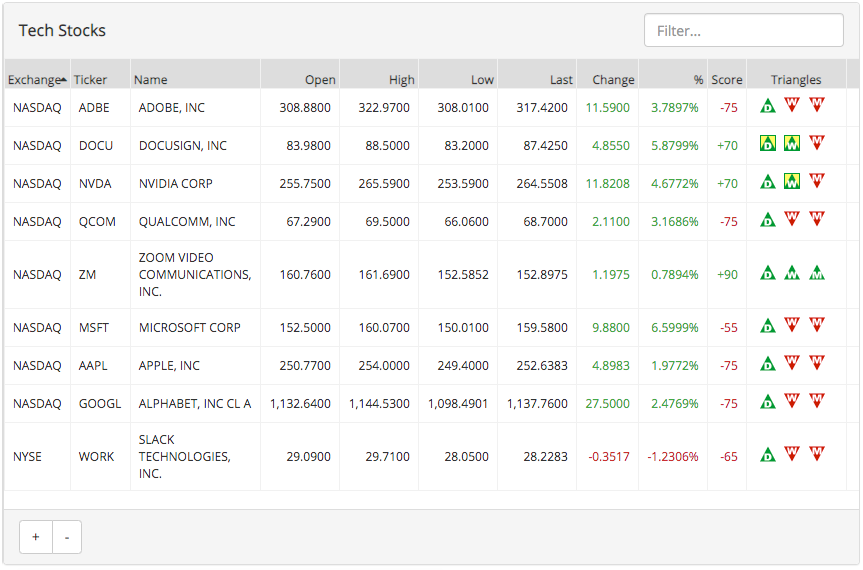 MarketClub is analyzing each and every tick for members, looking for changes in trend and strengthening momentum for over 350K stock, futures, ETF, and forex symbols.
Below are three tech stocks with strong short-term momentum. Will this be enough to push the share price higher? MarketClub's technology is closely monitoring the trends of these well-known stocks for our members.
Zoom Video Communications, Inc. (ZM)
Zoom is a video communications platform that allows people from all around the world to connect. Users can join a meeting from various devices for a number of professional, personal or educational purposes.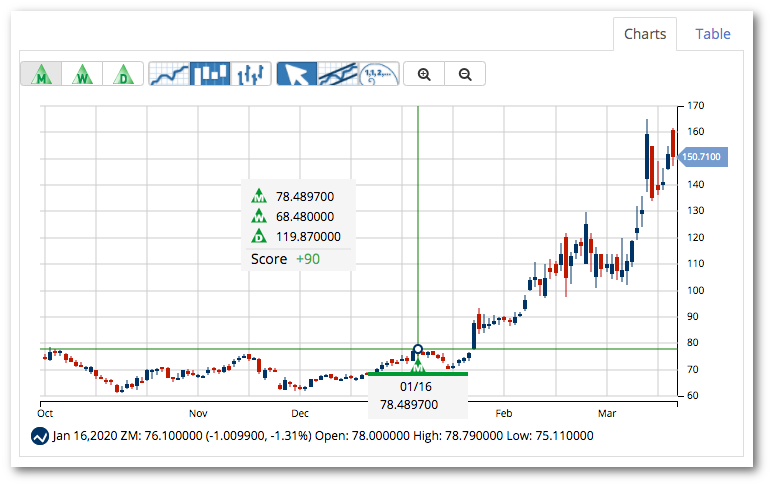 MarketClub members following the long-term signals would have entered a long position on January 16, 2020, at $78.48. After a 92% move up, members are still holding a long position for ZM. While Zoom may experience a short-term pullback, the trend strength is still pointing to a move higher.
MarketClub members can set their alerts for a warning if and when this trend begins a bearish reversal.
DocuSign, Inc. (DOCU)
DocuSign is a cloud-based service that allows businesses to digitally prepare, send, and sign documents. The company services individuals all the way to enterprise-level businesses by providing a touchless way to execute agreements.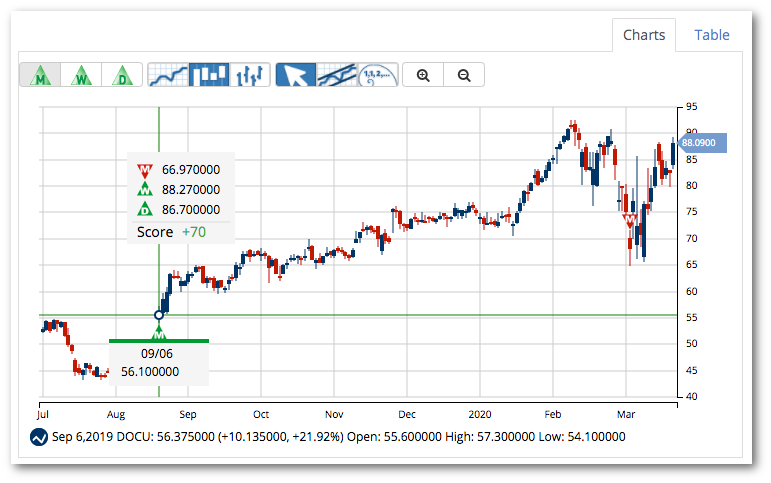 MarketClub members using the long-term strategy would have entered a long position on September 6, 2019, at $56.10. While the stock reached a high in early February, members caught an 18.3% move when they received a red monthly Trade Triangle on March 12, 2020, at $66.97.
Members are either sitting out or holding the short position established on the last red Trade Triangle.
Apple, Inc. (AAPL)
Apple, Inc. designs, manufactures, and markets smartphones, personal computers, tablets, wearables, and accessories worldwide. It also sells various related services.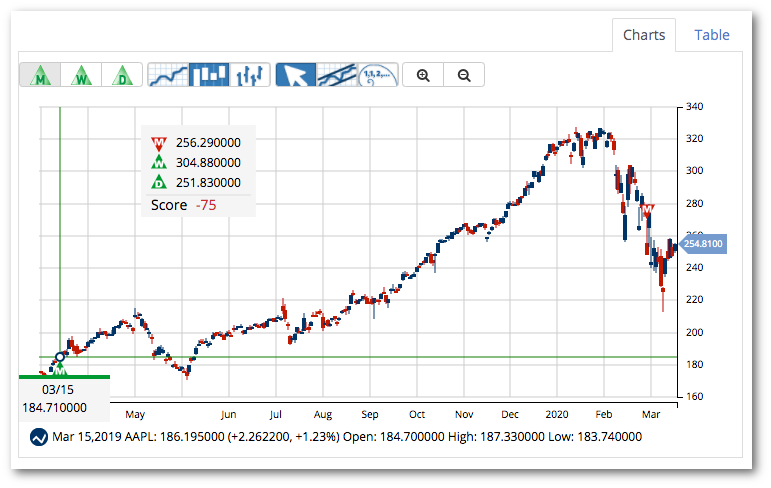 Members using the long-term strategy would have entered a long position for AAPL on March 15, 2019, at $184.71.
After holding for a little less than a year, members could have captured a 38.7% gain.
Currently, members will either be sitting on the sidelines or holding a short position.
---
We invite you to sign up for MarketClub's Top Stocks list.
While you won't get the Trade Triangle signals for these tech stocks (of course that's only for our MarketClub members) you will get to see the latest list of our top-ranked stocks. Even on days with quadruple-digit drops, there are always stocks and new opportunities bucking the trend.