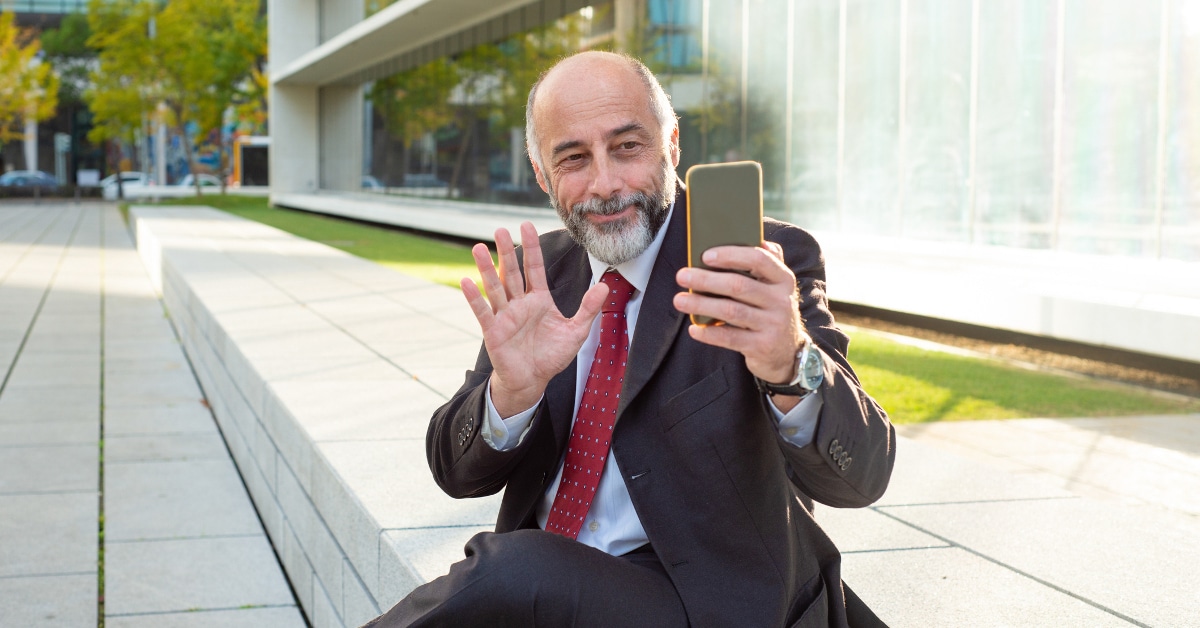 As the world learns to adjust to the coronavirus pandemic and "social distancing" means staying at home as much as possible, online-based companies are seeing huge demands. Many jobs are transitioning to remote setups, which means the need for digital applications is higher than it has ever been.
No amount of economic expertise can prepare a portfolio against the most insidious of happenings – the black swan. The coronavirus wasn't something that could be predicted or anticipated. Its economic impact is still playing out, and no one knows what the total damage will be in the end.
Whether it's for work or school, this online communication application company is well-positioned to meet consumers' and investors' needs.
A Newly Emerging Communications Superstar
Zoom Video Communications (ZM) is a $35 billion application software company best known for its Zoom brand platform. Its video conferencing technology is used for online meetings, chat, and other mobile services.
The company reported earnings of $0.15 per share for the fourth quarter as opposed to the $0.07 that analysts had predicted. Even before the coronavirus outbreak, the company was anticipating accelerating growth and the development of the Zoom phone. Several analysts had upgraded their price targets on the stock as well.
The coronavirus is a huge catalyst for this stock moving higher right now. It's already jumped more than 91% year-to-date but the momentum is still building up. Areas that are in demand of the Zoom platform are schools and colleges.
Many states have already announced a shift to an online format for the remainder of the spring semester and are now looking at possibly extending that into the summer.
The Fundamental Case
The stock carries a price-to-earnings ratio of more 350x – high even for a growth stock. But the full potential of the stock is still unknown as EPS growth estimates will likely need to be revised higher.
The stock carries very little debt and has no long-term debt obligations giving it a lot of flexibility in a volatile economic environment as well.
The Technical Case
Zoom's chart is showing strong bullish signs right now. The short-term SMA is trending well above the longer-term SMA and is growing exponentially. Multiple bullish "hammer" patterns in the candlesticks have popped up over the past week while buying volumes have been higher than average.
The Bottom Line
Based on Zoom's full-year EPS estimates and current expectations for the next several months, this stock could be worth as much as $210 per share – a gain of more than 30% from its current price.
Investors should be cautioned that this stock's growth is dependent upon the continued shift towards online and distance-related activities. Once the crisis is over and companies begin to resume normal operations, it's likely that this stock will fall quickly.
Investors interested in a high-risk, high-growth short-term stock play should consider adding Zoom to their portfolios.
The above analysis of ZM was provided to MarketClub by Daniel Cross, a professional trader and financial writer.
---
What Does MarketClub Say for ZM?
MarketClub's analysis agrees that Zoom Video Communications (ZM) is in a strong uptrend with a +100 Chart Analysis Score.
Members following the long-term Trade Triangle would have entered a long position initiated on January 16, 2020, at $78.48. ZM exploded up, helping our members ride an 81.9% move ($64.30/share).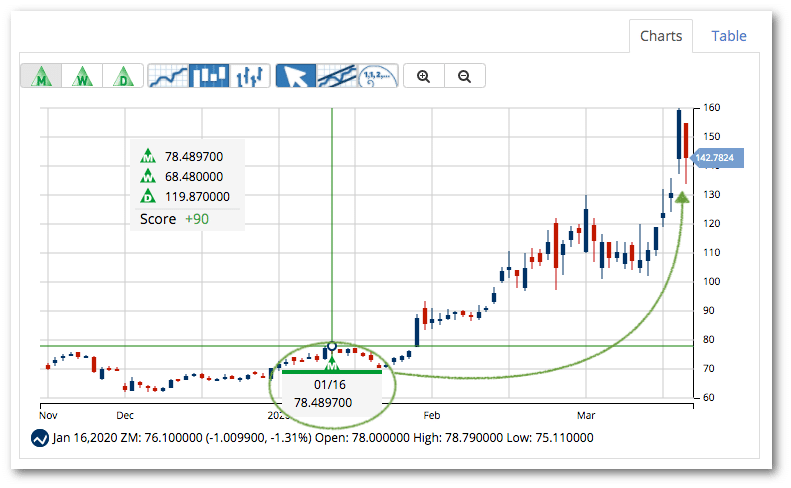 MarketClub members not in the original position or those looking to trade shorter-term will look for a new green intermediate-term Trade Triangle before entering a position in ZM.
By adding ZM to a portfolio watchlist and setting an alert, our technology will carefully monitor price movement and changes in trend for you.
Join MarketClub now to get a daily analysis, trade alerts, and scoring tools for ZM and 350K other markets.