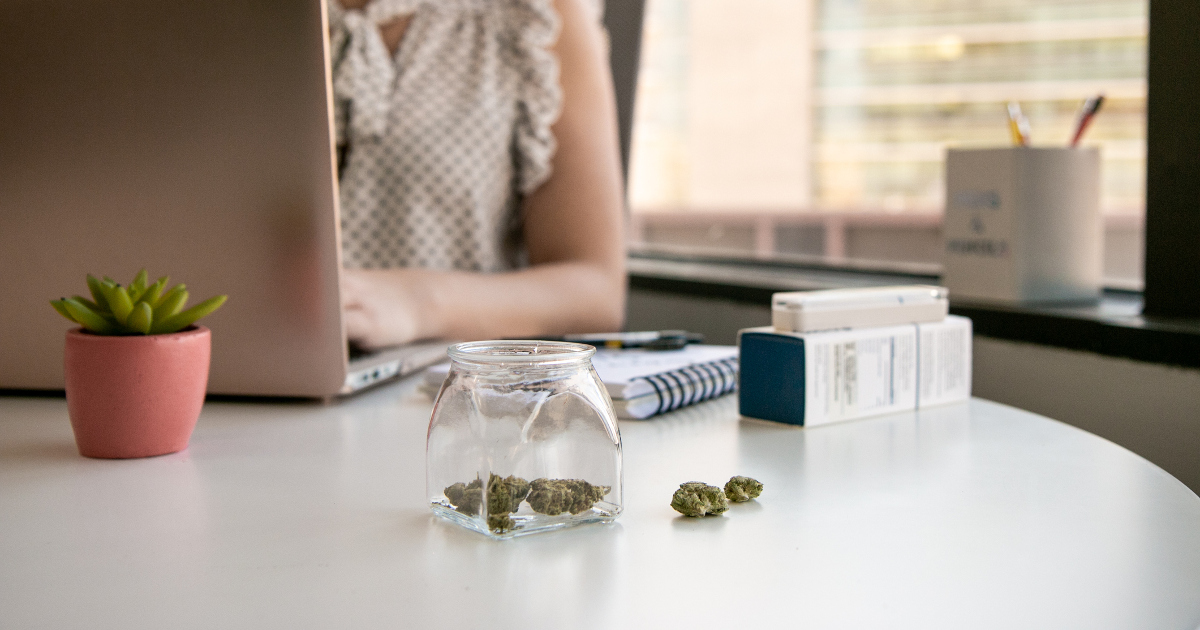 2021 could be the biggest year yet for the legal cannabis industry.
Not only will a more cannabis-friendly administration move into the White House, but voters around the country cast their cannabis support at the ballot box.
Voters in five states voted yes to new cannabis regulations. South Dakota, Arizona, Montana, and Mississippi all passed new measures for medical or recreational programs. However, New Jersey may have lit the fuse for a cannabis industry explosion.
After years of failed attempts, New Jersey approved the legal use of recreational marijuana. Experts expect New Jersey to be a massive market. In fact, annual sales are projected to exceed $1 billion by 2023. This state could unlock support for cannabis up and down the coast and push Washington to make an even bigger move with Federal legalization.
Our friend, Michael Vodicka, at Cannabis Stock Trades, believes that three cannabis stocks will benefit most from the election results. They are the strongest companies in the industry, with cash to fuel growth.
Additionally, these stocks have strong Chart Analysis Scores in MarketClub, bullish signals, and the momentum to continue their upward swings.
3 Cannabis Stocks for the Win
Cresco Labs (CRLBF) is an early leader in the U.S. cannabis industry. Cresco owns an impressive portfolio of cannabis assets. That includes 29 retail licenses, 18 dispensaries, and 15 production facilities.
The company has a market cap of $2.2 billion and is headquartered in Chicago, Illinois, a state with a year of recreational cannabis operations under its belt.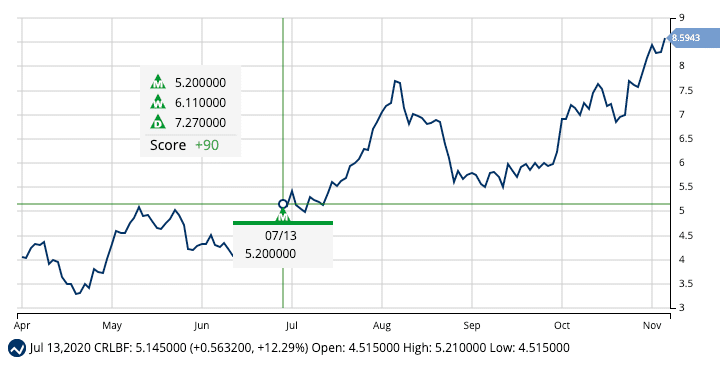 Moreover, Cresco is in a strong bullish trend with a Chart Analysis Score of +90. A monthly Trade Triangle triggered on July 13, 2020, at $5.20. Members following the long-term strategy would be sitting still, waiting for the trend to cool after this 65% price swing.
If Mr. Vodicka's analysis is correct, this stock could continue to push higher into 2021 and beyond.
Green Thumb Industries (GTBIF) is another early cannabis industry leader. This company holds licenses for 96 retail locations and 13 manufacturing facilities. Its operations stretch into 12 states.
Additionally, Green Thumb was the first U.S. company to report revenue over $100 million in a single quarter.
The trend is also strong for Green Thumb. With a +90 Chart Analysis Score, the stock has strong short, intermediate, and long-term trends.
A monthly Trade Triangle triggered on May 18, 2020, at $9.61. The stock has since moved 110%. Momentum, direction, and Mr. Vodicka's analysis point to a further move higher for GTBIF.
Curaleaf Holdings (CURLF) is the largest U.S. cannabis company with a $4.8 billion market value. The company completed a $700 acquisition. Mr. Vodicka believes that this acquisition gives Curaleaf the best cannabis portfolio among its peers.
Explosive cannabis sales projections, operations in 23 states, and 1.6 million square feet of cultivation capacity give Curaleaf a big advantage into 2021 and beyond.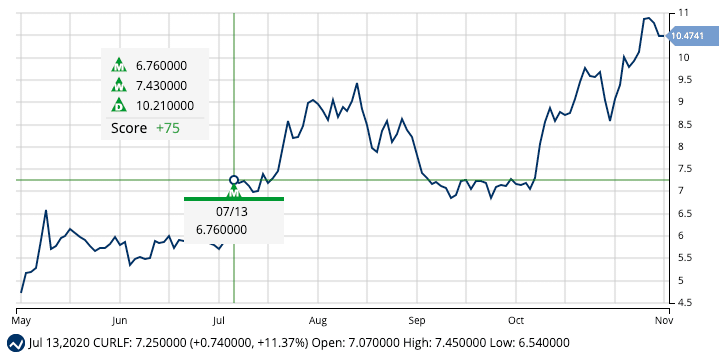 Curaleaf has been on a nice run since the monthly Trade Triangle triggered on July 13, 2020, at $6.76, moving 54.8%.
However, some short-term weakness as dropped the Chart Analysis Score to +75. While the long-term swing is bullish and the swing is likely to continue, members will want to watch this stock closely. In addition, members can set alerts to warn them if CURLF regains short-term strength or if the momentum continues to cool.
Want Daily Analysis of Cannabis Stocks?
With experts pointing to healthy growth and the change in Washington D.C., cannabis stocks may see a nice move over the next year or more.
Thankfully, MarketClub offers analysis on cannabis stocks, including a daily list that ranks the strongest trends and momentum movers.

Want this daily analysis and stock signals for the most promising cannabis stocks? Join us now!