2021 isn't giving anyone (especially investors) time to breathe.
There are no lulls in breaking headlines with impeachment, inefficiencies in vaccine distribution, a rising deficit, tech companies blocking President Trump's social media accounts, and security concerns surrounding next week's inauguration.
Despite the concerning headlines, the markets continue to push higher, with stocks like GameStop (GME), Ford Motor Co. (F), Aphria (APHA), Peloton Interactive Inc. (PTON) hitting 52-week highs.
Like the ones above, some stocks have been steadily moving for weeks and months. However, other stocks are just now moving into the confines of a long-term uptrend.
Today, these three stocks' growing momentum triggered a new monthly Trade Triangle and point to a further move higher.
New Trade Triangle Signals Issued Today
---
New Signal for PFSweb, Inc. (PFSW)
PFSweb, Inc. provides omnichannel solutions for business customers around the world. These solutions include consulting services, commerce development, and pop-up distribution centers, among many other things. The company was founded in 1994 and headquartered in Texas.
Chart Analysis Score
+100
Last Monthly Trade Triangle
1/14/21 @ $8.31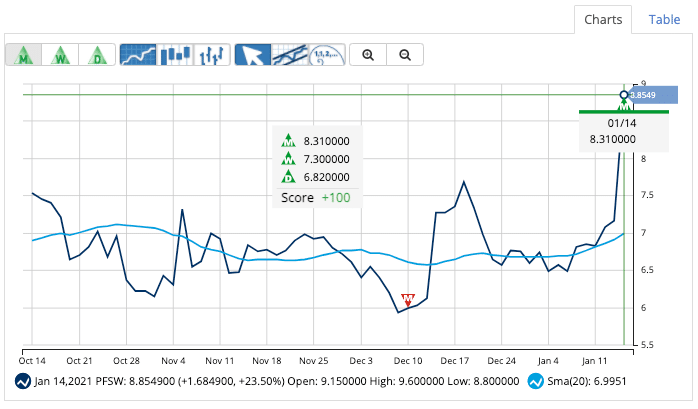 After a 2013 Wall Street debut, PFSW moved to an all-time high, hitting $16.08/share on 10/29/15. However, over the next few years, the stock made a decline, falling below the initial IPO price. The stock bottomed out in March of 2020 and then rebounded with the broader market.
PSFW is currently showing strength on all time frames. The strengthening momentum triggered a new, monthly Trade Triangle at $8.31.
This monthly triangle confirms the presence of a bullish trend and the potential for the stock's price to continue higher.
---
New Signal for United Natural Foods, Inc. (NYSE:UNFI)
United Natural Foods distributes organic and natural produce and products to grocery distributors in the United States and Canada. Based in Providence, Rhode Island, this company employs more than 28K people.
Chart Analysis Score
+100
Last Monthly Trade Triangle
1/4/14 @ $20.36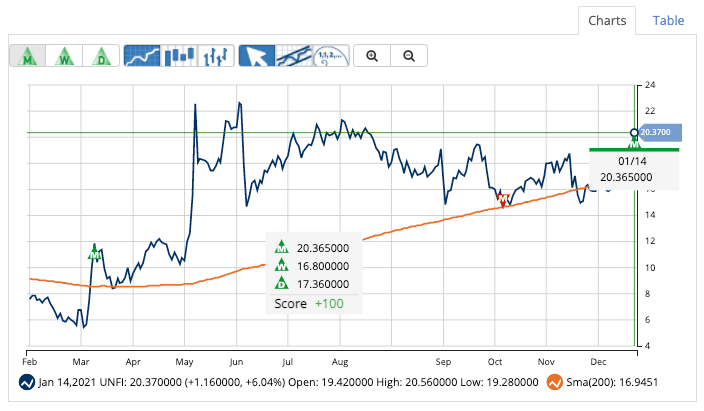 UNFI's stock movement has been shaky since it began trading in January of 2019. The stock made an all-time low of $5 on 3/12/20. A new monthly Trade Triangle on 1/14/21 at $20.36 suggests that UNFI has moved into a new long-term trend.
With a +100 Chart Analysis Score, UNFI has the technical strength to continue its bullish run.
---
Wayfair Inc. (W)
Wayfair is an e-commerce site that sells home goods and furnishings to customers worldwide. The company was upgraded by DA Davidson from a "neutral" to a "buy" rating in November of 2020 and has beat earnings estimates for the last three reporting periods.
Chart Analysis Score
+100
Last Monthly Trade Triangle
1/4/21 @ $324.21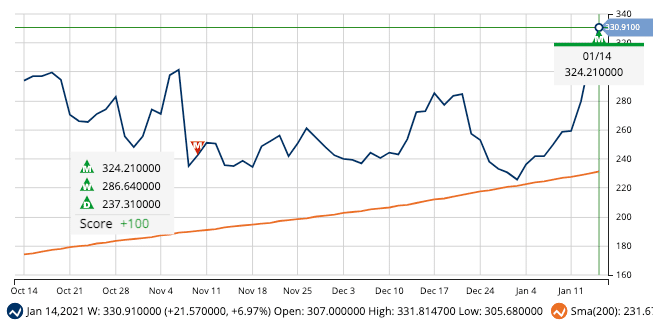 W has a history of strong swings since it began trading in 2014. Like many stocks, Wayfair hit a low in March of 2020 before swinging to an all-time high of $339/share.
While the stock has pulled back, a monthly Trade Triangle triggered on 1/14/21 suggests the long-term bullish trend is back in play.
---
What other stocks, ETFs, futures, or forex pairs are flashing new Trade Triangles?
MarketClub members can use our Recent Trade Triangle Scan to see the up-to-the-minute list of new signals and fresh swings.
Not a member? Not a problem!
Our scanning tools, signals, and analysis tools are waiting for you in MarketClub.