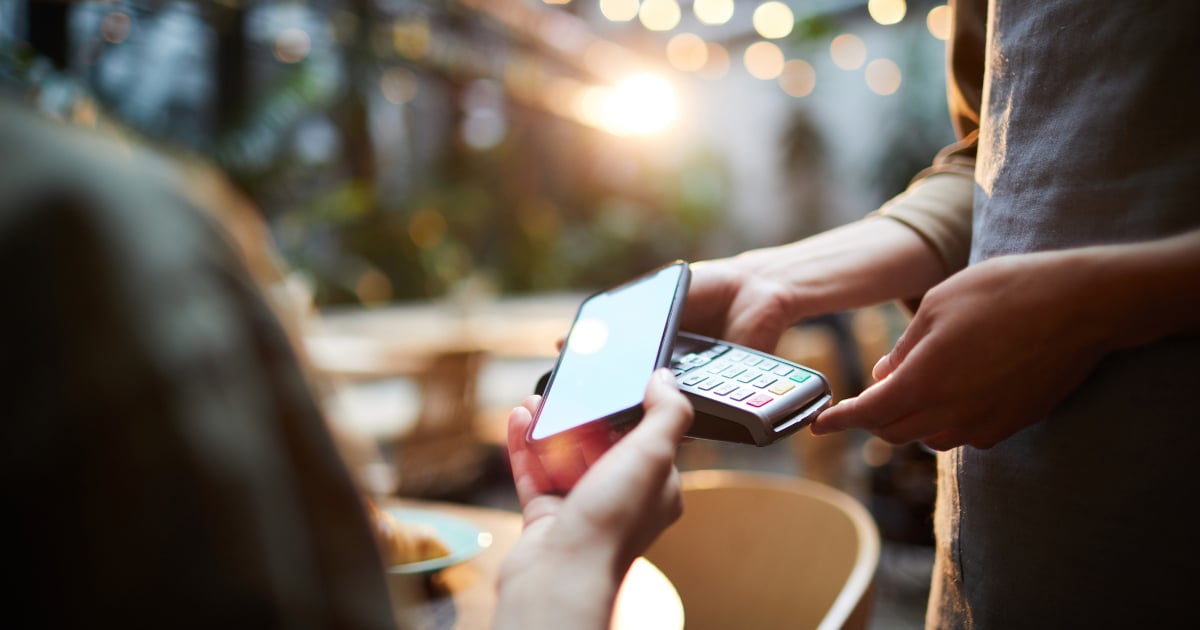 As the economy picks up steam and the market continues its upward trajectory, it's time for investors to consider adding more than just defensive or dividend-yielding stocks in their portfolios.
With business demand rising, the need for easy and convenient payment service options is also increasing. For one company, booming popularity with younger investors and an innovative business services solution creates a stock play that investors won't want to pass up.
A Rising Star in the Banking Industry and Premier Growth Stock Opportunity
Square, Inc. (SQ) is a $114 billion financial software and fintech company best known for its merchant services and mobile payment applications.
The company's trademark square-shaped mobile device attachment has revolutionized point-of-sale for small business operations around the globe.
The company reported a stellar fourth-quarter earnings beat of $0.32 per share compared to the analyst estimates of $0.24 per share. Revenues also soared 141% year-over-year to $3.16 billion. Management recently announced its plans to expand into other services, such as offering business loans and credit services.
One of the most surprising aspects of the company is its popularity with younger investors who buy shares through applications like Robinhood. As stimulus checks arrive, these investors could help propel the stock by purchasing more shares and giving it a bullish push higher.
Another catalyst for Square is its ever-expansive list of business services. It now offers entire point-of-sale systems, payroll services, and is currently seeking to provide business loans as well. Its appeal to small businesses could help Square expand its market and establish a longer-term growth trend.
Analysts appear to have mixed feelings regarding the stock. Redburn initiating coverage on SQ in March with a "sell" recommendation. However, Guggenheim upgraded the stock from "neutral" to "buy" issued a $288 per share price target.
The Underlying Fundamentals
The stock is trading at a heart-stopping multiple of 295 times earnings and comes with an equally astronomic long-term EPS growth rate estimate of about 50%. That gives the stock a PEG ratio of around 6 – generally not a strong positive sign.
However, investors should note that the company is growing fast and there is a large degree of flexibility in these estimates. Given that the forward P/E is closer to around 100, it suggests that the PEG ratio is most likely somewhere around 2.
The stock's beta of 2.46 makes it an extremely volatile addition to any portfolio with large swings in value from week to week.
Only investors with a larger appetite for risk and who already have a well-diversified portfolio in place should consider Square for their portfolios.
The Technical Layout
Square's chart shows a clear pattern of peaks and troughs but follows a general path higher over time. The candlesticks show a classic hammer formation occurring in early March followed by a subsequent stock price rise.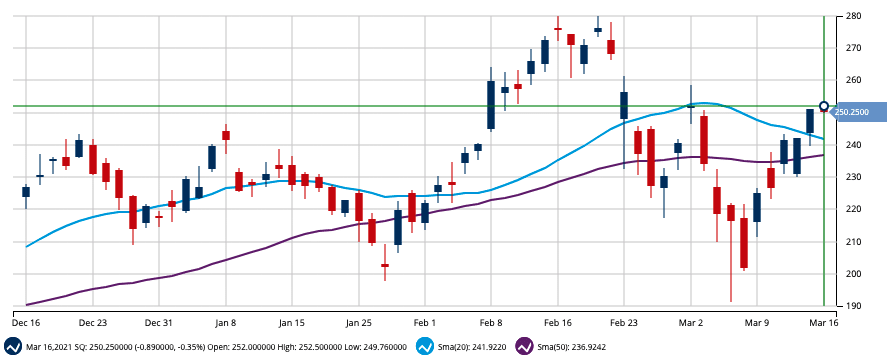 This, along with the trend line of the 20-day SMA above the 50-day SMA, could indicate that stronger bullish momentum may carry the stock even higher.
The Bottom Line
Based on Square's full-year EPS estimates, this stock should be fairly valued at around $290 per share – a gain of around 16% from its current trading price range.
For investors looking to spice up their portfolios with an aggressive, high-growth stock play, Square could deliver big rewards.
The above analysis of SQ was provided by financial writer Daniel Cross.
---
MarketClub's Analysis of SQ
Like the mixed opinion from analysts, MarketClub's analysis is also mixed on the outlook for SQ.
With only a -55 Chart Analysis Score, the stock is moving in a sideways pattern and has not gained momentum in either a positive or negative direction.
SQ may move in a choppy motion in the short and intermediate term.
MarketClub members may want to consider a sidelines position until a new trend is formed, as indicated by the Chart Analysis Score.

So when is it the right time to enter a position for SQ? Add Square, Inc. to your watchlist and set an alert for the Chart Analysis Score.
As a MarketClub member, you'll know when SQ begins to build momentum and becomes a solid play.
Not a member? Start your trial today!