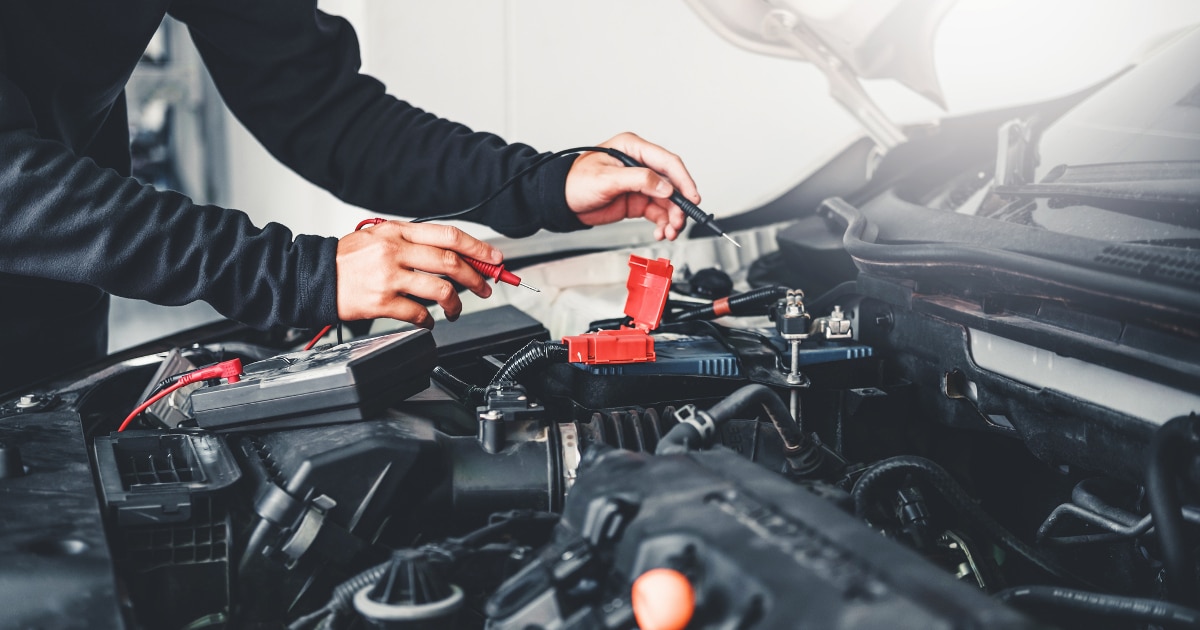 On Tuesday, bullish market sentiment soared after a Federal Reserve tracker indicated that first-quarter GDP growth could be as high as 10%. Combined with the possibility of a $1.9 trillion injection into the economy, the stock market is ready to take off even higher.
One of the market sectors strongly reflecting the new bullishness is manufacturing. The manufacturing sector is at its highest level since 2018, with prices rising as demand picks up speed.
For one company, the economic boom is lining its coffers with profits and should give investors a value pick-up that can't be missed.
A Best-in-Class Manufacturer and Under-the-Radar Value Play
Lear Corporation (LEA) is a $10 billion auto parts company specializing in manufacturing automotive seating and automotive electrical systems.
The company reported a fourth-quarter earnings beat of $3.66 per share compared to the analysts' estimates of $3.47 per share. Revenues climbed 8.3% year-over-year to $5.243 billion, with management reiterating positive guidance for 2021.
One of the biggest catalysts for Lear is the current strong growth in U.S. manufacturing. The faster-than-expected recovery from the COVID pandemic, along with the increase in personal income figures, points to a sustained growth pattern that should give Lear plenty of business opportunities as we head deeper into 2021.
JP Morgan upgraded the stock in January from a "neutral" recommendation to "overweight" and upped the price target to $210 per share.
The Fundamental Engine
The stock trades in line with the auto part's industry average multiple of 32 times earnings, but it comes with a much higher long-term EPS growth rate of 15%. That gives the stock a PEG ratio of about 2 – a sign that the stock may be undervalued right now. It comes with a small dividend yield of 0.60%, giving investors some form of downside protection.
The Technical Framework
Lear's chart shows a clear upwards trajectory over the past five weeks. The 20-day SMA crossed over the longer 50-day SMA last week. This cross is a strong bullish sign that the stock is building more positive momentum.
Interestingly, the candlesticks show two "hammer" formations back to back. A formation like this indicates an even more aggressive upwards path for the stock price.
The Bottom Line
Based on Lear's full-year EPS estimates, this stock should be fairly valued at around $200 per share. A move to this price would represent a gain of nearly 18%.
Investors feeling bullish about the economy's direction will want to take a closer look at this value play that could return outsized gains as the year goes on.
The above analysis of LEA was provided by financial writer Daniel Cross.
---
MarketClub's Analysis of LEA

MarketClub agrees that LEA has great potential and that the trend is pointing to a move higher.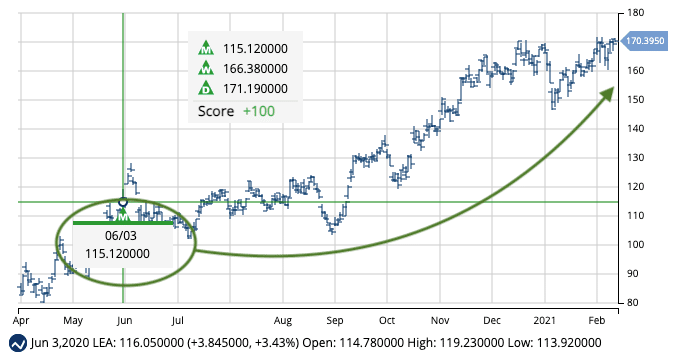 The Trade Triangles detected a long-term trend on June 3, 2020, at $115.12. The stock has since moved over 40%. However, a new short-term signal has reconfirmed LEA's bullish outlook.
While the uptrend is strong and is likely to continue, traders should protect their gains and monitor the Chart Analysis Score for weakness.
Members can add LEA to their watchlist and set their alerts for an early warning.
Not a member? Not a problem!