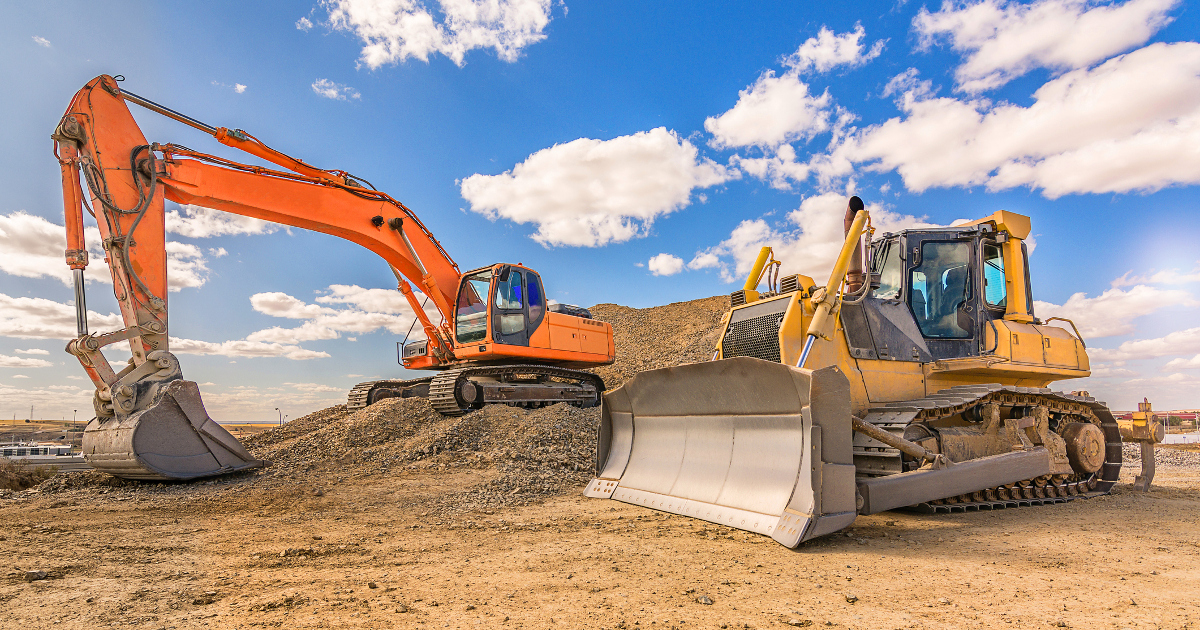 Although the market behaved skittishly last week on renewed COVID fears, the booming global economy has buoyed investor spirits, with stocks resuming their upward climb.
The industrial market segment historically shines during periods of economic growth. However, it doesn't always get the coverage that other "hotter" segments like tech stocks do. But for value investors, the lack of coverage often means finding quality stocks at discounted prices.
One global infrastructure company has been breaking new ground in its business and new highs for its stock price. For investors, it means getting a strong value stock with solid bullish momentum that could extend throughout 2021 and beyond.
A Best-in-Class Construction Company and Standout Stock Play
Caterpillar (CAT) is a $126 billion farm and heavy construction machinery company that designs and manufactures machinery and engines.
The company also has a financial services segment that offers financial products and insurance as well. It is listed as the largest construction equipment manufacturer in the world and holds a spot on the Dow Jones Industrial Average as one of its 30 components.
Caterpillar plowed through analyst expectations for the fourth quarter. They reported earnings of $2.12 per share, while analysts expected $1.49 per share. The company will report first-quarter earnings on April 29th, and expectations are slowly rising. On top of this, CAT is getting more recognition lately, with full-year EPS estimates already bumped up from $8.03 per share to $8.19 per share.
One of the catalysts working in Caterpillar's favor is its use of cutting-edge technology in its designs. While most people think of Silicon Valley companies when it comes to technology plays, industrial and manufacturing companies play a significant role. IoT (Internet of Things) means that computers can interact and even self-manage complex systems like energy grids, robotic builders, and more.
The stock saw some recent analyst activity in April when Wolfe Research initiating coverage with an "outperform" recommendation and a price target of $265 per share. As the global economy heats up, look for Caterpillar to take center stage as a major component.
The Fundamental Roots
The stock trades slightly cheaper at 38 times earnings. The construction machinery and handling industry averages 43 times earnings.
The staggering long-term EPS growth rate estimate of 26% gives the stock a PEG ratio of about 1.5. This ratio is a bullish sign that indicates that the stock may be undervalued right now.
It also offers a not-insignificant 1.77% dividend yield giving investors a small income stream while protecting against sustained downturns in the stock price.
The Technical Framework
Caterpillar's stock chart appears like a technician's dream. It shows a strong and steady upward climb and a clear trend-line mapping out higher gains over time.
The 20-day SMA has been trending above the 50-day SMA for several months now. Bullish momentum has been steadily increasing. Tracking the RSI tells the same story with a relatively steady reading of around 60. Investors should expect to see the same momentum carry forward as we head into the summer months.
The Bottom Line
Based on Caterpillar's full-year EPS estimates, this stock is easily valued at around $260 per share. A move to this price would represent a gain of more than 12% without factoring in reinvested dividends.
Investors who favor technical bullishness and want to bolster their portfolio with a strong value play will want to pick up this stock while it's still under-appreciated by Wall Street.
The above analysis of CAT was provided by financial writer Daniel Cross.
---
MarketClub's Analysis of CAT
MarketClub agrees that Caterpillar is in a strong bullish trend with more room to run.
The stock is holding a +90 Chart Analysis Score. The trends on all time frames are pointing upwards and momentum is in CAT's favor.

MarketClub detected a long-term bullish trend in June of 2020 when it was trading at $129. The stock has since jumped to $229/share (77.5%).
With a strong score and green Trade Triangles across the board, the move doesn't look like it's coming to an end.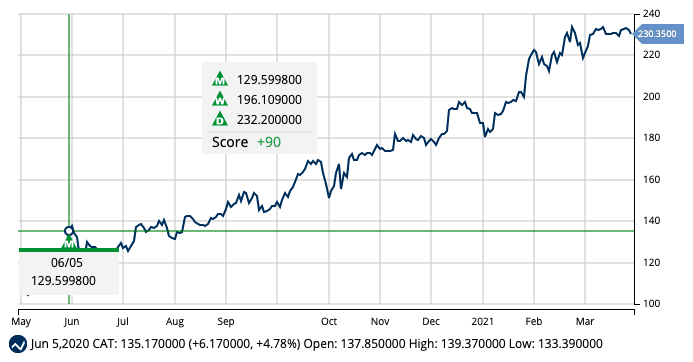 Get alerts for CAT – Join MarketClub now and add Caterpillar to your watchlist. If the momentum changes or we detected a new trend shift, you'll be the first to know.