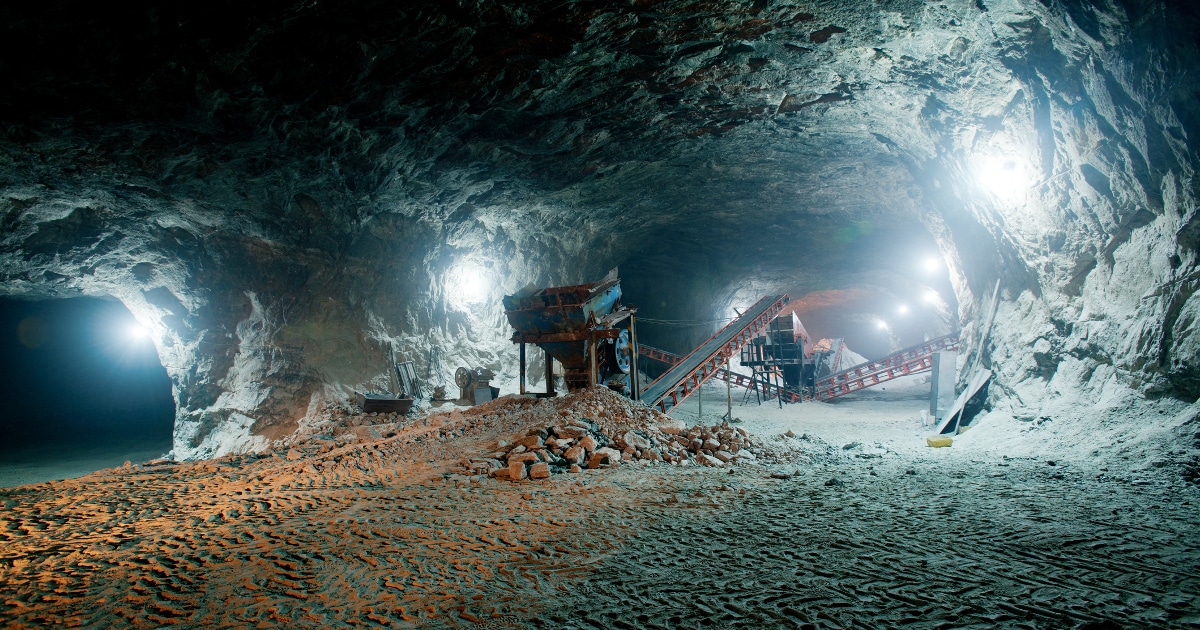 The Russia-Ukraine conflict continues to intensify, causing uncertainty across the globe.
Metals, particularly gold, are perceived as a safe harbor for traders and investors in an unsure market.
As Russia edged closer to the Ukrainian border, spot metals prices rose and major mining companies' stock prices began to jump on quick profit margin increases.
Just today, three more mining companies triggered long-term bullish signals. They join a cohort of metal-related companies with hot momentum and bullish technical indicators.
3 Mining Stocks with New Bullish Trends
These three stocks triggered a new, long-term bullish signal on Monday, March 7.
This long-term signal suggests that the stock will continue to move higher in the weeks and months ahead.
Just like everything in this world, things can change quickly. MarketClub members have up-to-the-moment updates for changing trend conditions. In addition, members can set alerts for several factors.
Stock #1 – Fortuna Silver Mines Inc (FSM)
Fortuna is a Vancouver-based mining company that explores, extracts, and processes precious metals in Latin America. Relatively small with a $1.2B market cap, the stock is off more than 45% from the 52-week high.
While Fortuna missed analysts' EPS estimates over the last few quarters, management noted a jump in the company's production capabilities in 2021, up 200% from the previous year's quarter. In addition, the rising value of metals is icing on the cake and should contribute to the company's bottom line.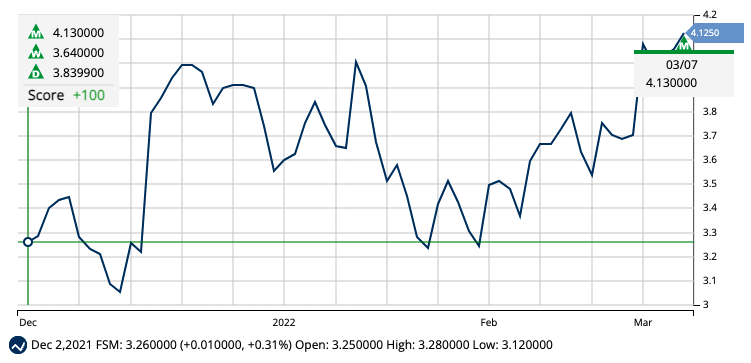 The stock triggered a new, monthly Trade Triangle at $4.13. A +100 Chart Analysis Score confirms that FSM is in a strong uptrend.
Stock #2 – Uranium Energy Corp (UEC)
This company, together with subsidiaries, explores, extracts, and processes uranium and titanium in the U.S., Canada, and Paraguay. Uranium Energy is based in Texas and has a market cap of $1.2B.
The company hit analysts' EPS estimates in 2021 but has failed to reach a profitable status since incorporating in 2005.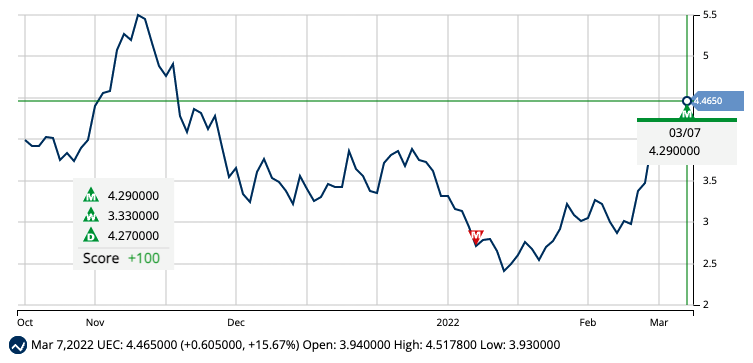 UEC triggered a new, monthly Trade Triangle at $4.29. A +100 Chart Analysis Score confirms that Uranium Energy is in a strong uptrend, and the stock price could push higher.
Stock #3 – Agnico Eagle Mines Limited (AEM)
Agnico explores, develops, and produces mineral products in Canada, Sweden, and Finland, like gold, silver, zinc, and copper. With a market cap of $26.6B, this industry leader is an analyst favorite. Barclays upgraded AEM in early February to an overweight rating, following Raymond James and RBC Capital.
Management reported a 6% jump in earnings from 2020 to 2021. In addition, in a February 23, 2022 earnings call, management stressed that production was strong and that the company was successfully mitigating COVID risks.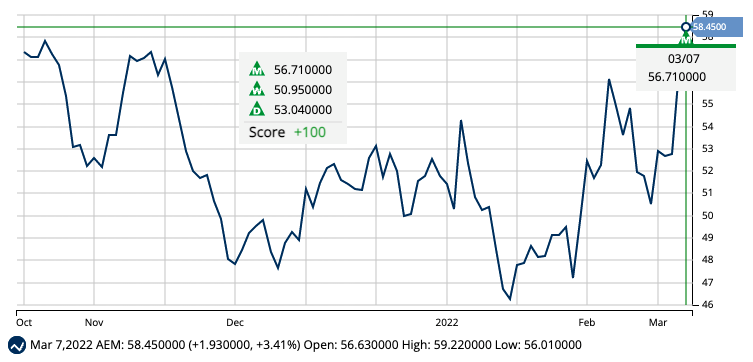 AEM triggered a new, monthly Trade Triangle at $56.71. A +100 Chart Analysis Score confirms that the trend for AEM is strong and that the bullish swing is intact.
---
What does this mean for FSM, UEC, and AEM?
As precious metals prices fluctuate with news out of Europe, the trends could shift quickly.
Members should keep an eye on short-term reversals (daily Trade Triangles) and watch the Chart Analysis Score for signs of weakness.
Get all of MarketClub's tools, including signals for over 350K tickers when you join as a member.