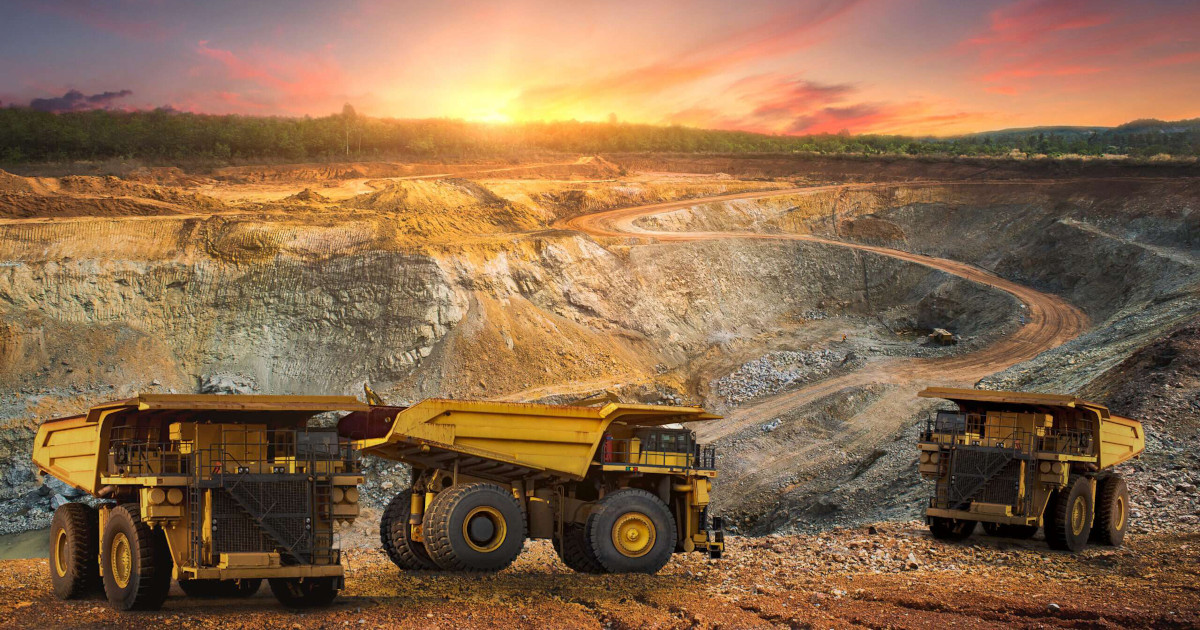 British Financier Nathan Rothschild is credited with saying, "the best time to buy is when there's blood in the streets," which couldn't ring truer for the gold mining sector.
While the S&P500 might be down 20% from its highs, the GDX is down 42%, suffering its worst drawdown since Q1 2020. The decline is justified for some gold producers that have seen considerable margin pressure.
However, for one company that just unveiled a study that will double production at its #2 mine at ~68% margins post-2025, this is a case of the baby being tossed out with the bathwater.
A Mispriced Growth Story
Alamos Gold (AGI) is a mid-cap ($2.8 billion market cap) gold producer with two gold mines in Canada and a third in Mexico.
The company expects to produce 460,000 ounces of gold this year at costs below $1,225/oz, down slightly from last year's levels.
The company generated revenue of $184.5 million (down 19% year-over-year) in its most recent quarter with a sharp decline in earnings per share ($0.05 vs. $0.13).
While this doesn't point to a very exciting story from a rear-view mirror analysis, the company's future is brighter than ever. This is because it recently unveiled an updated Phase 3+ Study for its Island Gold Mine in Canada that has showcased a mine capable of producing 287,000 ounces of gold per annum at all-in sustaining costs of $580/oz.
The updated production profile compares quite favorably to its current production profile at this mine of ~130,000 ounces at $900/oz costs, and it would make it the lowest-cost gold mine in Canada.
Just as important, it would increase Alamos' consolidated margins from $580/oz in 2022 to $940/oz in 2026, assuming a gold price of $1,800/oz.
Initially, the stock shot up 6.8% on the news on above-average volume, but the sector-wide selling has put a lid on the stock.
From a big picture standpoint, this mine's 2025 expansion, combined with its Lynn Lake asset, has paved a path towards 65% production growth for Alamos between now and 2027 at 50% higher margins, assuming zero help from a higher gold price.
The Technical Picture
AGI may not look that special from a technical standpoint, below its 50-day and 200-day moving averages.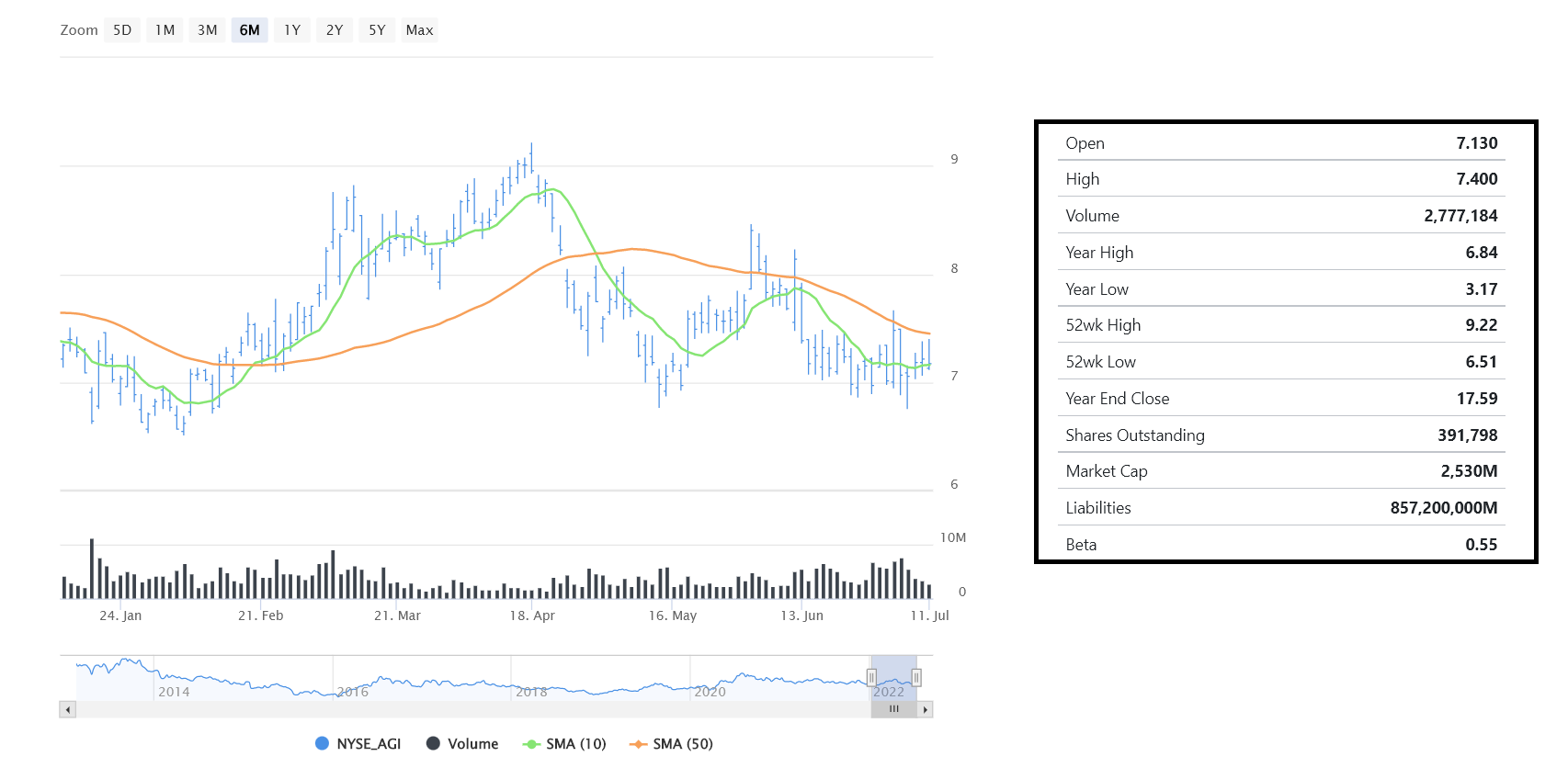 However, the stock is sitting right on key support at $7.00, and while the rest of the sector has plunged to new lows, AGI is giving up ground grudgingly, suggesting it's currently under accumulation.
See the Full Technical Analysis Report for AGI
In fact, the stock is flat in a period when the GDX has slid 13%, which is one of the most extreme cases of relative strength I've seen over the past year. This suggests that any positive change in sentiment for the sector could spark a strong rally in the stock.
The Bottom Line
Alamos Gold may not look that cheap at a price-to-earnings ratio of 21 (FY2022 estimates: $0.34). That said, the best way to value gold miners is from a price to net asset value [P/NAV] standpoint, especially for growth stories where future production is already bought and paid (but waiting to come online).
In Alamos' case, the company trades at less than 0.65x and could easily command a multiple of 1.05, translating to a fair value above $11.00 per share, a gain of 56% from its current levels.
In summary, investors looking for value should consider Alamos Gold for their portfolios, given that the stock has been unjustifiably sold off due to the sector-wide weakness over the past year despite having one of the sector's best organic growth profiles.
The above analysis of Alamos Gold (AGI) was provided by financial writer Taylor Dart. Taylor Dart is not a Registered Investment Advisor or Financial Planner. This writing is for informational purposes only. It does not constitute an offer to sell, a solicitation to buy, or a recommendation regarding any securities transaction. The information contained in this writing should not be construed as financial or investment advice on any subject matter. Taylor Dart expressly disclaims all liability in respect to actions taken based on any or all of the information on this writing.
Is Alamos Gold (AGI) A Buy or Sell?
Based on MarketClub's technical analysis tools, Alamos Gold (AGI) is showing short-term strength. However, look for the longer-term bearish trend to resume. As always, continue to monitor the trend score and set stops.
MarketClub is analyzing every data tick, ready to spot a new trend as it develops.
Get an alert when AGI triggers a new signal and analysis for over 350K markets with a 30-day MarketClub trial.