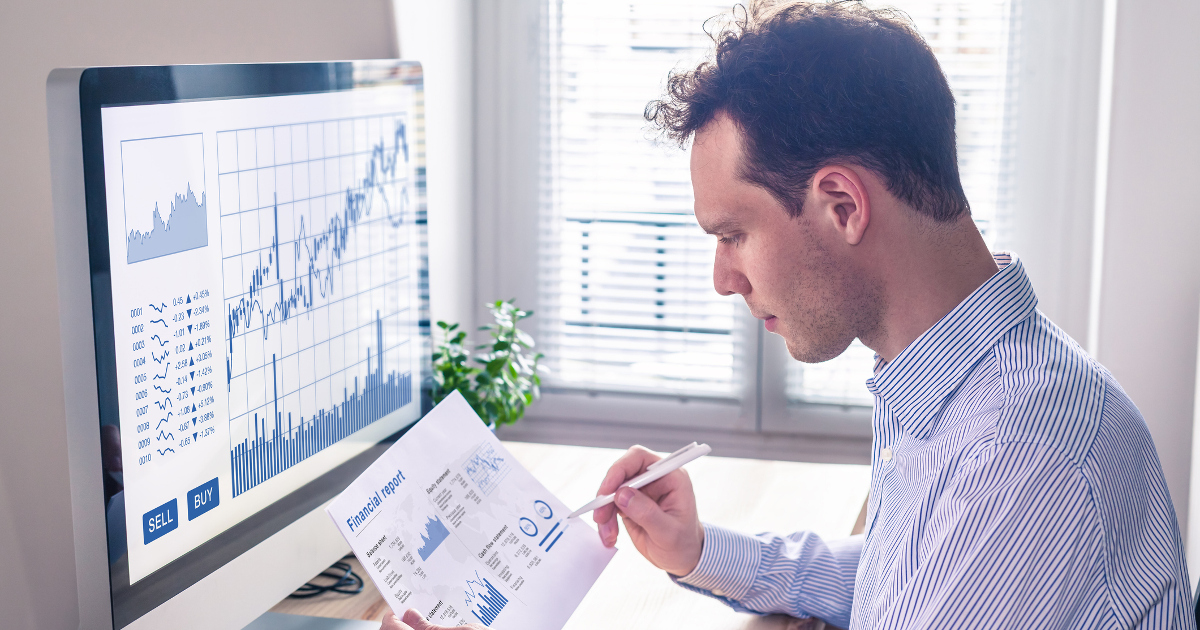 Winning stock picks can come from any market sector at any moment in time.
Small-cap growth stocks in the tech industry or large-cap value plays in consumer staples – a winning play just needs to have the right thing going for it at the right time.
When a stock consistently delivers market-beating returns of more than 226% in five years, Wall Street tends to take notice – but these stocks rarely go on sale.
Fortunately, one hot stock (in an unlikely industry) has pulled back enough to give investors an opportunity. Investors can access a discounted share price before it begins to climb even higher.
A Best in Breed Insurer and Portfolio Booster
The Progressive Corporation (PGR) is a $45 billion property and casualty insurance conglomerate that covers autos, recreational vehicles, and homes in the US and Australia. As a leader in innovation, they have been at the forefront of safety technologies such as motorist driving monitors and other devices.
The company fell just shy of analyst estimates for the second quarter, reporting earnings of $1.42 per share versus $1.43 per share. However, the company's net investment income gained 43% compared to the same quarter last year.
Higher yields on US treasuries translates to bigger gains from Progressive's investment portfolio. And there are more positive takeaways such as a 15% increase in auto premiums and the recent report by Swiss Re that said insurer losses were down 30% for the first half of the year. It all adds up to a catalyst for sending Progressive's stock price higher.
B. Riley FBR reiterated its "buy" recommendation for the stock in June along with a price target range between $89 to $96 per share. This support gives investors plenty of potential gains at the stock's current price.
Fundamental Analysis of PGR
The stock appears cheap right now trading at just 14 times earnings compared to the insurance industry average of close to 19 times earnings. It does come with a small dividend yield of 0.50%, giving investors some minor downside protection.
With a Beta of just 0.66, investors shouldn't need to worry about large movements in the stock price happening in a short time.
Technical Analysis of PGR
Despite the recent pullback, this stock is still up more than 29% year-to-date.
To confirm that bullish momentum is building back up or changing direction, we can take a closer look at the SMA's. Right now the shorter-term and longer-term SMA are trading in line with each other. This alignment means investors will have to watch closely to see what trend emerges over the next week or so.
The Bottom Line
Based on Progressive's full-year EPS estimates, this stock should be fairly valued at around $89 per share – a gain of about 14% from its current price.
Investors looking for a large-cap defensive play for any market with room to run should strongly consider Progressive.
The above analysis of PGR was provided by Daniel Cross, professional trader and financial writer.
---
What Does MarketClub Say About PGR?
MarketClub's rating and signaling technology are not as confident that The Progressive Company's stock will move higher.
With a -70 Chart Analysis Score, PGR is not in a clear bullish or bearish trend.
The long-term trend is pointed towards the upside, but recent short-term and intermediate-term weakness make this trend unclear.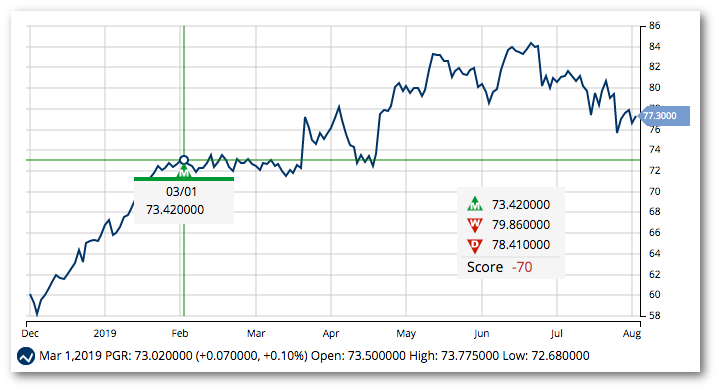 What's Next for PRG?
MarketClub will carefully evaluate every price tick looking for a change in short-term, intermediate, or long-term trend. When this shift occurs, a new Trade Triangle signal will be used.
Members following The Progressive Company (PRG) will receive a signal alert or notice that the Smart Scan score has changed, and will be the first to know when trend momentum increases.
Join MarketClub right now to set your trade alert for PRG and add it to a watch portfolio for a daily analysis report.