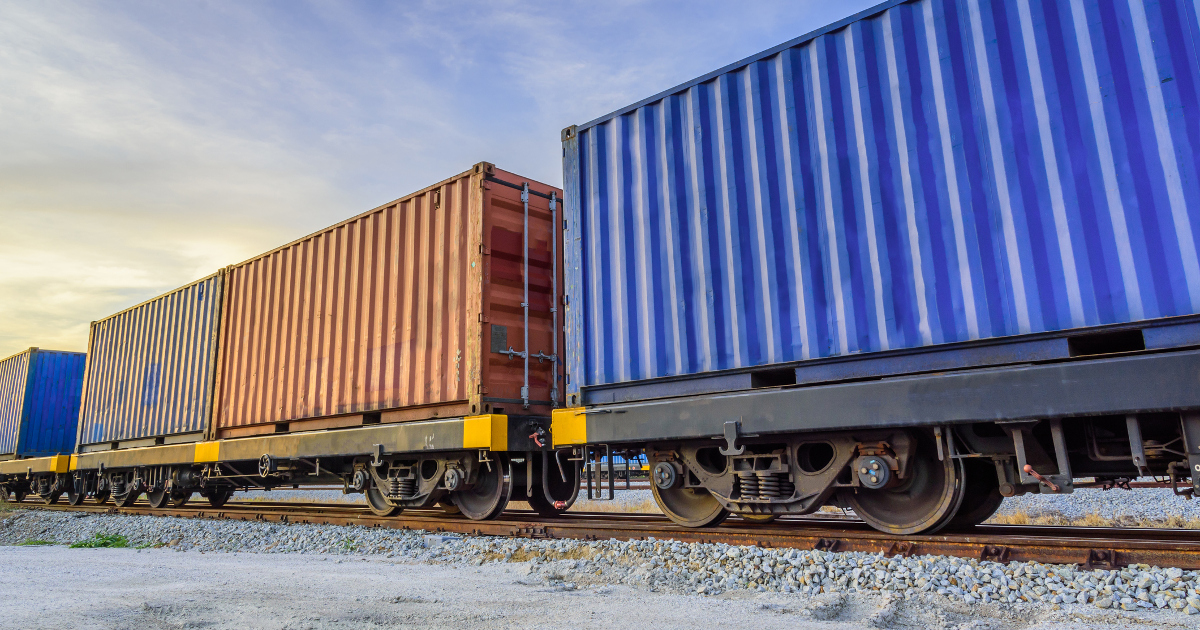 Investing in the market isn't a get-rich-quick scheme. It takes dedication and a long-term mindset to keep your portfolio growing and reach your investment goals.
Those quick growth stocks that net returns of 200% or more might be exciting. However, to have success over time, you need to find stocks that can be held for years and still be profitable.
For one transportation giant, attention to long-term success has allowed it to shrug off changing market conditions and still find ways to be profitable. It's a recipe that will pay off for investors.
A Best-In-Breed Transportation Behemoth
Union Pacific Corporation (UNP) is a $118 billion railroad company that operates west of Chicago and passes through 23 U.S. states, making up more than 32,000 miles. It is the largest railroad network in the United States and one of the largest transportation companies in the world.
The company reported an earnings beat of $2.22 per share for the 2nd quarter compared to the analysts' consensus of $2.14 per share. Operating revenues moved higher to $5.59 billion as well.
Railroad companies haven't had a breakout performance over the past couple of years. Coal makes up around 40% of railroad freight, and with the decline of the coal industry, railroad stocks have dealt with a lot of volatility.
Nonetheless, all the bad news has already been priced into Union Pacific's stock and now trades at a heavily discounted price. Given the year-to-date gains of 20% already, it seems safe to say that the railroad company hasn't let a changing energy market affect its bottom line.
The secret to the company's success despite declining freight volumes has been its focus on efficiency and margin improvement. Locomotive productivity climbed 21% year-over-year, allowing the company to streamline operations and boost profit margins.
The stock was upgraded by Atlantic Equities in July from a "neutral" recommendation to an "overweight" one along with a price target range between $175 and $195 per share. That means that even the most conservative estimate is still above the stock's current trading range, giving investors a chance to profit while it's still cheap.
Fundamentally On Track
The stock trades in line with the industry average at around 19 times earnings but comes with a long-term EPS growth rate of more than 11%. That gives it a PEG ratio of less than 2 – a sign that the stock may be trading at discounted prices.
The stock also comes with a 2.30% dividend yield giving investors some downside protection against sharp downside movements in the market and gives investors a steady income stream.
Technically Building up Steam
Union Pacific's chart looks something like a roller coaster ride with the number of steep climbs and drops it has had in the past year.
Looking at the chart, since the company reported 2nd quarter earnings it shows a trending channel pointed down – a bearish signal. However, the past month seems to indicate a possible shift in momentum with sideways trading.
If the stock moves above the $170 price, investors may see the stock break out and move higher.
The Bottom Line
Based on Union Pacific's full-year EPS estimates, this stock should be fairly valued at around $200 per share – a gain of more than 20% from its current trading range.
For investors who look beyond the next 12 months, Union Pacific is a company that will generate long-term returns and offer investment portfolio stability.
The above analysis of UNP was provided by Daniel Cross, professional trader and financial writer.
---
What Does MarketClub Say About UNP?
MarketClub does not believe that UNP has moved into a steady trend one way or another.
With a Chart Analysis Score of only +70, the long-term trend is in conflict with shorter-term moves.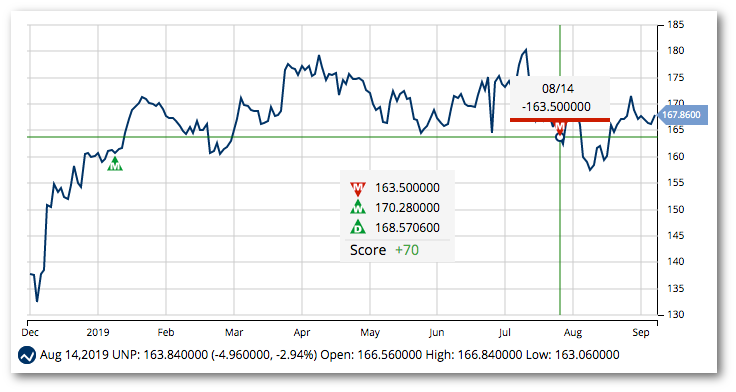 Members are looking for the Trade Triangle signals to align and the stock's momentum to strengthen, as indicated by the Chart Analysis Score.
What to do now?
For intermediate and long-term members, it's a waiting game for UNP. The weekly and monthly signals must align to move traders off the sidelines.
Members can set their alerts for UNP and our technology will ring the bell when it's time to look at Union Pacific Railroad.
Not a member? Begin your MarketClub trial now and set your alert for UNP.