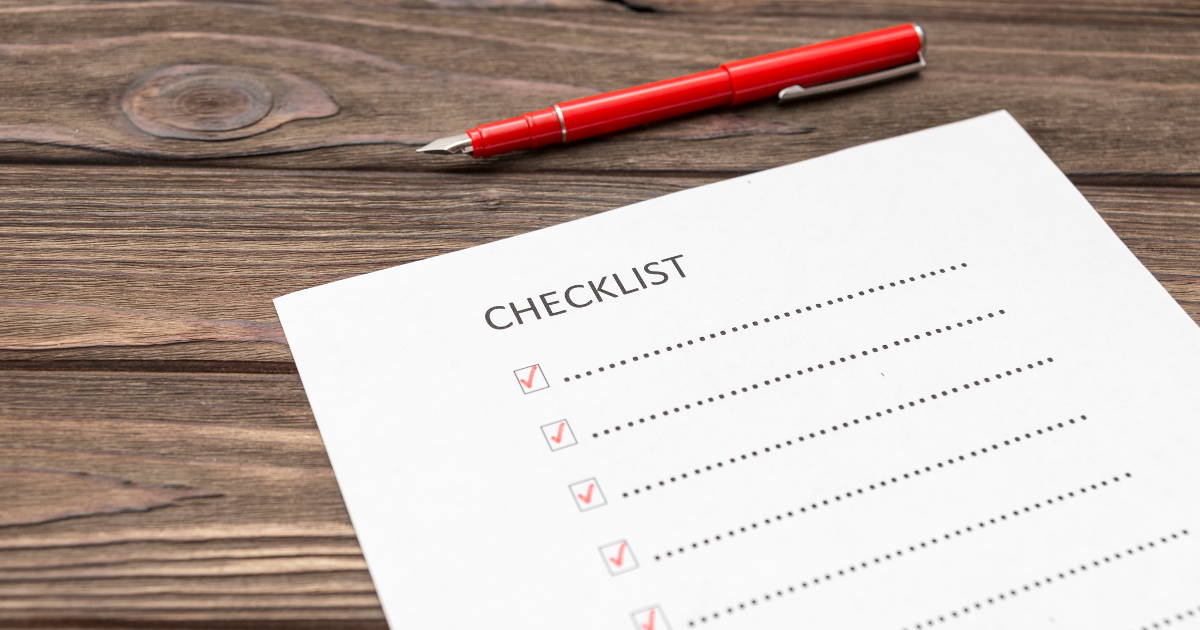 It's that wonderful time of the year when we set new goals and look back at our accomplishments over the last 12 months. What have you been able to do despite the many difficulties of 2021?
As you review your year, go through this trader checklist to help prepare your trading plan for 2022.
What are you most proud of in 2021?
Did you get a promotion? Were you able to spend more time with your children? Did you beat the S&P 500 or manage your portfolio with more confidence?
Whatever you were able to accomplish, give yourself a pat on the back. After all, little wins add up!
Now, it's time to get to work for the new year. That means not only looking back at what worked but looking forward, setting goals, and coming up with a plan.
As you mentally and financially close out 2021, be sure to check off these end-of-year trading tasks.
End-of-Year Trader Checklist
☑️ 2021 Assessment
This is the time to look back at your trading performance. Make a note of your best investments and worst performers. Sitting these trades side by side can offer great insight.
Did you follow your trading plan? Let's be honest; sometimes, we fall off track. Ask yourself, "was I really disciplined when following my plan?"
If you did struggle, think about your plan. Maybe you need to revise your exit strategy. Perhaps you need to make a stronger commitment to only take small losses when a trade doesn't go your way. Maybe you need to more closely follow the Trade Triangle signals based on your trading style. Make adjustments and vow to stick with it in the new year.
On the other hand, were you able to stick to your plan? If so, awesome! Check it off your trader checklist.
Sticking with a plan helps to reduce emotional decisions. It doesn't always mean that you'll have a stellar year, but it does mean that you're making rational and properly-planned decisions.
☑️ Harvest for Losses
Take a good look at your open positions. Are you holding a toxic stock?
Tax-loss harvesting is a way to shed non-performers by "realizing" the loss. In general, this practice offsets gains from your top winners.
☑️ Check Your Credit Score
Make it a habit to check your credit score before every new year, if not more often. The FTC reports that 5% of people have errors on their credit report.
Checking your credit report more often will save you from a big surprise in the end.
☑️ Collect Receipts for Tax-Deductible Investment Expenses
Certain expenses incurred on your taxable investments may be deductible.
This may include your subscription fees to financial publications and services like MarkClub, the depreciation on computers used to place trades, or tax advice fees.
☑️ Rebalance Your Portfolio
Keeping your portfolio balanced requires regular rebalancing. Not only will your financial goals and risk tolerance change, but bullish years like 2021 can upend asset distribution.
For example, if you intend to only allocate 70% of your portfolio to stocks and stellar performance pushes stocks to account for now 80%, you may consider selling your equity positions and buying other assets like bonds.
Look at the composition of your portfolio to make sure it's aligned with your target and that your allocations change as your goals change.
☑️ Revise/Add-To Your Watchlists
What's on your watchlist and why?
Review your watchlist(s) and decide if these position prospects fit with your trading plan or still fit your watch criteria.
If you don't have a watchlist, you can use MarketClub's Smart Scan to come up with some fresh ideas:
Scan for ETFs with 52-week lows to utilize a sector-rotation strategy.
Pull stocks with +85 Chart Analysis Score to closely watch stocks with strengthening trends.
Filter for futures with -100 Chart Analysis Scores to look for rebound signals.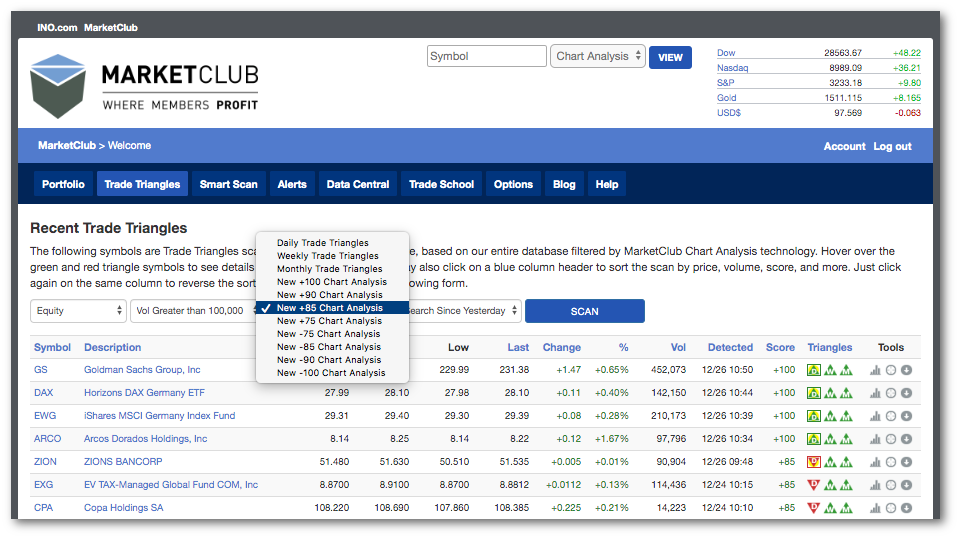 With MarketClub, a simple click will scan for new opportunities and help you create your watchlist(s) for the new year.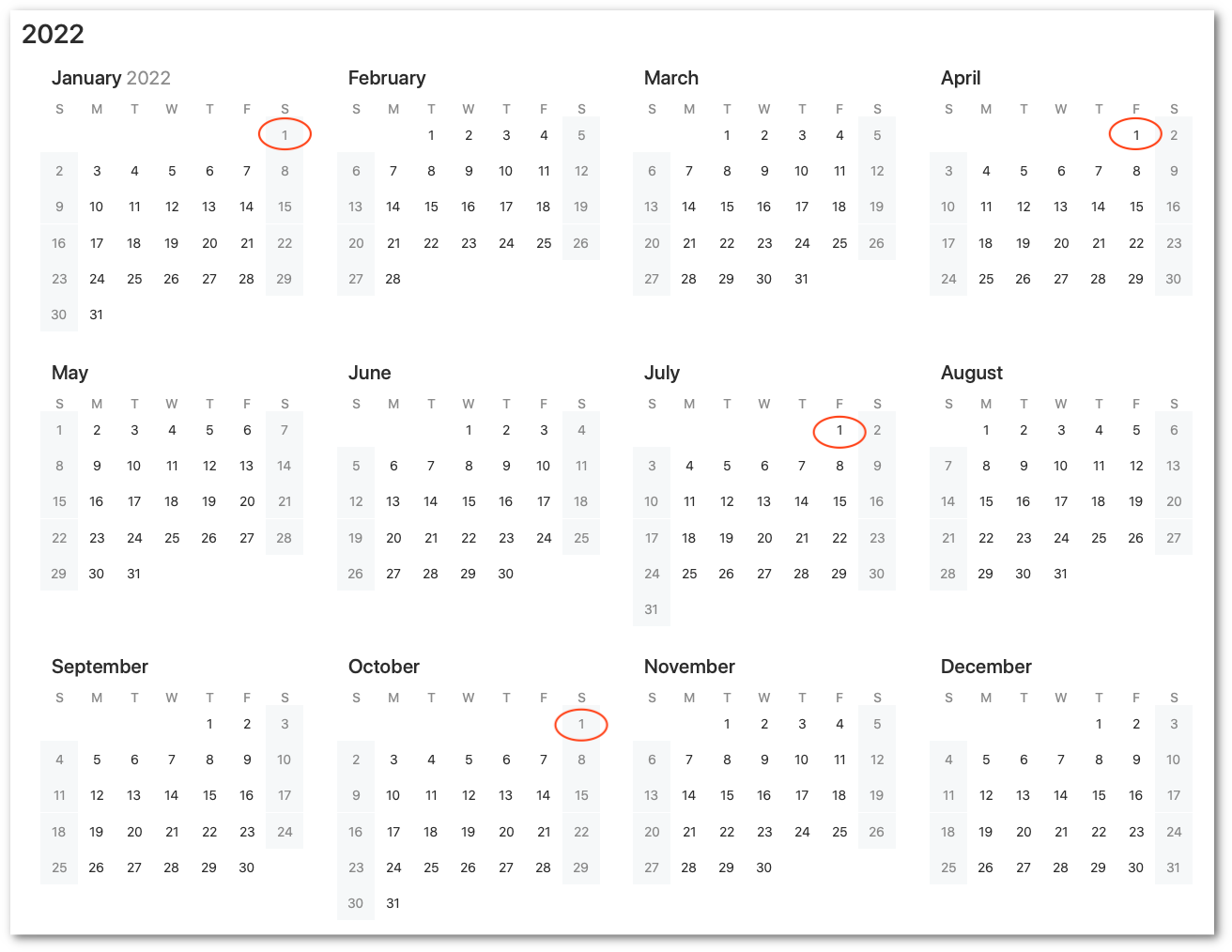 ☑️ Calendar Check-Ins
Take a moment to schedule regular portfolio check-ins throughout 2022. A simple "Portfolio Review" on your calendar every quarter is a great reminder to take a macro look at your portfolio.
Do you need to do an intra-year rebalance? Is your portfolio diversified in non-correlating markets?
Take a high-level look at your holdings every three months to stay on top of things throughout the year.
☑️ Set Your New Year Goals
It's time to set your portfolio goals for 2022!
Do you want to beat the S&P or realize a 15% annual return?
Do you want to make more confident trading decisions or stick to your trading plan? What about learning to trade options or digging deeper into ETFs?
Set your SMART goals!
SMART goals are specific, measurable, achievable, relevant, and time-bound. In other words, they are goals so clearly outlined that you know if you're on track to meet your goal and you know exactly when you've succeeded.
In 2022, I WILL:
_________________________by_________________________.
_________________________by_________________________.
_________________________by_________________________.
As you make your goals, make sure you know how you will measure them and what success looks like.
For example:
I will complete the MarketClub Options training course, watching all of the videos and passing the knowledge quizzes with a 90% score or better by April 1, 2022.
I will exit all positions established in Q1 with no more than a 5% loss by using a trailing percentage stop.
I will perform a top-level evaluation of my portfolio on the first day of each quarter in 2022, making sure that my holdings are equally distributed between seven non-correlating markets.
Set your plan before the ball drops. Setting goals (even those that seem small) is the first step to creating an actionable plan.
All in all, taking this time to review your year is the first step to succeeding in the next year. As they say, plan your work and work you plan!
What to Expect from 2022?
It's hard to say what 2022 will throw us – after all, look at the last two years. There are still many unknowns in play. Will we continue to see localized shutdowns as new variants emerge? Will we ever reach herd immunity? Will the Fed up interest rates?
One thing is for certain, 2022 will not be a quiet year, and MarketClub is ready to help you reach your goals.
Regardless of continued challenges, MarketClub's technical analysis, charting, scanning, and signaling tools can help you identify strong-trending markets and build your trading lists.
From mastering a new trading strategy to beating the indexes, MarketClub has the tools to confidentially trade in 2022.
From the entire staff at MarketClub, cheers to a healthy, happy, and prosperous new year!
Please remember that we are not financial advisors or tax professionals. The information in this post does not and is not intended to, provide legal, tax, or accounting advice. Readers should consult their tax advisors concerning the application of tax laws to their particular situations.