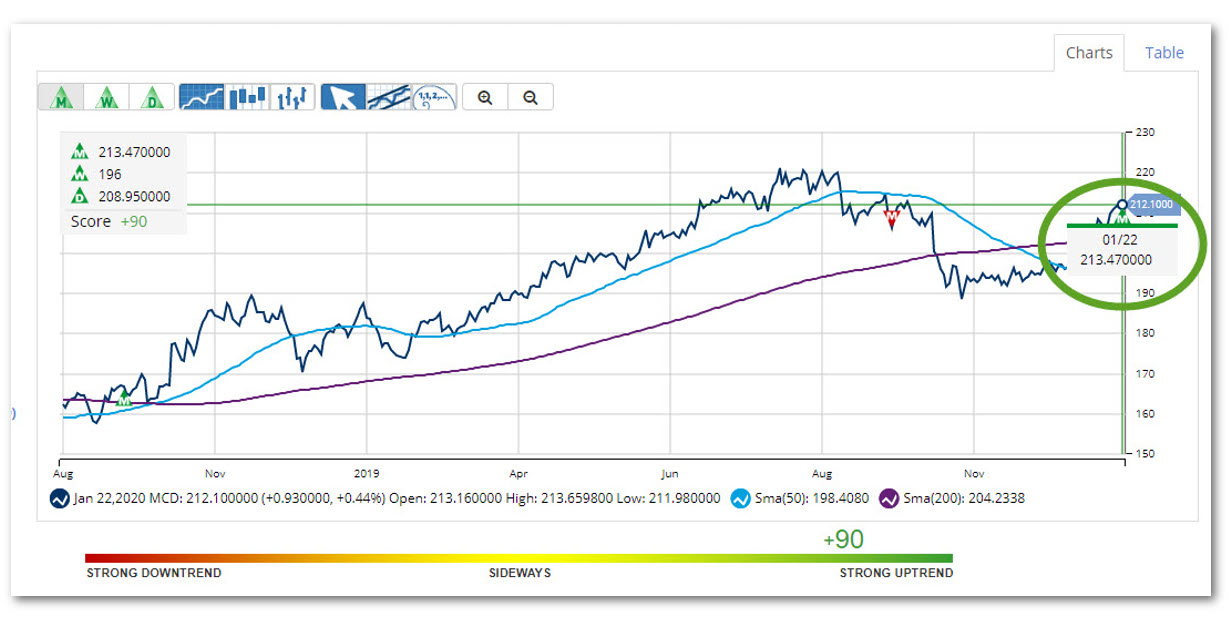 It's earnings season, that magical time when traders and investors wait to see if their portfolio holdings have met (or exceeded) expectations or if they have fallen short of targets.
While there is an increase in chatter on Wall Street this time of year, there is also more action on MarketClub's Trade Triangle Scan – a tool that looks for new entry opportunities on over 350K charts.
Some well-known stocks, that have yet to bring their earnings reports to shareholders, are flashing new entry and exit signals. Traders, take notice.
While earnings announcements can cause temporary price swings, established trends are a more reliable indicator of the stock's long-term outlook.

New Buy Signal for McDonald's Corp (MCD)
McDonald's Corporation is an American fast-food company that has been in business for more than 80 years.  McDonald's is the leading global food service retailer, with over 36,000 restaurants operating in more than 100 countries around the world.
McDonald's is scheduled to report earnings on January 29, 2020. The consensus EPS forecast expects MCD to post quarterly earnings of $1.96 per share. This target represents a year-over-year change of -0.5%. Revenues are expected to come in at $5.30 billion, up 2.7% from the previous year's quarter.
A new entry signal triggered on Wednesday, January 22, 2020, when McDonald's Corp (MCD) reached $213.47/share.
MarketClub members could use this signal as an entry for a long-term position.
The last time McDonald's triggered an entry signal was on 10/01/2018 at $167.83. After this signal, MCD began a long run to the upside that ended on 10/2/19 at $206.19.
Members following the Trade Triangle signals locked in a gain of $38.36/share (+22.8%).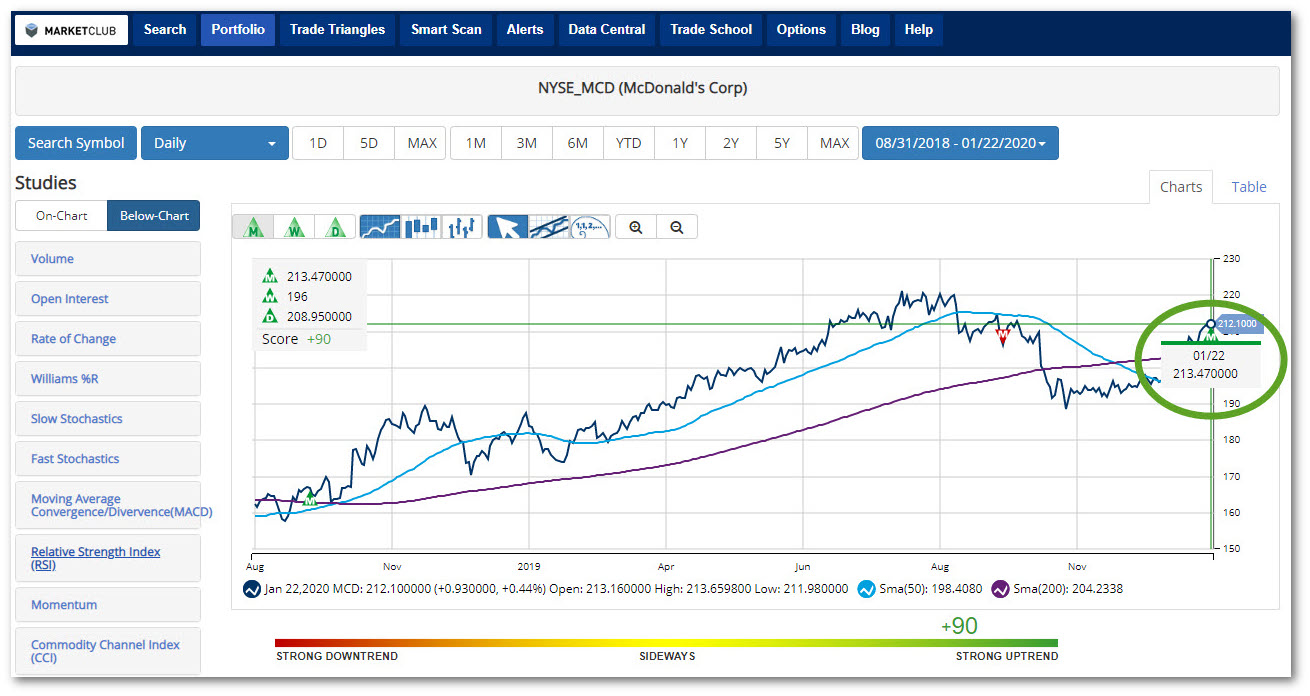 MCD is showing a Chart Analysis Score of +90. This strong score suggests that this stock has technical support on all time frames and should continue its upward trend.
MarketClub members should look for a weakening score to suggest that MCD has slowing momentum.
Grab Your Free Stock Analysis Report for MCD
While McDonald's has yet to report to Wall Street, the stock's trend looks solid for this burger chain powerhouse. But, like all trends, this won't last forever.
Does that mean you have to watch the chart for MCD like a hawk? No! Let MarketCub's powerful analysis tools do that for you.
Request your free daily report for McDonald's Corp (MCD) courtesy of MarketClub.  This report will share MarketClub's latest momentum score, the chart analysis outlook, and reversal warnings.