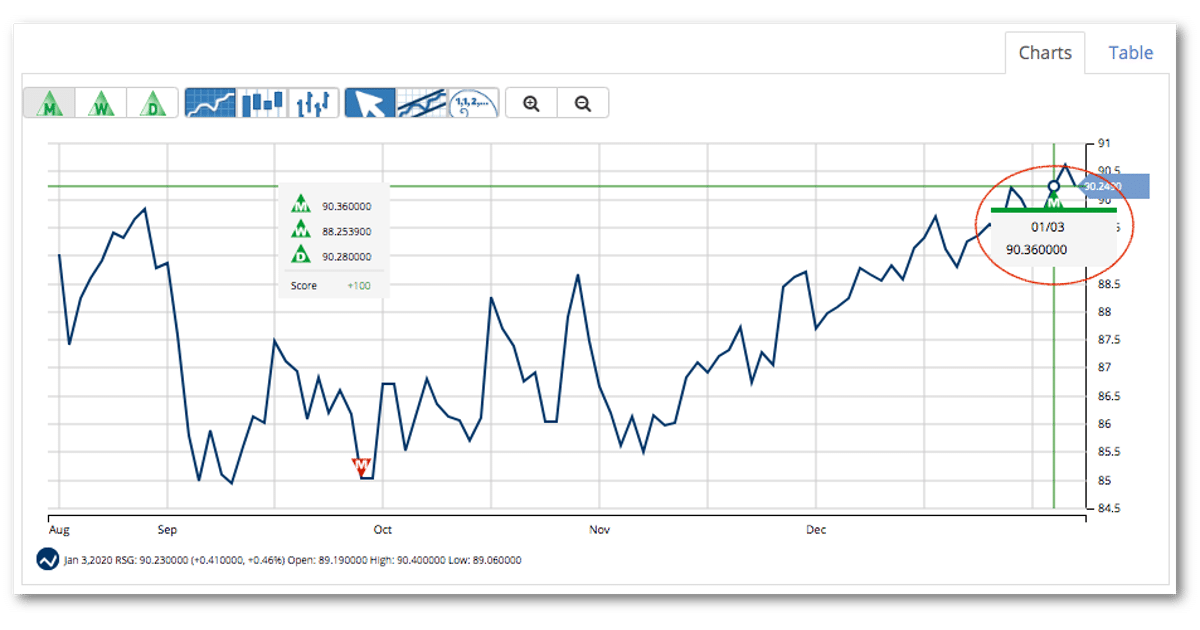 Value investors know that winning stocks don't always have to be in the most glamorous of industries. While tech companies and new products tend to monopolize the headlines, it's often the steady, reliable industries that generate the best returns.
One industry that's as far from being a "sexy" investment as can be is waste management. It may not be a sector that gets a lot of media coverage, but savvy investors know that less attention can often lead to great value opportunities.
For value investors, this "trash" company may be a profit-making gold mine.
A Best-In-Breed Company With High Growth Prospects
Republic Services, Inc. (RSG) is a $28.8 billion waste management company that provides solid waste collection, transfer, disposal, recycling, and energy services. It is the second-largest waste services company by revenues in the United States and operates in 40 states as well as Puerto Rico.
The company reported a third-quarter earnings beat of $0.91 per share compared to the analysts' expectations of $0.85 per share. Revenues fell just shy of estimates at $2.65 billion, but the overall growth story was positive enough for management to raise EPS guidance for FY 2019 to a range of $3.28-$3.30 per share.
Republic Services, Inc. (RSG) – See The Next Buy or Sell Signal
The waste management industry has been silently strong with a healthy rise in oil production and overall economic growth. IoT technologies being incorporated into recycling and waste management industries should help maintain the industry's profit margins going into 2020 as well.
CIBC initiated analyst coverage on the stock in December with a "neutral" outlook and placed a price target of $99 per share. As the stock continues to climb, investors shouldn't be surprised to see analyst upgrades over the next few months.
Fundamental Analysis of RSG
The stock trades in line with the industry average at around 28 times earnings and carries a long-term EPS growth rate estimate of about 13%. This gives RSG a PEG ratio of roughly 2 – a sign that the stock may still be undervalued. It does carry some downside protection by way of a 1.80% dividend yield as well.
Technical Analysis of RSG
The chart for Republic Services reveals an upward trend. The 20-day SMA crossed over the 50-day SMA in late November. The stock has moved steadily higher ever since.
With the RSI reading around 66 – close to the 70 threshold – investors should watch carefully for any short-term pullbacks as an opportunity to buy in cheaper.
The Bottom Line
Based on Republic Services' full-year EPS estimates, this stock should be fairly valued at around $100 per share – a gain of more than 10% from its current trading range. Value investors looking for a safe play going into 2020 should strongly consider adding Republic Services, Inc. (RSG) to their portfolio.
The above analysis of RSG was provided by Daniel Cross, professional trader and financial writer.
---
Is It Time to Buy RSG Stock?
MarketClub agrees that Republic Services, Inc. is in a strong uptrend.
With a Chart Analysis Score of +100 and a new monthly Trade Triangle issued on 1/3/20, a new long-term trend has been confirmed.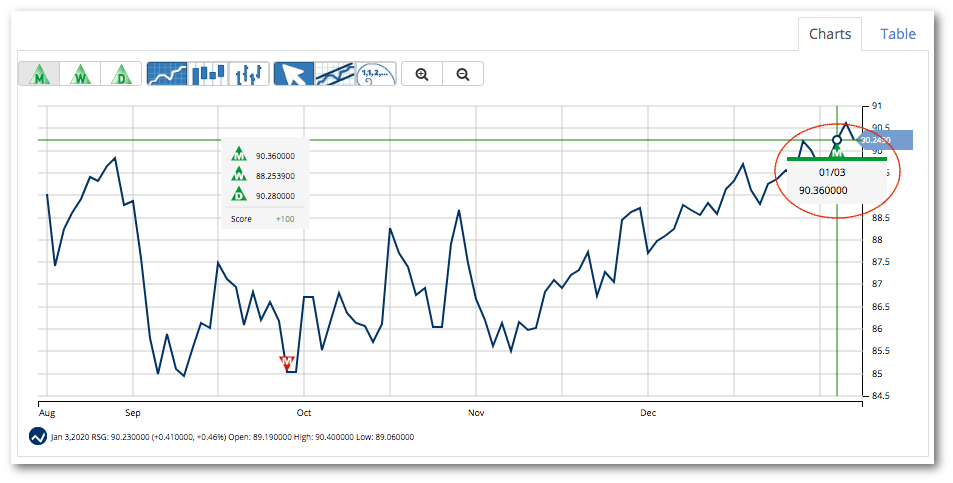 Get a free, daily report for Republic Services (RSG).
This report will tell you:
how strong RSG is trending
when the trend has shifted for one or more timeframes
if our technology identifies a new chart pattern
Enjoy this free resource from MarketClub!