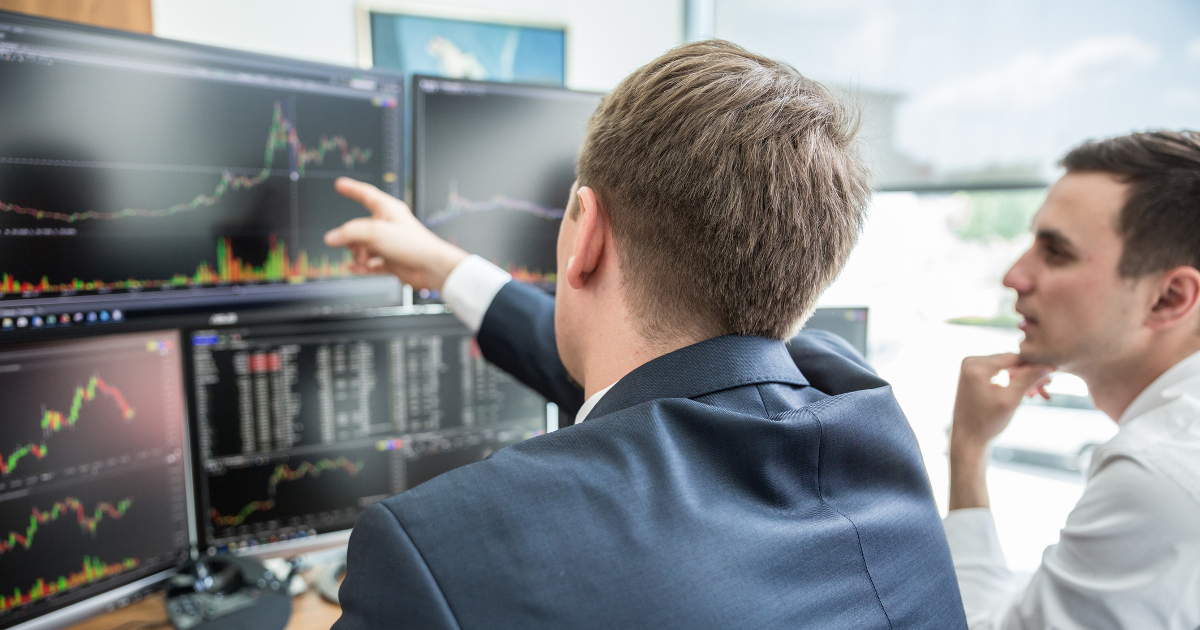 The stock market began 2020 on a strong note, with the Dow Jones Industrial Average (DJI) hitting an all-time high of 29,373 on January 17. However, since hitting this mark, we've seen a move back down to the 28,000 level amidst coronavirus fears infecting Wall Street.
Many individual traders are also carefully monitoring the coronavirus outbreak, ready to limit their exposure to companies that may see the biggest financial impact. Companies like McDonald's Corporation (MCD), Starbucks Corporation (SBUX), and Hyatt Hotels Corporation (H) have seen immediate effects. According to an article by the Guardian, McDonald's has temporarily closed 300 locations in what it considers to be one of its largest and fast-growing markets. Starbucks has also closed more than half of its Chinese locations.
While food and hotel chains may see immediate financial repercussions, major American brands with manufacturing in China may see a snag in their supply chains and a blip on their balance sheets. 3M, Whirlpool, and Polaris remain confident that sourcing issues will be minimal, but they admit that it isn't business as normal.
The Financial Cure for Coronavirus
The coronavirus may continue to spread, disrupting retail and manufacturing operations across the globe and claiming priceless lives. From a financial standpoint, if you're using MarketClub to plan and manage your trades, then this virus won't infect your portfolio.
MarketClub looks at changes in price action and chart patterns to predict a stock's movement. While the coronavirus may rock a stock's price, it may not disrupt the overall trend. A full technical analysis will decipher true weakness from news-related anomalies.
The long-term trend is still solid for these 6 stocks, making them some of the strongest stocks for February 2020. An increase in bullish momentum and a classic technical setup suggests that these stocks will continue their move higher.
Check out the Trade Triangles issued for these stocks and their long-term outlook.
Better yet, join MarketClub now and see the entry and exit signals as they are triggered. You'll also get access to our daily trade ideas, alerts, charts, and customizable portfolio manager.
Start Your 30-day MarketClub Trial Now
---
Hottest Stocks for February 2020
TerraForm Power, Inc. (TERP)
TerraForm Power, Inc. owns and operates clean power generation technology, including both solar and wind. Their portfolio consists of projects in the United States, Canada, South America, and the United Kingdom among other locations.
Avg. Volume: 1,197,065
Market Cap: 4.11B
Monthly Green Trade Triangle: 2/3/20 at $18.13
Smart Scan Score: +100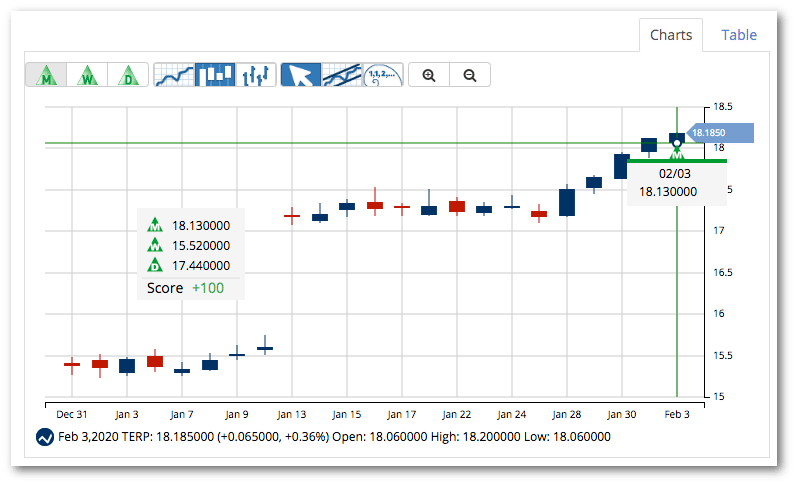 ---
Gilead Sciences, Inc. (GILD)
This major drug manufacturer brings a wide variety of pharmaceutical products to the market, including Genvoya, Truvada, and Cayston. Gilead Sciences, Inc. has collaborate agreements with some of the most well-known names in the pharmaceutical space.
Avg. Volume: 12,555,579
Market Cap: 84.3B
Monthly Green Trade Triangle: 2/3/20 at $68.16
Smart Scan Score: +100
---
Spark Networks SE (LOV)
Spark Networks operates a number of online dating sites like EliteSingles, SilverSingles, and Christian Mingle along with other sites. This company targets highly educated professionals interested in serious relationships.
Avg. Volume: 50,677
Market Cap: 155.4M
Monthly Green Trade Triangle: 2/3/20 at $5.88
Smart Scan Score: +100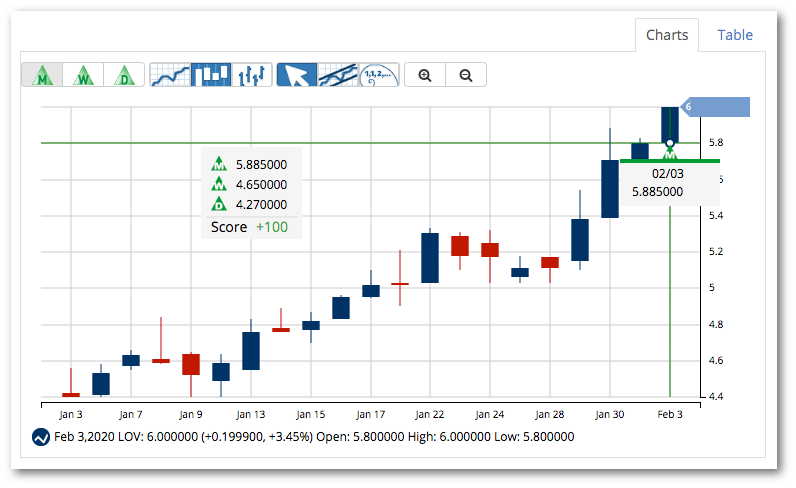 ---
Green Dot Corporation (GDOT)
Green Dot Corporation is a bank holding and financial technology company that operates in the United States. This company has an expansive portfolio which includes re-loadable prepaid debit cards, e-cash remittance, and tax refund processing services.
Avg. Volume: 943,955
Market Cap: 1.59B
Monthly Green Trade Triangle: 2/3/20 at $30.49
Smart Scan Score: +100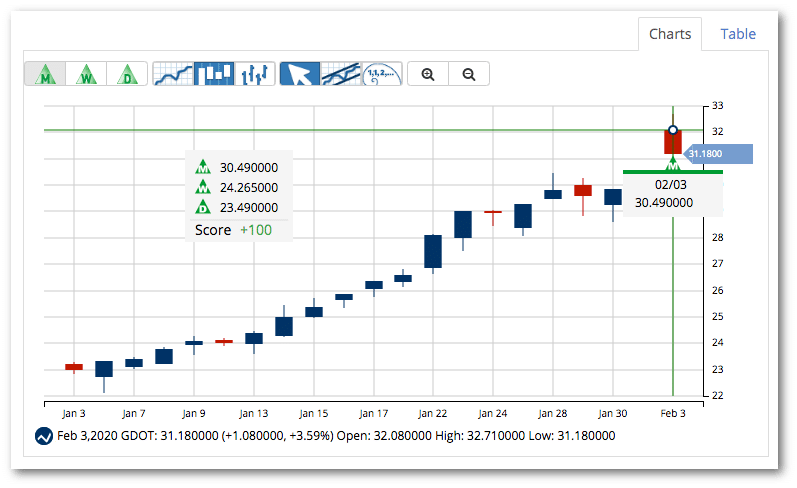 ---
NiSource Inc. (NI)
NiSource is a regulated natural gas and electric utility company in the United States. Operating under two segments, gas distribution and electric operations, this company services residential, commercial, and industrial customers.
Avg. Volume: 3,638,444
Market Cap: 10.9B
Monthly Green Trade Triangle: 2/3/20 at $29.34
Smart Scan Score: +100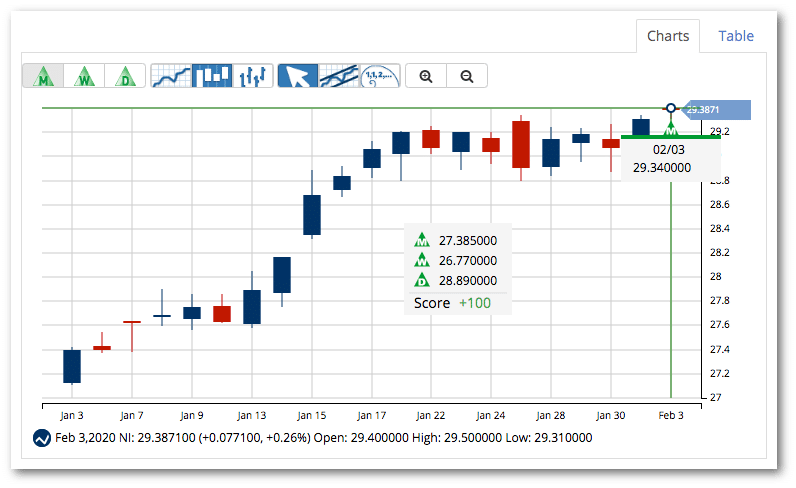 ---
International Business Machines Corporation (IBM)
International Business Machines Corp., fondly known by its stock ticker, IBM, is a technology company serving customers worldwide. The company services individual consumers as well as airlines, manufacturers, consumer goods, and financial services institutions.
Avg. Volume: 4,045,550
Market Cap: 130.2B
Monthly Green Trade Triangle: 2/3/20 at $145.79
Smart Scan Score: +100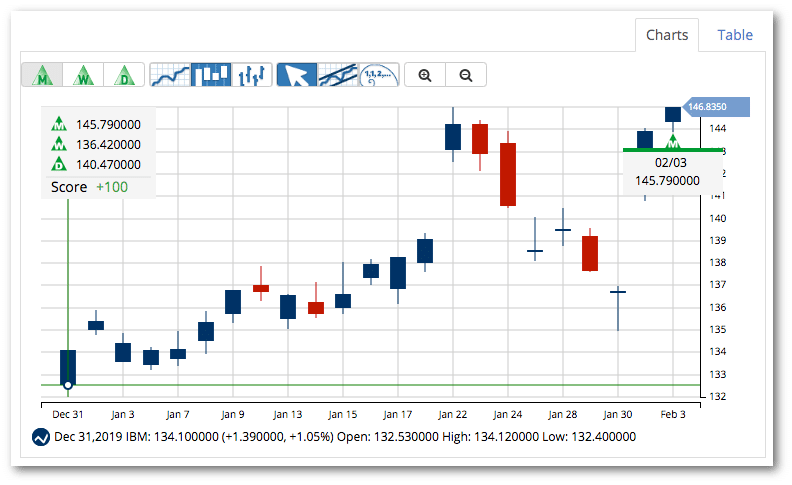 ---
Just like news on the coronavirus, trends can change quickly.
Changes in price action and crucial chart patterns may alter the outlook for these 6 stocks. So, should you sit in front of your computer monitoring the action for these stocks? Of course not!
Let MarketClub carefully watch these stocks for you and alert you to any changes in trend.
Join MarketClub now to get the signals, alerts, and member-exclusive analysis for the hottest stocks, futures, ETFs, and forex pairs for February 2020.