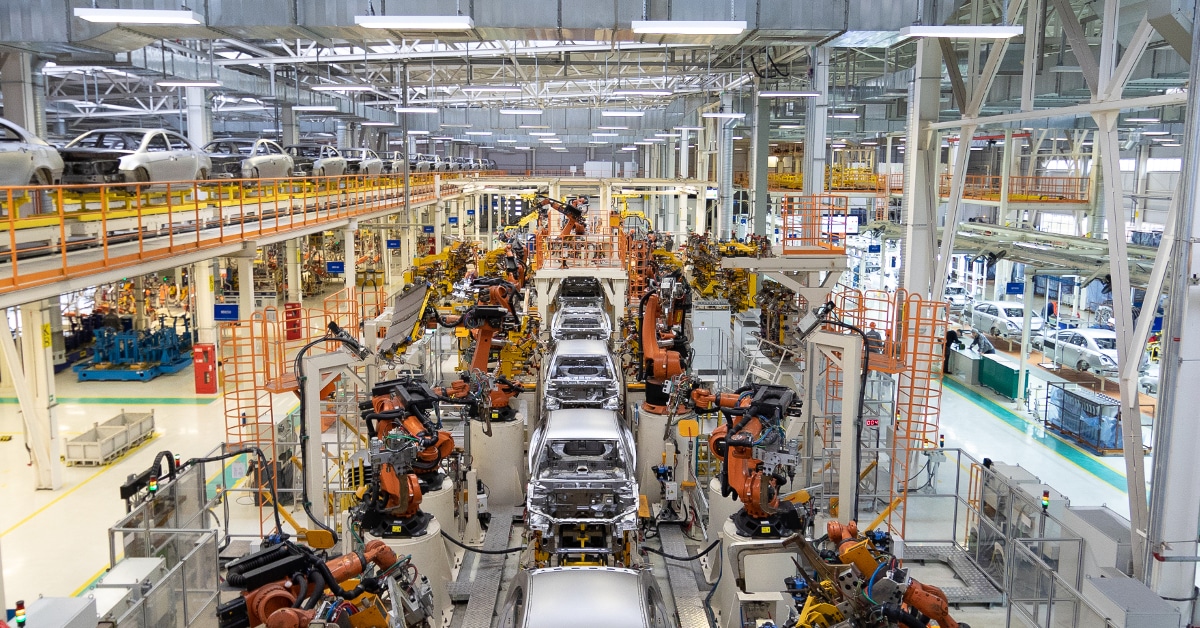 The coronavirus pandemic appears to be nearing its end, and businesses are gearing up for a massive rally back to economic prosperity. The month of May is seeing a market resurgence, with the S&P 500 index up 3.5% as of Monday.
Industries that have been stagnating for the past several months are seeing their stocks trading at deeply discounted prices. This discount offers investors an opportunity to go shopping for value pick-ups.
For one manufacturer, a return to full production could translate into a skyrocketing stock value, giving investors an opening for out-sized gains following a turbulent opening half for 2020.
A Best-In-Breed U.S. Manufacturer and Deeply Discounted Value Stock
General Motors Company (GM) is a $32 billion auto manufacturer better known by its Chevrolet, GMC, Buick, and Cadillac brand labels. The company also has partial ownership of other brands, including Holden, Wuling, Baojun, and Jiefang, which manufacture automobiles in 15 countries around the globe.
Is General Motors (GM) a buy, sell, or hold?
The company reported a phenomenal first-quarter earnings beat of $0.62 per share compared to the analysts' consensus estimate of $0.30 per share. Revenues came in 6.2% lower year-over-year, but still beat analysts' estimates helped by strong pick-up truck sales numbers before the COVID-19 pandemic.
The economic lull over the last few months hurt automakers considerably. But according to GM, sales in China grew 13% in April compared to the previous year. Taking a cue from Tesla's recent announcement that it intends to hire back workers and resume production, other US automakers could see a spark reignited as well.
The stock saw an upgrade earlier this month, with Deutsche Bank changing its recommendation from "hold" to "buy" along with giving it a price target of $30 per share. For investors, this could mean that Wall Street is becoming more bullish, adding some buying pressure to a down-beaten stock price.
The Fundamental Wheels
The stock trades quite cheaply at just 5.9 times earnings compared to the auto industry's average of 8.1 times earnings. The long-term EPS growth rate projections of 6.6% also give the stock a price-to-earnings-to growth ratio of less than 1 – a strong signal to investors that this stock is currently deeply discounted from its intrinsic value.
GM's market price is under its book value of $27.99/share. That would make the current price of the stock less than the liquidation value of the company if all assets were sold off – another sign that this stock is deeply discounted.
The Technical Fuel
The chart for General Motors is defined by a series of ups and downs with bullish and bearish signals alternating almost weekly. Trading volumes are inconsistent as well, with higher-than-average activity occurring during upswings and downswings alike.
The 20-day SMA has quickly been closing the gap. The 20-day SMA will likely cross over the 50-day SMA in the next few days if the momentum continues to build. Click here for a full technical report for GM.
The Bottom Line
Based on General Motor's full-year EPS estimates, this stock should be fairly valued at around $32 per share – a gain of more than 33% from its current trading price.
Investors looking for a deep value play that could deliver big gains in 2020 should strongly consider adding this stock to their portfolio.
The above analysis of GM was provided to MarketClub by Daniel Cross, a professional trader and financial writer.
---
What Does MarketClub Think About GM?
MarketClub isn't sold on General Motors (GM) just yet. With a score of -65, the stock's trend continues to bounce around without establishing a firm trend.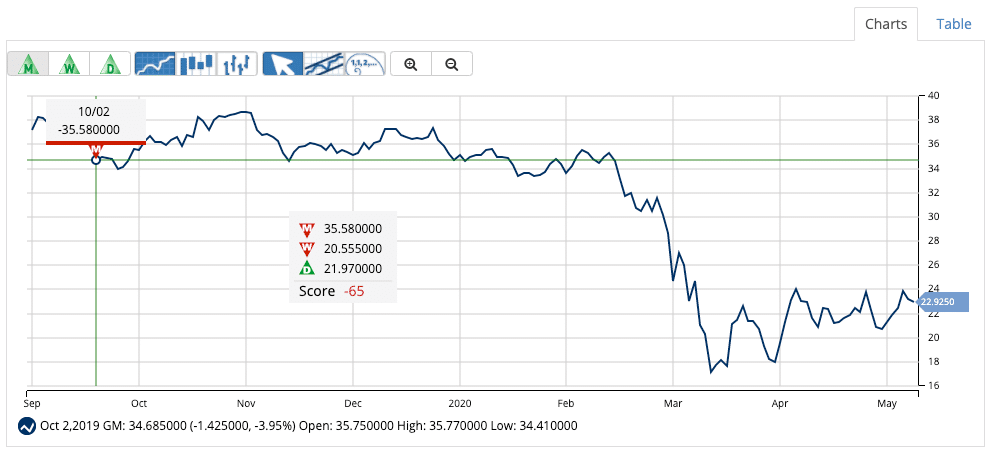 MarketClub members following the long-term strategy are either sitting out or holding a short position.
A red monthly Trade Triangle triggered on October 2, 2019, at $35.58. The stock has since plunged more than 35%. With a drop like this, members are either sitting on a nice gain or were protected from a significant loss.
What's next?
Our system is looking at every tick for GM and analyzing trends on various time frames. If and when the stock moves into a strong trend, our system will alert members.
Get a free, daily analysis for General Motors (GM) courtesy of MarketClub.