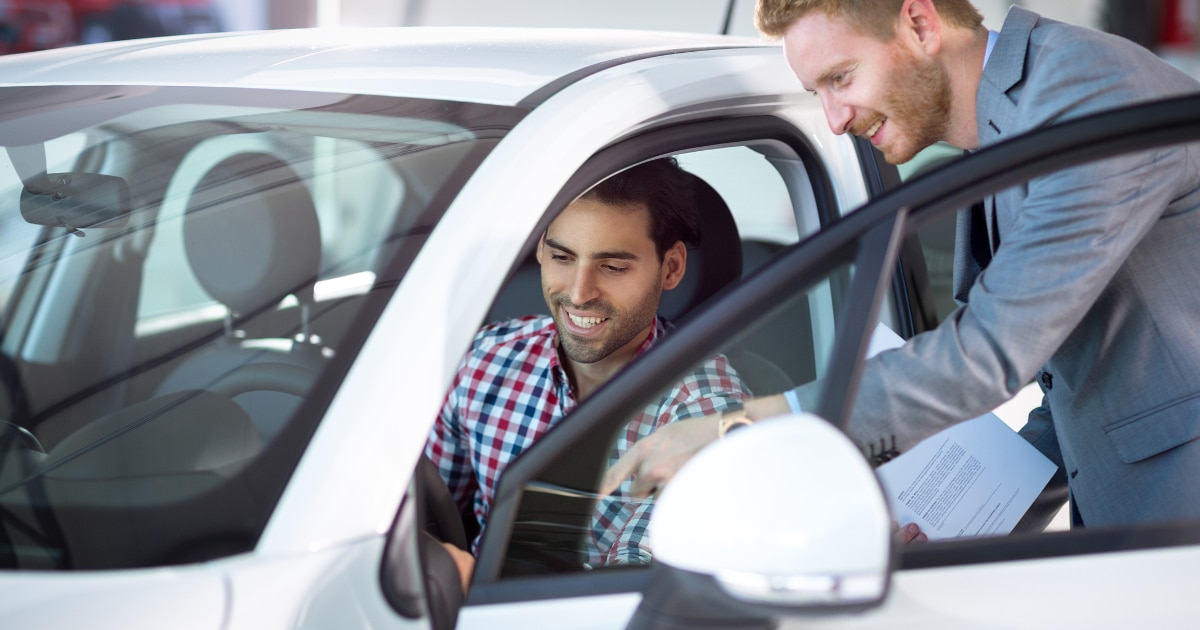 As businesses begin to reopen and travel bans slowly lift, consumers feeling the after-effects of the COVID-19 pandemic have one thing on their minds – getting out of the house.
Industries that have shouldered the shutdown, like hospitality and travel, have deeply discounted stock prices right now. As consumer demand picks up, these downtrodden sectors could be in for a rally.
For one travel company, a return to the open roads means more significant profits and bigger opportunities for investors.
A Rising Star and Value Stock Play
Avis Budget Group, Inc. (CAR) is a $1.6 billion rental and leasing service provider and the parent company for Avis Car Rental, Budget Car Rental, Budget Truck Rental, Payless Car Rental, and more. As of 2011, the company topped the list for general-use vehicle rental business in North America, Australia, and New Zealand.
The stock beat first-quarter earnings expectations at -$1.40 per share compared to -$1.84 per share. While the negative earnings might seem unappealing, investors should keep in mind that this reflects the low demand that occurred during the COVID-19 outbreak.
The biggest catalyst for Avis is the new surge in demand for consumer travel. After being limited for the past several months, people are starting to have more options available as businesses get the green light to resume operations.
But for Avis, it's not just resurgent demand that's helping the stock along. Avis is looking to benefit from better-than-expected results from new and used car sales. The forecast for used car sales in 2020 was changed to a 5% drop compared to a 10% drop, while 2021 is on track to see a sales increase.
Morgan Stanley upgraded the stocks twice in the past few months. There was an upgrade in late May and another in early July. The most recent recommendation changed from "equal-weight" to "overweight" and came with a price target of $37 per share.
The Fundamental Case
The stock trades cheaply at just 8 times earnings compared to the rental and leasing industry average of 11 times earnings. Investors need to keep an eye on Avis' high-short float of 27%, a key metric. The stock has a large volume of short selling weighing the price down. If the stock price continues to rise, it could trigger a short squeeze scenario and launch the price even higher.
The high beta ratio of 2.31 makes the stock highly volatile as well – a potential for big gains or big losses.
The Technical Case
Looking at Avis' chart, a clear peak shows up in early June. This was followed by a dip and the subsequent rise that we see now. The stock has shot up 130% over the past quarter. It's no surprise to see the 20-day SMA trending above the 50-day SMA. The 50-day SMA is also close to crossing over the 200-day SMA to form a "golden cross" pattern. A few more days of positive trading could set up the golden cross.
The Bottom Line
Based on Avis' full-year EPS estimates, this stock should be fairly valued at around $35 per share. A move to fair value would be a gain of more than 31% from its current price.
Investors should use caution as the stock play is a short-term trade for the summer. After the initial increase in travel demand, the stock could drop quickly. Exercising an option hedge such as a long put could limit any unexpected downside movement.
As consumers look to break out of their homes, investors could see an Avis breakout.
The above analysis of CAR was provided to MarketClub by Daniel Cross, a professional trader and financial writer.
---
MarketClub's Analysis of CAR
Avis Budget Group, Inc. (CAR) has a mixed outlook based on MarketClub's technical analysis.
The Chart Analysis Score for CAR is only +65. Currently, the trends are not aligned and a strong trend has yet to be established in either direction.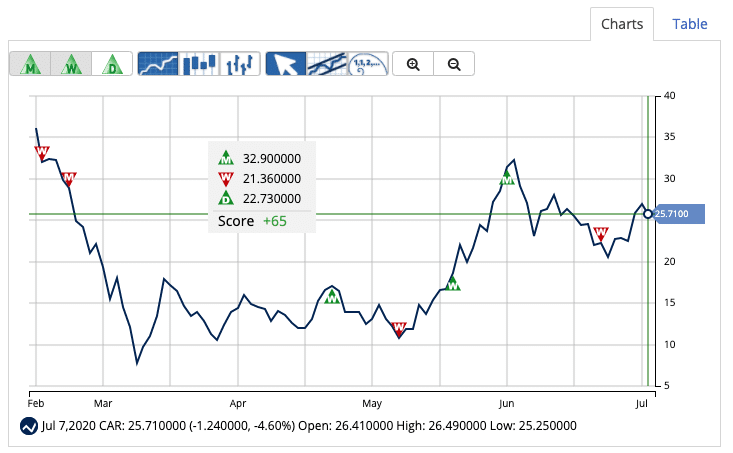 Thankfully for MarketClub members, we'll be running every price tick through our system looking for key indicators of trend strength. As the momentum picks up, our members will see the Chart Analysis Score move closer to +100 (strong bullish trend) or -100 (strong bearish trend).
Members can add CAR to a watch list in their portfolio for a quick look at Avis' move if a summer spike develops.
Not a MarketClub member? No problem.
Start your 30-day trial to MarketClub right now to see an up-to-the-minute analysis of CAR and over 350K stock, futures, forex, ETF, and mutual fund markets.