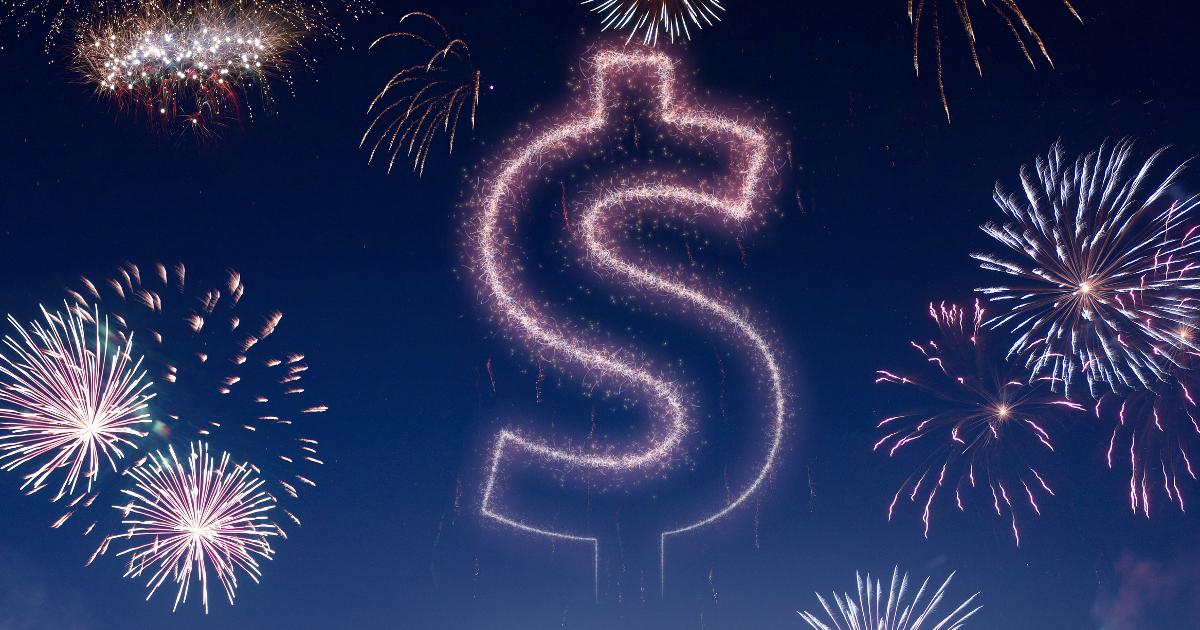 We've hit the halfway point for 2020, and what a year it has been!
The Dow jumped 18% in Q2, its best quarterly performance since the late 80s. The S&P beat that slightly with a 20% move between the beginning of April and the end of June.
Despite the stellar Q2 performance, there is still great uncertainty when it comes to the outlook of the U.S. equity markets with many variables in play:
But, as technical traders, we know to pay more attention to the charts and less attention to the news!
Opportunities are everywhere if you know where to look. And like the fireworks in July, there are plenty of stocks ready to explode.
Join MarketClub now to see the entry and exit signals for these stocks and thousands of others. You'll also get access to our daily trade ideas, alerts, charts, and customizable portfolio manager.
Start Your 30-Day MarketClub Trial Now
Hottest Stocks for July 2020
Fastly, Inc. (FSLY)
This growing company operates a cloud platform to process, serve, and secure its customers' applications. Fastly services customers in the publishing, hospitality, technology, and financial industries.
Avg. Volume: 5,842,307
Market Cap: 8.83B
Monthly Green Trade Triangle: 5/7/20 at $25.23
Smart Scan Score: +100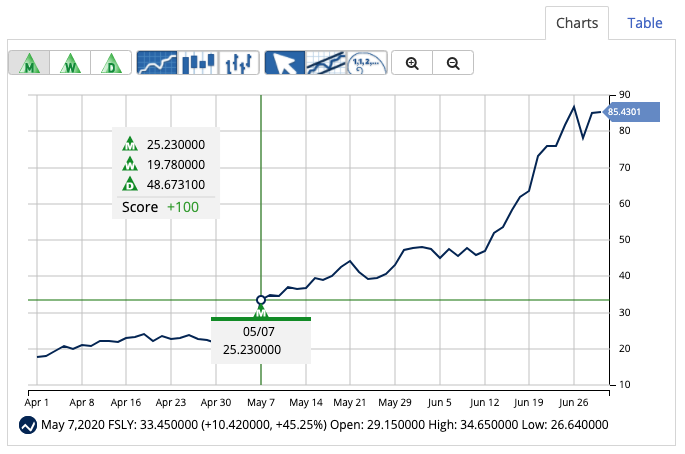 MarketClub members following the long-term strategy have been holding FSLY since May 7, 2020. After a new Trade Triangle was issued at $25.23, the stock's price shot up, taking members along with it.
As of July 1, 2020, the stock is up more than 230% since the last signal.
With a Chart Analysis Score of +100, FSLY is still in a strong uptrend.
Discover Warren Buffett's Secret Trading Tool
Buffett quietly uses this trading tool to make billions on the side of his value-investing technique. Learn this secret trading tool and a strategy to place similar low-risk, high-profit potential trades.
Digital Turbine, Inc. (APPS)
Digital Turbine, Inc. provides media and mobile communication products and solutions. Headquartered in Austin, Texas, this company also provides advertising and targeted media services.
Avg. Volume: 2,445,835
Market Cap: 1.1B
Monthly Green Trade Triangle: 6/3/20 at $7.28
Smart Scan Score: +100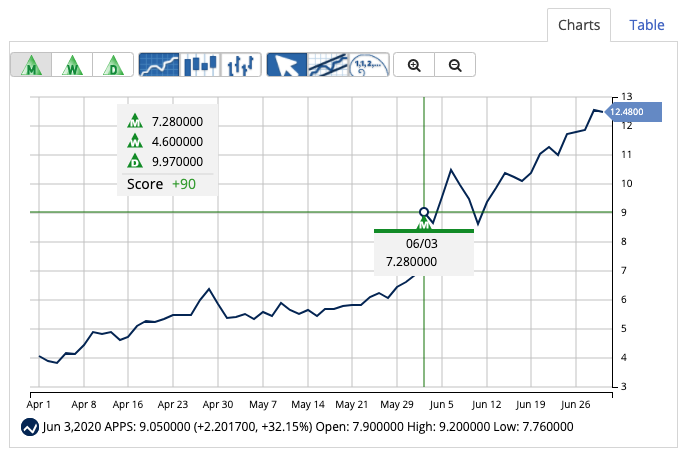 MarketClub members received a new green monthly Trade Triangle early last month on June 3, 2020, at $7.28.
APPS exploded up and moved into the confines of a long-term uptrend. As of July 1, 2020, APPS is up 71% since the monthly trading signal and is still showing major strength.
---
Medifast, Inc. (MED)
Medifast is a leading name in the weight loss and weight management industry. The company manufactures and distributes consumable health and nutritional products in the U.S. and Asia.
Avg. Volume: 264,833
Market Cap: 1.61B
Monthly Green Trade Triangle: 6/1/20 at $102.80
Smart Scan Score: +100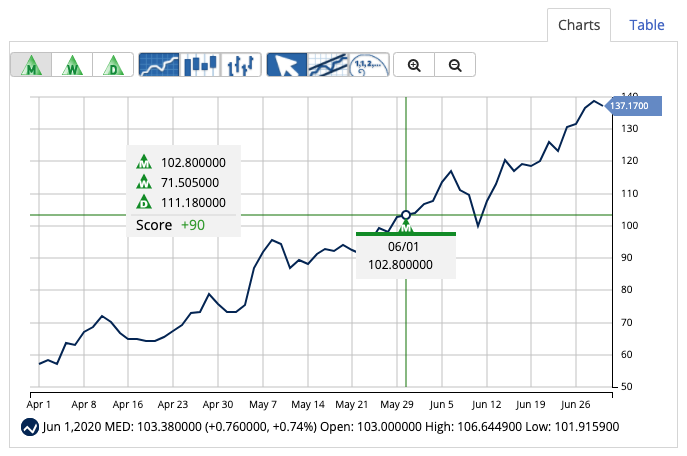 MarketClub members following the long-term strategy have been sitting in MED since receiving a green monthly Trade Triangle on June 1, 2020, at $102.80.
MED has moved up, now touching the $137/share level. As of July 1, 2020, members are hanging tight after a 30% move. The trend continues to hold technical strength and may continue a run higher.
---
Camping World Holdings, Inc. (CWH)
This company, through its subsidiaries, operates as an outdoor and camping retailer. From recreational vehicle sales to roadside assistance, watercraft products to financing services, Camping World Holdings helps customers at 227 retail locations in the U.S.
Avg. Volume: 2,341,055
Market Cap: 2.46B
Monthly Green Trade Triangle: 5/18/20 at $16.97
Smart Scan Score: +100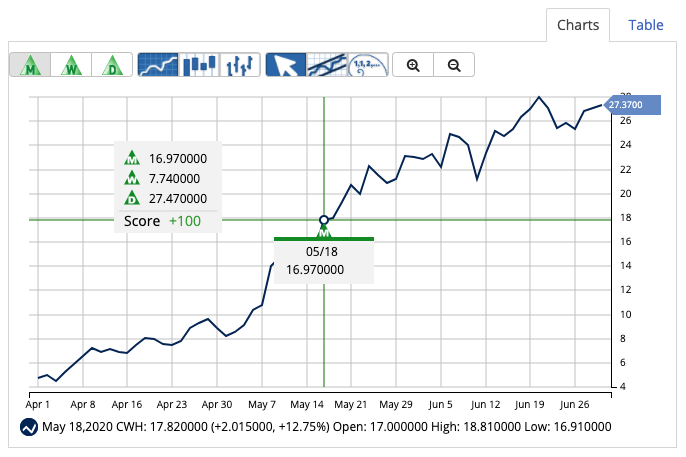 While there was a sharp fall in February, 2020 has been good to Camping World Holdings' stock. Since the first trading day of the year, CWH is up more than 88%. The stock has done nothing but rocket to the top since hitting a YTD low on March 19, 2020.
The stock has run more than 61% since the last monthly Trade Triangle issued on May 18, 2020, at $16.97.
With a +100 Chart Analysis Score and solid strength, CWH could continue to push higher. MarketClub members could hold CWH until the trend weakens or until a new trading signal is issued.
---
Redfin Corp. (RDFN)
Redfin is taking the real estate market by storm, upending the traditional broker-client model. The company helps customers buy and sell homes with settlement and lending services and an online real estate marketplace.
Avg. Volume: 1,543,277
Market Cap: 4.14B
Monthly Green Trade Triangle: 6/2/20 at $30.95
Smart Scan Score: +100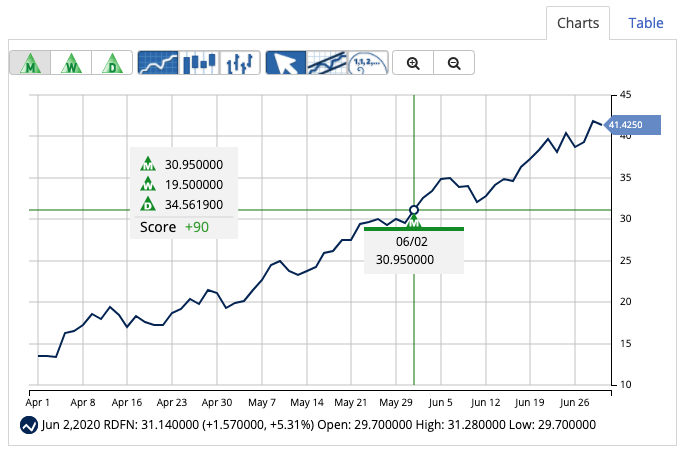 Redfin traded below the $15/share mark in March of 2020 before a steady move higher, flopping over the $40 level towards the end of June.
A new monthly green Trade Triangle was issued on June 2, 2020, at $30.95. As of July 1, 2020, the stock is up 10%. The momentum looks steady for RDFN, and the Smart Scan Score suggests that there is more room to run.
---
Changes in price action and momentum may alter the outlook for these 5 hot stocks for July 2020. This does NOT mean you should sit in front of your computer to monitor the action!
Let MarketClub carefully watch these hot stocks for you.
Begin your 30-day MarketClub trial right now to get the signals, alerts, and member-exclusive analysis for the hottest stocks, futures, ETFs, and forex pairs for July 2020 and beyond.