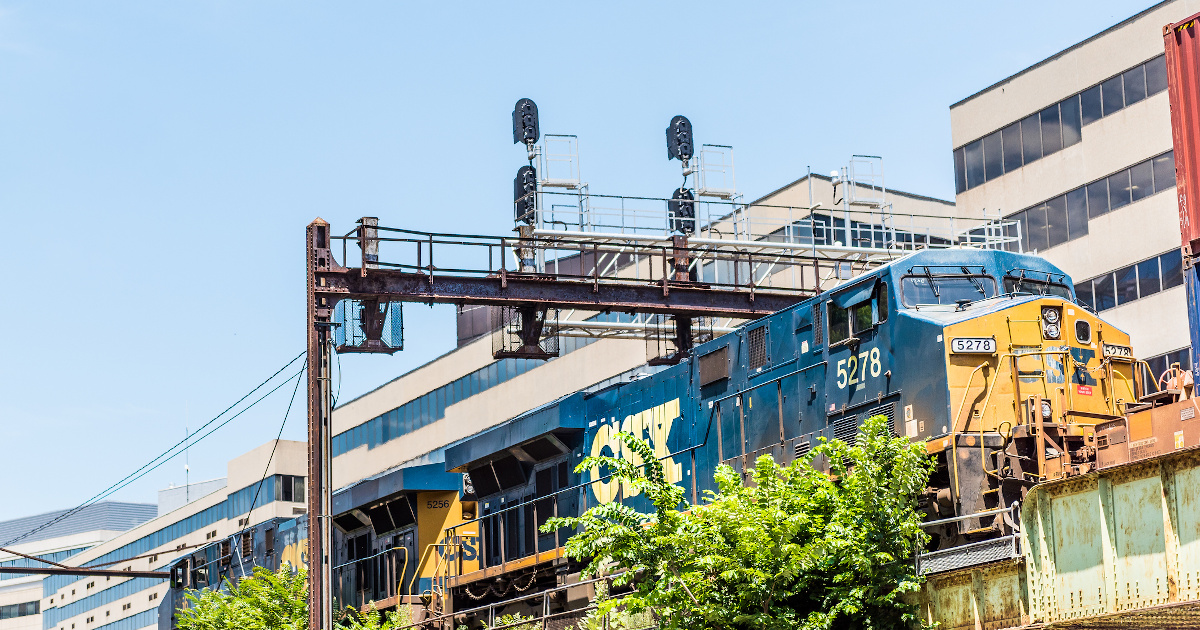 One of the strategies that made Warren Buffet the legendary investor he is was to buy stocks when everyone else was selling them.
Broad market sell-offs are ideal environments for bargain hunters to find good companies at low prices.
For one transportation company, a bearish market sentiment translates into a steeply discounted stock price and big returns for patient investors.
A Top Performing Cyclical Staple
CSX Corporation (CSX) is a $67.8 billion freight railroad company with rail operations in the Eastern United States, Ontario, and Quebec along more than 21,000 miles of track.
The company reported a first quarter earnings beat of $0.39 per share compared to the analyst's estimates of $0.37 per share.
Revenues grew 21% year-over-year to $3.41 billion with higher overall revenue-per-unit increases offsetting higher fuel costs and slightly reduced volumes.
One of the biggest reasons to pick up CSX right now isn't just because the stock is cheap, but also because there are some positive tailwinds related to the Russia-Ukraine conflict and current global supply chain struggles.
Geopolitical tensions have driven up the demand for energy products like coal – a major part of CSX's freight business – and could be the recipe for longer term success.
The company enjoys a relatively high free cash flow which allows it to make share buybacks during down markets as well. This activity should help bolster the stock price and prevent sharp downward movements in the future.
The stock was downgraded in May by Citigroup from a "buy" recommendation to "neutral" while the price target dropped from $45 per share to $35 per share.
The Fundamental Case
The stock trades right in line with the railroad industry average of 19 times earnings but comes with a much higher projected long term EPS growth rate of 15% versus 10%. That gives it a PEG ratio of just over 1 – a good sign that the stock is currently undervalued at these prices.
It carries a small 1.3% dividend yield as well which helps to protect investors from sustained downside movements in the market.
The Technical Aspect
CSX's chart doesn't make a strong bullish case for the stock at first glance. The stock has dropped off over the past couple of weeks, as evidenced by the 20-day SMA currently trending below the 50-day and 200-day SMAs.
However, there's a classic bullish hammer pattern in the candlesticks this week that could be the start of a reversal.
See the Full Technical Analysis Report for CSX
The RSI is very low at around 30 to 35 which likely means that the stock is oversold right now.
Any kind of positive news or bullish buying activity should lift the stock and could spark a sustained rally in the next month or two.
The Bottom Line
Based on CSX's full year EPS estimates, this stock should be fairly valued at around $38 per share – a gain of more than 26% from its current trading price range.
Value investors with a long-term time horizon should consider adding this strong cyclical player to their portfolios for outsized returns.
The above analysis of CSX Corporation (CSX) was provided by financial writer Daniel Cross.
Is CSX Corporation (CSX) A Buy or Sell?
Based on MarketClub's technical analysis tools, CSX Corporation (CSX) is currently in a strong downtrend (-100).
MarketClub is analyzing every data tick, ready to spot a new trend as it develops.
Get an alert when CSX triggers a new signal and analysis for over 350K markets with a 30-day MarketClub trial.